How Maximus put its marker down as a systems integrator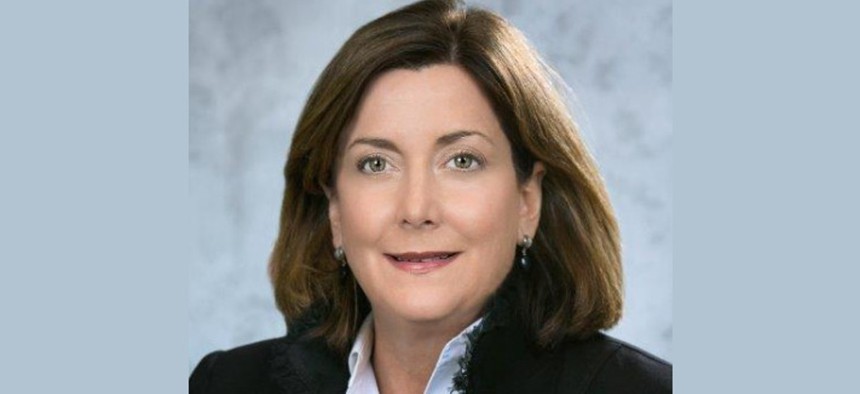 Maximus' federal segment is coming off a busy run of acquisitions and contract wins over the past few years that its general manager points to as showing there are more opportunities ahead.
Teresa Weipert joined Maximus Federal as general manager in 2021 and inherited a business unit that had just closed two major acquisitions in Attain Federal and Veteran Evaluation Services. Her focus was on integration activities and Maximus' shift from being a pure-play business process outsourcing firm to one that also has core skills in technology services and consulting.
McLean, Virginia-headquartered Maximus ranks at No. 18 on the 2023 Washington Technology Top 100 with $2.3 billion in prime contract obligations.
Some recent wins indicate that the company is finding success in navigating that transition to being more than just business process outsourcing provider.
Weipert points to the Internal Revenue Services' modernization contract known as Enterprise Development Operations Services. That $2.6 billion set of blanket purchase agreements covers tasks such as program management, agile development support, modernization and enhancement support and managed services.
Maximus is now competing for EDOS task orders against Accenture, Booz Allen Hamilton and IBM.
Chasing that contract became a focus for Weipert and Maximus' IRS team around the time she arrived.
"That's a big systems integration contract, not really a BPO contract," she said.
EDOS is also an example of a company expanding its footprint with an existing customer. Maximus was already maintaining the IRS' master files, as well as performing some work in cybersecurity and application development.
"Knowledge of the legacy world is so important," Weipert said. "If you don't understand how it's working, I don't know how you can make recommendations and bring it all together."
Opportunities like that for modernization are growing across the government.
"I think every agency is having a conversation about innovation, a digitally enabled customer experience, or tech debt," she said. "That is modernization if you pull all of that together."
Maximus also put its marker down as a systems integrator through EDOS.
"There are technology services, consulting, elements of business process delivery – doing the work– it's security. As an integrator, you look at all of that," Weipert said.
A second area of growth for Maximus Federal is in medical and clinical services to the Veterans Affairs Department, work it added through the Veterans Evaluation Services acquisition in 2021.
"What's really helping us there is our business process outsourcing capabilities," she said. "It's not a contact center, it's the ability to manage 8,000 providers across thousands of examination services requests daily."
One plus Maximus sees for itself is how it ties the company's traditional business process outsourcing background with the relatively new systems integration and consulting capabilities.
"It's knowledge of the mission. What is it that each agency has to do for a citizen," she said. "You have to know how to staff an organization, not only with technology but also with people. You always come back to people, process and technology."
Two more big wins in the past year are a $6.6 billion recompete win to continue operating contact centers for the Centers for Medicare and Medicaid Services, and a multiple-award student loan vehicle worth up to $16 billion with five companies involved.
For the student loan contract, Maximus is working with 25% of the borrower population. Weipert declined to attach a dollar value to it.
Those contracts also have long runways. The CMS contact center contract is for nine years, while the student loan contract will run for 10 years.
But there is pressure to innovate across the life of those contracts. For example, the 1-800-Medicare hotline serves 75 million people and the student loan contract serves 14 million,.
"We are constantly doing things differently because people demand it," Weipert said. "I say this a lot, if I have to click more than twice to get what I need, you're not going to keep my attention."
That approach cuts across all their customers and contracts and not just new opportunities. Waiting for the next contract to bring in innovation is not a successful approach, she said.
Moving forward, Weipert and her team are focused on civilian agencies because of how many of them touch individual citizens. That includes veteran benefits, student loans and Medicare processes.
Weipert expects big changes in the health care arena because of the kinds of services and who is being served – veterans, retirees, women and children to name a few.
"There is a lot of modernization that is going to be required and a lot of services that can be delivered much more efficiently and better than they are today," she said.
As part of Maximus' growth strategy, Weipert said she is always looking at capability gaps and building out the technology consulting capabilities in areas such as artificial intelligence and machine learning.
The company is hiring people with those skills, especially as business leaders and consultants.
Further acquisitions will also play a role. One area is cybersecurity, where it is quicker to buy than to build.
A cyber-related acquisition will put Maximus more "on the map in that area more than we are today," she said.