Why small business partnerships are now even more important for large contractors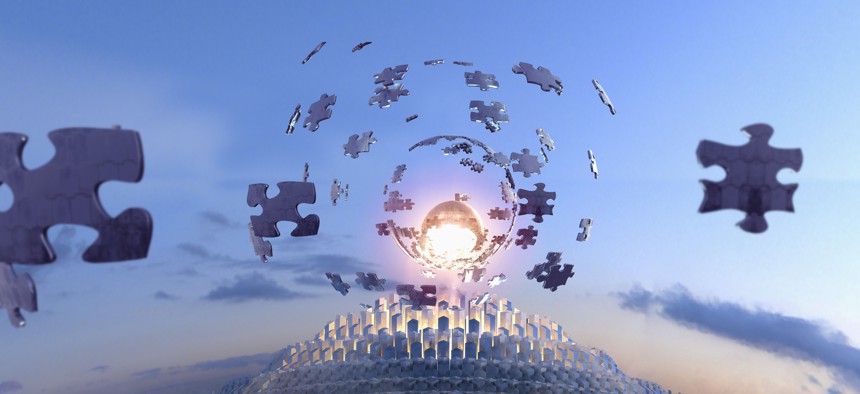 Today, more than ever before, there are immense benefits for large contractors to team with small businesses. Supporting small businesses in government contracting is vital for the nation's citizenry to ensure our government is working to its fullest potential while promoting competition and innovation.
Small business partnerships are certainly not new, but their importance has grown due to current administration priorities. Likewise, as federal agencies focus more of their time, energy, and, most importantly, budget toward work with small businesses, we are seeing increased goals and targets for small business participation.
This July, we found out the exact scope of this spending increase when the Small Business Administration announced that federal agencies spent a record-breaking $154 billion on contracts with small business in fiscal year 2021. Notably, agencies set a new record that year by awarding 27.2 percent of total federal contracting awards to small businesses, exceeding the White House goal of 23 percent.
There is one troubling piece of news buried in the excitement of the new targets and spending to support small business utilization. The actual number of small businesses, women-owned small businesses and small disadvantaged businesses fell, as part of a years-long trend. In short, there is more money targeted but a fewer number of small businesses that can serve as prime contractors due to limitations on services they can offer.
As we look toward the future of federal contracting, it's becoming clear that large government contractors will want to continue and increase their partnerships with current small businesses as well as new small business entrants to the market. Establishing and cultivating long -term partnerships that are built upon mutual trust bring many advantages including diverse thinking, new skills, and increased responsiveness. Maximizing participation and performance in government contracting for small business helps to create new jobs, expands entrepreneurship, and brings forth untapped innovation.
During my career, I've been fortunate to work with and support a wide variety of small and various socioeconomic businesses. These partnerships and resulting business growth have lasted for years with huge benefits for both parties. And during that time, I've learned some valuable lessons, which are best explained by CEO Thomas A. Duckenfield III, CEO of TDB Communications, a service-disabled, veteran-owned small business and an 8a.
"The best partnerships between small business and large contractors are based on a shared culture and alignment," said Duckenfield. "There is no one-size-fits-all approach to these relationships. It's about developing partnerships that benefit both parties, while establishing trust between the two companies to better serve federal agencies and their constituents."
Additionally, working with small businesses can create an opportunity to introduce new ideas, innovative solutions or infuse new technology capabilities to the mutual benefit of both companies as well as within government programs. These current and future partnerships are important because small businesses can bring a different set of ideas, new capabilities, and customer knowledge that large contractors may not have. They often provide keen customer insights with the government agencies. This can also lend agility to a team to move faster to respond and to deliver performance results. By combining the organization's different skillsets, these combined entities can compete for small business set aside work and can be differentiated to help position and win new contracts with government agencies.
The most successful partnerships are developed when two companies are open and transparent which creates a trusted relationship. New partnerships, whether to deepen or expand current partnerships, require both parties to understand what each other brings to the "communal table." Messaging, capabilities, and skill sets must be aligned to provide complimentary support and additional capacity for federal agencies.
Mentoring provided to a small business entity by the large business whether its informal or through mentor protegee relationships is key to success and growth.   Understanding both strengths and weaknesses is important to develop a trusted partnership relationship.  This is a critical piece, and one that comes together over time.  The overall objective should always be to deliver excellent outcomes for their customers mission while increasing growth opportunities for both companies.
There is a no secret sauce or a single magic bullet to making small and large business partnerships successful. Every small business partnership is unique. For small businesses, it's critical to find a large government contractor partner who understands your culture, provides an avenue for mutual support, and uplifts your entire business. That's a win-win for both companies as well as for the Federal agencies.
Working with small business is a priority from the White House and combined with an increased focus and spending from federal agencies, it shows no signs of slowing down. With great opportunity comes great challenges. By having the right small business partner in your corner, you may be able to identify new opportunities and together benefit from new market growth and expansion.
---
Lisa Veith is a senior vice president of Maximus.