Chess and the journey to thought leadership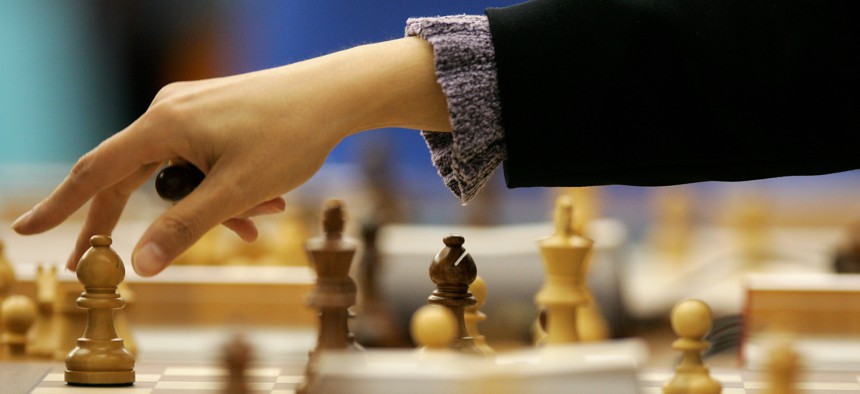 Being a thought leader in the government market requires a concerted effort with multiple steps to take a long the way.
Those who know me well know that the only sport I really follow is tennis. However, when Sally Jenkins of the Washington Post writes one of her signature brilliant pieces analyzing a current snafu in sports, I read it.
She is a great writer with an acute mind.
The article in question, "Rule-breaking in sports is far more complex than the moralists say," deals with a scandal in the chess world where a young player is accused of cheating. The alleged cheater, a 19-year-old named Hans Niemann, is accused of using "synthetic intelligence" or "artificial performance enhancement," somehow accessing AI to enhance his chess game.
I don't want to go into details of the allegations, but I want to highlight what Jenkins writes regarding what makes a superstar in sports or chess:
          "But what makes someone great- whether in baseball or chess- is a complex intersection of work, intentionality, incentive, opportunity, sensory perception, insight, psychology, economics and umpteen other factors."
This is nothing short of a brilliant observation. Often when I see something this erudite, my first thought is "Freaking WOW- what a great phrase!" quickly followed by "Damn. I wish I wrote that!!!"
As you may know, I frequently write and speak about thought leadership and building a subject matter expert position in the arena of government contracting. I also coach individuals and companies on carving out SME positions in the market.
Jenkins' observations on what it takes to become a standout player is the same sort of commitment needed to become a subject matter expert, then to level up to thought leadership.
Building a SME or thought leadership position involves many of the same factors: work, focus, more work, intentionality, opportunity, perception, insight, drive, motivational psychology, even more work, and "umpteen other factors."
In Selling to the Government I outline seven basic steps you need to take.
First: Carefully define your niche and be absolutely certain you have a legitimate claim to intellectual real estate pertaining to that niche. Your credentials must be solid.
Second: Establish your claim by developing and sharing information on a regular basis.
Third: Further establish the claim by incorporating the information into your web site, collateral material, your social networking activity, any online or offline venue where your niche gathers.
Fourth: Thought leadership requires an immediate information outlet, so you need a blog. It needs to be an immediate outlet so you can comment quickly on any breaking news impacting your niche, then share it ASAP.
Fifth: Tie your activities together: articles, speeches and blog posts. Links to all your output should be tweeted; article links should appear on your web site and LinkedIn profile and groups; have a "Share" button on your blog to make it easier for other people to share what you write, your web address, LinkedIn profile url and Twitter handle should be on everything you write, and be a part of your email signature.
Sixth: Understand that intellectual real estate is rarely a sole-ownership situation, and rarely is there only one thought leader per niche. You may generate unique content, but the concepts are generally shared. There may be multiple tenants. A true thought leader acknowledges the contributions of anyone who adds value. Always cite your sources.
Seventh: Make connections and network with people in your niche, online and offline. Visibility is a major key.
Thought leadership is a discipline, one that demands many things aside from the knowledge: you must be seen, known and trusted – and then you have a shot at being recognized by your niche and peers as a thought leader.
Keep in mind that thought leadership as a market position must be continuously earned – it is not a lifetime gig. There are no short-cuts.
Not everyone agrees with the way I define thought leadership or subject matter expertise. And that's OK by me.
But we as a market do need legitimate thought leaders and subject matter experts to drive us to the next level, to keep leveling up.
The digital world has made content so pervasive that it is hard to position yourself as a SME without appearing to be "cheating" - that is, coming up with truly original ideas. I have seen direct quotes from my work show up in other people's articles and posts, but I've been writing so long that much of what I have written has become part of our collective market knowledge.
To me the difference between being a SME and a thought leader is the depth of commitment, then the degree to which you can connect the dots, and explain in understandable terms why certain dots connect and others don't. Then the market bestows the Thought Leader title.
And by the way, if you are looking for a direct correlation between the Jenkins article and this piece, it stops with her description of what makes someone great.
Mark Amtower is a consultant, speaker, author, mentor, and podcast/radio host. His latest book, Government Marketing Best Practices 2.0, is exclusively available at Amazon.
Find him on LinkedIn - www.linkedin.com/in/markamtower  or reach out directly at markamtower@gmail.com