Mental health is a workplace issue and fundamental to national security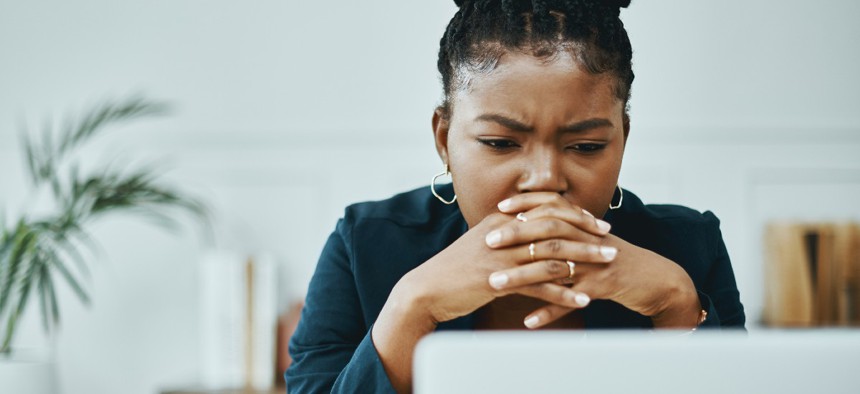 Amy Gilliland, president of General Dynamics IT, explains why government leaders need to pay attention to the mental health of their employees and break the stigma too often attached to mental health issues.
We are in the midst of an unprecedented period marked by acute burnout, anxiety and a sense of uncertainty about what lies ahead. The pandemic and the ongoing stresses of daily life have led to what experts are calling a global mental health crisis.
The wide-ranging effects of this crisis are particularly prevalent in the workplace. According to recent studies, 69 percent of employees say the COVID-19 pandemic has been the most stressful time of their professional lives, 89 percent have experienced burnout in the last year, and more than 70 percent of parents say the pandemic has taken a significant toll on their children's mental well-being. The impact is clear: individuals and families are struggling.  
A Wake-Up Call for Employers
The pandemic has sounded an alarm for employers across the country, as organizations realize they have an expanded role – in fact, a responsibility – to support employees and their families. A recent study showed that 70 percent of employees would leave their current employer for one offering mental health resources. This is a clear call to action for companies to evolve their employee well-being strategies.  
We Must Raise Awareness and Hold Important Conversations
As an employer, I firmly believe we must remove barriers to talking about mental health challenges. There are myriad opportunities for employers to use their platforms to engage in open dialogue around stress, anxiety and depression, and offer constructive paths toward getting support. In fact, the ability to be mission-ready is contingent upon having a resilient team.
At GDIT, our position on elevating the importance of mental health is clear. It's important to me that our employees know that we see them, we hear them, and we support them. That's the motivation behind our "How Are You, Really?" awareness campaign featuring resources, discussions with mental health experts, and forums for safe-space conversations and additional programming sponsored by our employee resource groups. We have also armed our managers with information to help them be aware of their employees' mental health. And earlier this year we added a robust new benefit program to help employees manage the additional burdens and stress that often comes with caring for loved ones. Overall, our goals are to help our employees learn, engage, prioritize their well-being and support those around them.
While we do all we can internally to help our employees maintain their mental health, there are times where that support is not enough and individuals may find themselves in an extreme state of crisis. For segments of our population, particularly youth and people of color, suicide rates are on the rise, an issue that is often viewed as a taboo topic to be avoided. We must not ignore this alarming trend. September is Suicide Prevention Awareness Month – a time to raise awareness and spread hope and vital information to people affected by suicide. To learn more, visit the National Alliance on Mental Illness website at www.nami.org. Emergency assistance is also available via the recently established 988 Suicide and Crisis Lifeline.
Mental Health in the Intelligence Community: Removing the Stigma  
Given GDIT's work in the classified space, I know that some employees, especially our cleared professionals, are reluctant to seek help as they fear it might impact their clearances. I recently hosted a discussion on this topic at an Intelligence National Security Alliance (INSA) event in an effort to shed light and eliminate the stigma associated with seeking mental health services.
The panel of experts clarified that it is always okay to ask for help. Taking advantage of mental health support is encouraged within the Intelligence Community and doing so does not affect one's ability to gain or maintain a security clearance. Statistically, only 0.00115% of clearances have been denied or revoked due to a mental health issue.  
Our critical government missions depend on the readiness of cleared talent, so I encourage these valued professionals to leverage the resources available to them through INSA and to seek help when they need it without fear of repercussions.
Let's Use Our Collective Platforms to Tackle Mental Health
While promoting open conversations and offering useful resources to support employees can be a huge culture shift for many companies and organizations, imagine our resiliency as a nation if we used our collective platforms and technologies to proactively tackle mental health issues. Now more than ever, we have a tremendous opportunity to make a significant, meaningful impact in an area that affects us all. 
As we move forward, we must not – we cannot – lose focus on the importance of mental health. It's essential for the well-being of our employees and their loved ones, and for the customers and missions we serve.
---
Amy Gilliland is president of General Dynamics Information Technology (GDIT), a business unit of General Dynamics Corporation with 28,000 employees. Gilliland has more than 25 years of public sector experience including service in the U.S. Navy and nearly two decades in leadership positions at General Dynamics.