What GovCon leaders face when they're women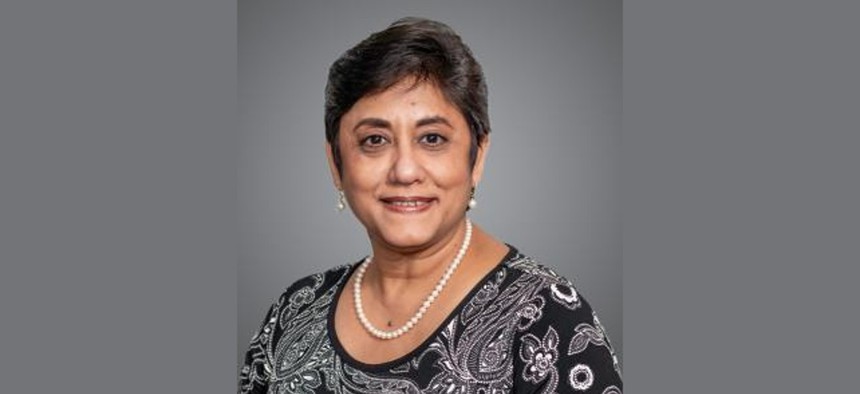 Naina Leo has had an esteemed career as a leader in the public sector, with nearly 30 years of experience. She's known for implementing innovative technologies to help transform organizations in the federal government space, most recently serving as the senior vice president and chief growth officer at Maximus | Attain.
Naina and I have more in common than just our mutual passion for public service. We share the journey of what it is like to be a woman who has risen to a position of leadership in the public sector. Although this experience undoubtedly has made us better leaders, our gains and successes were not easily—or quickly—achieved.
Role incredulity is still a persistent part of the day-to-day lives of women in the workplace. A woman could be the CEO of her organization or a high-performing doctor, however, when she enters a space with unfamiliar peers, there may be an assumption that she is there as an administrative assistant or nurse. A support role, versus a leadership role.
Sounds exhausting, doesn't it? Yet, this is the reality for most women in leadership, no matter how hard we've worked or how high we've risen.
Redefine Perceptions
Even with three decades working in the public sector, Naina still battles certain bias and incorrect perceptions of women in leadership positions. "People think you're too soft or compassionate listening to your people too much," Naina said. "Trying to get rid of that bias of being too emotional has been the biggest challenge for me."
This notion that women are too emotional if they show even a hint of passion often discourages them from speaking at all or results in them feeling they need to be more guarded in expressing themselves. This way of thinking does the individual and organization a real disservice.
Managers in the public sector need to wield both compassion and competency independently of one another. Moreover, being excitable infuses much-needed energy into an organization.
"Yes, I am emotional and excitable and compassionate. But these are strengths—not weaknesses," Naina said.
She also pointed out another bias that women often encounter. So many women propose ideas in meetings only to have their male counterparts talk over them or overlook their suggestions. Five minutes later the male colleague makes the same suggestions and receives a vastly more positive reception.
Naina is so confident in her abilities that she holds her space when speaking. This came with practice.
"I didn't have to fight as much as the women who came before me, so much as I just had to learn to talk over the men," Naina said.
Get to Know Your Team
Her advice to women entering the public sector is to get to know the dynamic of the group you're working with and work to understand their personalities.
Each person is different, and you need to build those one-on-one relationships with your peers so that you can tailor your conversations accordingly, Naina said. The time will come when you might need to interrupt your colleagues to claim credit for your ideas.
Set Boundaries
Additionally, she advises women to not be afraid to set boundaries and enforce balance between work life and home life. Many women still have risen to the top of their fields while honoring those boundaries.
"Normalize not being available without feeling the need to supply your reason," Naina said. "The men don't. So, don't. Whether I logged off early to pick up my children or declined evening calls with clients had nothing to do with my performance, and I enforced that until I found organizations to work for that embraced it."
Look At a Company's Culture
"Look at the company culture of the jobs you're looking at where you can be your authentic self," Naina said. With a predominantly male-dominated industry, it's important to evaluate how male leadership treats their female counterparts as well as more junior staff.
Although there are some men who are supportive of their female colleagues, the onus also needs to be on men to help redefine the perception of women in the workplace among their male colleagues.
Male staff will take their cue from leadership. If someone at the top of the organization is undercutting female leadership - cutting her off in meetings, disrespecting her ideas, undervaluing her work – then it sets a precedent for the rest of the organization.
Serving as allies and mentors, men can be instrumental in creating an inclusive environment for everyone. It's on male leadership to support their female counterparts and call out behaviors that are not representative of an inclusive culture. If we're not moving forward together, then we're not moving forward at all, Naina said. 
Women Must Empower Women
Above all, Naina and I want women to empower other women. "I want to see the next generation lead with it," Naina concluded.
As someone who is passionate about redefining how women are perceived and treated in the public sector, I appreciate Naina sharing her journey and advice with me. The challenges she and I have both experienced in our career feeds into the very reason I co-founded GMarkU, an institution that creates space for women mentorship; where leaders from across the industry come together to share their knowledge and derive value from learning from one another's experiences.
Stephanie Geiger is is the co-founder and executive vice president of Government Marketing University. GMarkU and Washington Technology are owned by the same parent company, GovExec.