Army decides to reset $100M IT services contract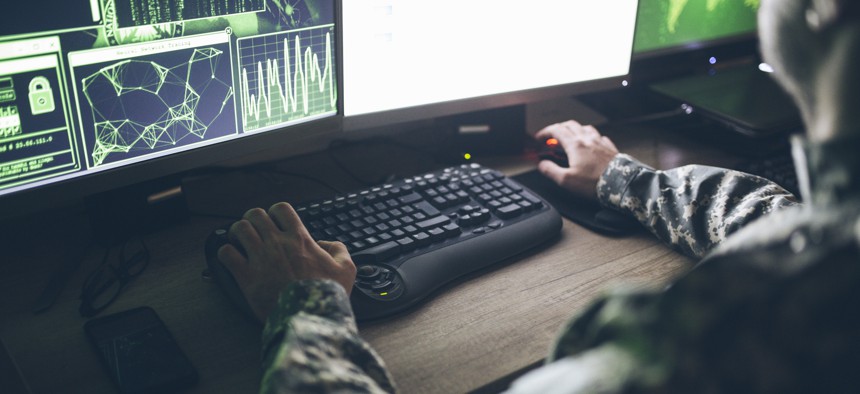 The service takes a step back after a series of protests made it realize that the solicitation no longer met their needs.
A back-and-forth battle for an Army IT services contract with a ceiling value exceeding $100 million has led the service branch to cancel the effort and start over.
V2X originally won the $106.3 million task order under the IT Enterprise Solutions 3 Services contract that is a mandatory use vehicle for the Army. The March 2023 win was a takeaway from incumbent DirectViz Solutions.
But DirectViz was never considered for the award. The Army said it couldn't access all of the information on a DVD the company submitted containing parts of the company's proposal.
In a bid protest, DirectViz argued the Army should have asked for a new copy of the DVD after realizing there was a problem with the original. The company also said that the DVD was working fine when it was submitted, so the problem had to be on the Army's side.
However, the Government Accountability Office denied DirectViz's protest in the summer after the company provided no cevidence that the Army mishandled or damaged the DVD. GAO found the Army followed the procedures it had in place for receiving, handling and story submissions from bidders.
There was no evidence that the Army deviated from those procedures and the branch had no obligation to ask for a new copy.
Without evidence that the Army mishandled the DVD, there is no requirement that the Army ask DirectViz for a new proposal. Tthere is no basis for DirectViz to receive relief, GAO said.
GAO basically compared it to a lost proposal.
"This arguably draconian result is justified by the unique circumstances arising in protests concerning lost information because the only means generally available to establish the content of allegedly lost information is for an offeror to reconstruct that information," GAO wrote. "However, allowing an offeror to establish the contents of its lost proposal after the closing date has passed is inconsistent with maintaining a fair competitive system."
So that knocked DirectViz out. But at the same time, SOS International also filed a protest objecting to the V2X win.
The Army took a corrective action in July to reevaluate proposals and with that re-evaluation, the new award went to SOSi in October.
Following that, Vectrus and another bidder in 22nd Century Technologies filed their own protests later that month.
As the Army looked at their challenges to the technical evaluations, the branch decided that the task order no longer meets their needs and they cancelled it.
Now the Army is re-evaluating requirements and will write a new solicitation.
Meanwhile, DirectViz continues under the existing contract,. Because the Army is starting over, the competition is open again to all ITES-3S primes.