GDIT wins first tasks under $4.5B classified Air Force contract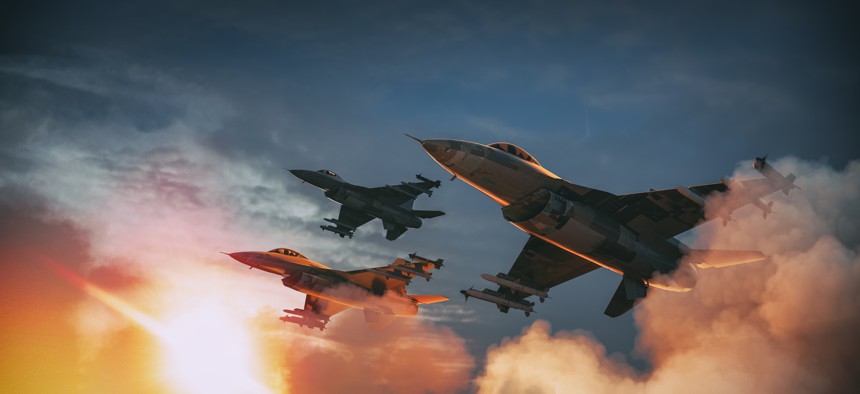 After spending a couple years mired in bid protests, the Air Force wasted little time getting its $4.5 billion contract vehicle for security support services underway after the last protest was withdrawn in August.
General Dynamics IT has disclosed its win of the first slate of task orders to come out under the Air Force Special Access Program Security Support Services contract.
The contract is highly classified – more on that later in this article – so GDIT declined to release any dollar values for the task orders.
Work will start on Nov. 15. GDIT will perform services around information, personnel, communications security, counterintelligence analysis and cybersecurity assessments.
The Air Force structured the vehicle as a way to bring in highly-skilled contractors with clearances to provide security support services.
The SPSSS contract was awarded in February 2021 to ManTech International, Peraton (through its acquisition of the former Northrop Grumman IT business) and GDIT.
But the launch of the contract as an active vehicle has been delayed by protests by ManTech, which challenged the labor rates in GDIT's proposal.
Protest decision number one went in ManTech's favor in June 2021, when the Government Accountability Office told the Air Force to re-evaluate pricing.
But given how classified the contract is, the Air Force didn't approve a public version of the protest for nearly another two years. GAO finally released the redacted ruling in March.
The release of that decision was quickly followed by another protest by ManTech, which they withdrew on July 5.
A third protest from ManTech followed on July 26 and the company withdrew that challenge in late August.
Companies aren't required to disclose to GAO or anyone else why they withdraw a protest. ManTech officials have declined to comment when we've inquired.
Given that this is a 10-year contract, this probably isn't the last we'll hear about this one with more competitions ahead.