Doing business with the Navy shouldn't be 'artificially hard,' research chief says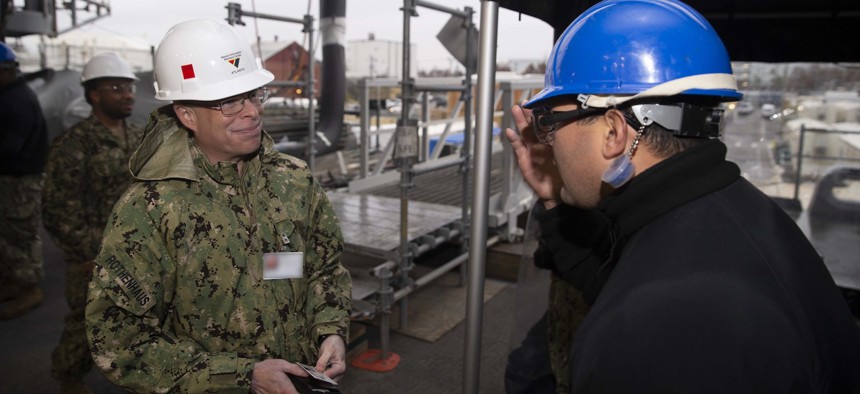 The Navy's top research organization  is "dedicated" to making it easier for small businesses to get contracts, the chief of naval research said Thursday. And, he said, if the process is "artificially hard," companies should call him out on it.  
"We have really, really worked hard to lower the barrier of entry and make it easier and more effective and reduce the friction to partner with us. We're dedicated to it," Rear Adm. Kurt Rothenhaus, the chief of naval research, said of making acquisition and innovation with the Navy and Marine Corps easier. 
Program managers and other acquisition professionals  are sometimes blamed for the Defense Department's notoriously opaque acquisition process, which can lead to delayed adoption of the latest technologies. 
"All those people who are working in those acquisition program offices…sometimes they're viewed a bit as the problem. They're not, they're really attempting to do the heavy lifting…and they're held to a standard and they're held to a schedule and they're held to the resources they've been given," Rothenhaus said during a keynote speech at Fed Supernova, a defense innovation event in Austin, Texas.
Moreover, acquisition personnel have to juggle those standards while understanding what troops need, the technologies available, and the business case to bring to scale, he said. So it's important for companies to keep that in mind and "be persistent."
"If you have that thing that's going to even give them .0002 percent more potential gain than our adversaries, potential adversaries, we want it, and we want to get it into their hands. And it's not just attack, but we also want to learn the how, how you do business, how you approach problem solving, how you interact, how you work with capital, how do you think through your problem space, so that we as a naval team, Navy-Marine Corps team, can also benefit," said Rothenhaus, who took office in June.
The Defense Department's acquisition and programming and budgeting processes have been criticized for decades, often because of delays or failures to buy and integrate new tech. 
But making Navy acquisition more transparent is not simple, Rothenhaus said. 
"There's not like a macro-level button to press. It's really leaning with some grit and perseverance to really identify those individual areas and sectors that there's a higher barrier than another and really dial in and reduce it," he said. 
Rothenhaus said the Navy has key levers it could pull to help the process, including the Small Business Innovation Research program, broad area announcements, user-friendly websites, better advertising, and forecasting. 
"I think the best thing we can do oftentimes is…give industry a little bit more time to prep for when that broad-area announcement or other engagements are available so that they can prep a little bit better, so that when the time comes, the announcement lands, they got what they need to be able to have an effective proposal in front of the government," Rothenhaus said.
"But if we're making it artificially hard for you, tell them—tell me—where we can knock down that barrier and make it easier for you to work with us. Because again…we need your help."