Report: These 9 trends are reshaping government in 2023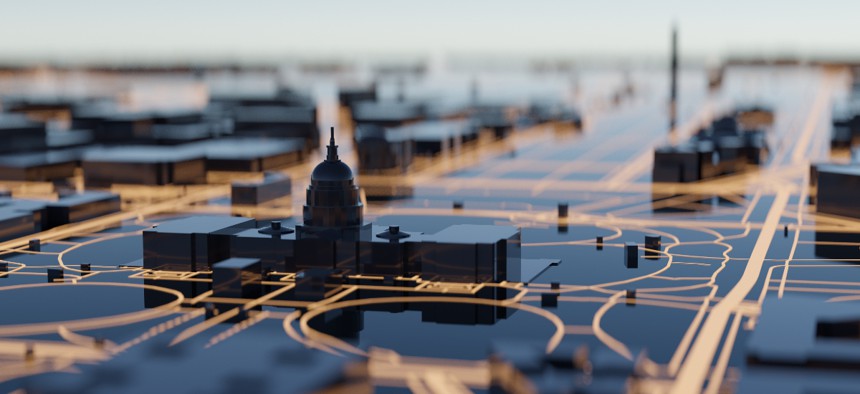 Technology and efforts to improve digital service delivery factor into many trends identified in a March report by Deloitte's Center for Government Insights.
In a federal government still readjusting to work, service delivery and executing missions following the years-long pandemic, a new report highlights nine trends reshaping government—and the paradigm shifts driving these changes.
The Deloitte Center for Government Insights' Government Trends report posits that government walls—or silos—are coming down as agencies reassess their roles in delivering public value. Major global shifts, like climate change, cyber crime and pandemic response, are forcing collaboration among agencies the report describes as "whole of government/whole of society approaches."
"The unifying theme of the 2023 Government Trends report is 'dissolving boundaries,'" William Eggers, the report's lead author, told Nextgov.
Eggers said the COVID-19 played a major role in increasing collaboration between agencies and across sectors, and added that the Biden administration's push on "whole of government ideas, like improving infrastructure," has continued that momentum.
Driven in part by the shift to remote work in recent years, the government has increased its use of cloud computing and other digital tools—like data analytics and artificial intelligence—and Eggers said he does not anticipate a return to the traditional government operations.
"COVID obviously flipped a variety of orthodoxies on where and how you work, and from what we've seen for the most part, these trends have continued," Eggers said.
The 2023 Trends Report calls out five "cross-cutting trends" and four "domain-focused trends." The cross-cutting trends include fluid government workforce models, bridging the data-sharing chasm, tackling funding silos, tailored public services and back-office innovation improving mission performance.
Eggers called attention to the Biden administration's focus on improving customer experience—including the prioritization of "life events"—as one way agencies working together to improve individual outcomes for potentially millions of Americans. Life events place emphasis on important moments where users must work with the government, such as retirement or receiving benefits.
"One of the interesting findings in surveys of voters is a very strong correlation in people's experience working digitally with the government and trust with agencies," Eggers said. "In many respects, the biggest barrier to using digital services was not privacy or security, but in user experience. Now you're having government all around the world employing life events-based approaches. The Biden administration is taking this on in a big way with a variety of life events."
The report's four domain-focused trends are regulation that enables innovation, teaming up to deliver whole health, end-to-end justice and security by network.   
The Trends Report also lists six major drivers—or "paradigm shifts"—underpinning these changes. They include: accelerated technology; the convergence of physical and digital realms; the decline of "the theory of the firm" and rise of "the theory of the ecosystem;" blurring of the lines between public and private; the rise of networked power; and moving from public to "network" trust. Technology factors significantly into the above drivers.
"Governments are using technologies such as cloud computing, data analytics and AI to build connections between people, systems and different government agencies," the report states. "Technologies such as internet of things and digital twins enable the convergence of physical and digital realities at a rapid pace, allowing government at all levels to make informed decisions, anticipate problems and gain reliable insights into the future."