NGA meeting resistance from dismissed bidders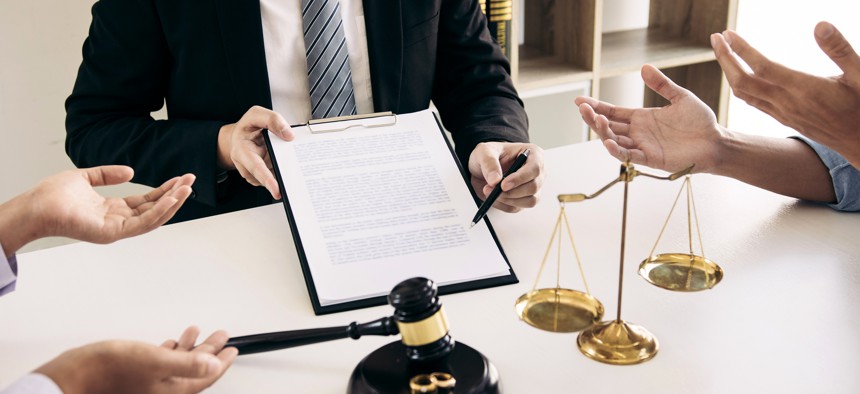 The National Geospatial-Intelligence Agency is designating the proposals that are non-compliant for a $947 million professional services contract, which has led to pre-award protests.
Three companies are pushing back after the National Geospatial-Intelligence Agency determined their proposals as not meeting requirements for the $947 million Clover professional services contract.
NGA is not running a formal down-select process, but is instead going through proposals for the small business contract and eliminating bids the agency deems as not compliant with the solicitation.
Clover is the follow-on contract to Emerald, which is NGA's main vehicle for acquiring professional services related to acquisition and business functions. Like Emerald, Clover is set aside for small businesses only.
Bidders for Clover were first evaluated on how their experience relates to three potential task orders in the areas of acquisition management, financial management and strategic business management. Companies had to submit between one and three examples for each individual task order.
It looks like NGA is informing companies as it moves through the proposals.
Assertive Professionals was the first to protest its elimination and filed on Aug. 15. Protest number two out of Logic Gate was filed Aug. 18, then came the most recent protest from NextStep Technology on Aug. 19.
Six incumbents are on Emerald and NGA's plan is to award five prime positions for Clover.
NGA also has a plan in the event of a tie at spot number five. The agency will break that tie via a blind drawing of all proposals with equal scores and reasonable prices.
Proposals with the highest technical ratings at what NGA calls a "fair and reasonable price" will receive an award.
Decisions from the Government Accountability Office on the protests will likely come by Nov. 23. NGA can continue to evaluate proposals, but cannot make an award until the protests are resolved.