Spotlight on innovation in the 2023 defense policy bill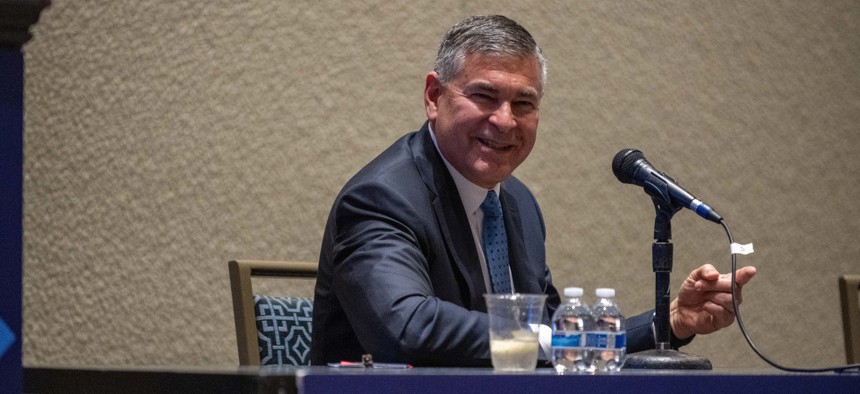 The Defense Innovation Unit stands to get $81 million, double its requested budget, for fiscal 2023, under the House version of the National Defense Authorization Act.
The Defense Innovation Unit, which is charged with facilitating development and acquisition of cutting edge technologies at the Defense Department, is poised to get double its requested budget for 2023. 
Rep. Jim Banks (R-Ind.), the ranking member on the House Armed Services Committee's Subcommittee on Cyber, Innovative Technologies, and Information Systems, said in opening remarks that he was "proud" of the increase to the Defense Innovation Unit's budget request from $42.9 million to $81 million in the House version of the 2023 National Defense Authorization Act.
The HASC passed an amendment to the bill 42-17 authorizing $839 billion in funding for the Defense Department. That amount is more than the Biden administration's budget request but about $8 billion less than the Senate's version of the bill passed last week. 
"DIU's mission to bring commercial technology into the Department to improve capabilities and deploy them more quickly is vital in this era of dual-use technology," Banks said during the markup June 22. "DIU's work should be expanding, not shrinking, which is why we doubled its funding from last year's numbers. I encourage the appropriators to follow suit."
The bill also includes an $8 million bump for DIU in authorized prototyping funds for artificial intelligence and machine learning-enabled open source intelligence for information effects and the information environment. 
Michael Brown, the outgoing director of the Defense Innovation Unit, said those funds, if appropriated, could be used to continue expanding the agency's ability "to have a much greater outreach to international allies and partners and make sure their technology is included in what we consider."
"We've made a lot of progress. And I think we've laid a blueprint for some of the things that can be done kind of in the next phase as we make sure that what we've done gets integrated with more mainstream acquisition," Brown said on June 22 during a virtual event with the Center for a New American Security, a Washington, D.C.-based think-tank. 
But controversy on how Congress tracks that expansion erupted into a debate over whether the Defense Innovation Unit should have to brief Congress on its outreach to economically disadvantaged communities when opening new office locations.  
Congress gave the defense secretary the greenlight to expand the agency's footprint nationally in the 2022 defense authorization bill. This year, Rep. Veronica Escobar (D-Texas) wanted to make sure that expansion included economically disadvantaged communities with an amendment that requested a briefing by January 2023 on "what steps the DIU has taken to expand their outreach to communities, like economically disadvantaged communities that
do not have a DIU presence and a strategy to continue doing so."
That amendment was adopted at 30-28, but several committee Republicans spoke out against it. Banks said the measure would "straddle DIU with more mandates and make them do more things that don't have anything to do with the mission."
But with a significant topline increase in sight for DOD, Rep. Anthony Brown (D-Md.), said there was nothing burdensome about a briefing on what the innovation body was doing amid its authorized expansion. 
"We are about to raise the defense budget $36 billion, I think $37 [billion] and a briefing is overburdensome? Every single one of the members of this committee, both Democrats and Republicans, have experienced foot dragging and an unresponsive DOD when we've asked for information. Sometimes they're responsive. Often they're not. We're asking for a briefing," Brown said.
Committee Chairman Rep. Adam Smith (D-Wash.) said that outreach in areas outside of the known tech hubs was central to DIU's mission. 
"Ideas do not just come from rich, wealthy neighborhoods, okay," Smith said. "[They] don't just come from Silicon Valley. They don't just come from Bellevue. They come from all over the country and I think it is appropriate to encourage DIU to find those, I think that is core to their mission."