Former lead of CMMC resigns amid legal drama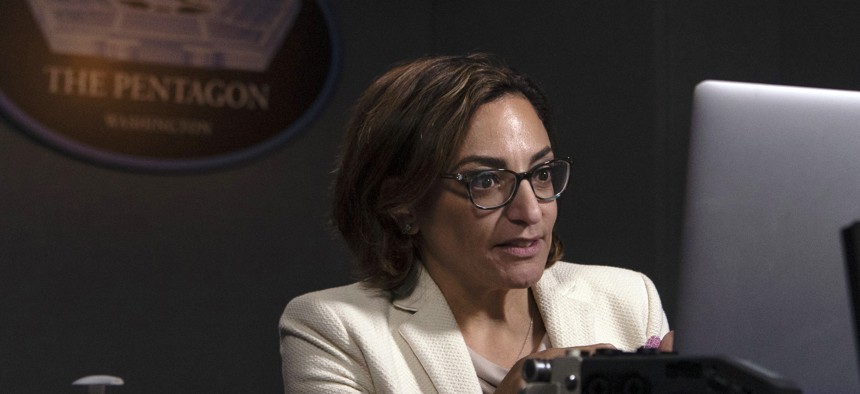 Katie Arrington, the former lead of the Defense Department's burgeoning cybersecurity program for contractors, has resigned from her post as chief information security officer for acquisition and sustainment.
"Today was one of the hardest days of my career as I resigned from the DOD," Arrington wrote in a LinkedIn post late Feb. 7. 
"I came to the DOD in [January] 2019 to join a team intent on making real and impactful changes to better our national security and do our very best to provide the warfighter the very best capability they both need and deserve in defense of our great nation."
Arrington's resignation comes after she sued the Defense Department over the rescission of her security clearance and her placement on administrative leave last May over an alleged unauthorized disclosure of classified information. 
Arrington received a Fed100 award in 2021 for her work with the Cybersecurity Maturity Model Certification program. Leadership of the CMMC program at the Pentagon has since shifted to Stacy Bostjanick, DOD's director of CMMC policy. 
A legal settlement was reached in January that gave Arrington access to the department's evidence against her. According to the post, she "resigned in protest" suggesting that her contributions were "dismissed" due to "false accusations with no rational[e]" and political bias. 
"I NEVER approached my public service in a partisan manner, but my service and my good name was disparaged without basis and in a totally partisan manner," she wrote. "So onward I go."
Arrington, who served one term in the South Carolina House of Representatives, announced a primary challenge on Tuesday to unseat fellow Republican Rep. Nancy Mace in Congress. Arrington won a contested Republican primary in 2018 to unseat Rep. Mark Sanford in the same congressional district, but she lost in the general election to the Democratic candidate.