Booz Allen built its 'Helix' hub for more than just demos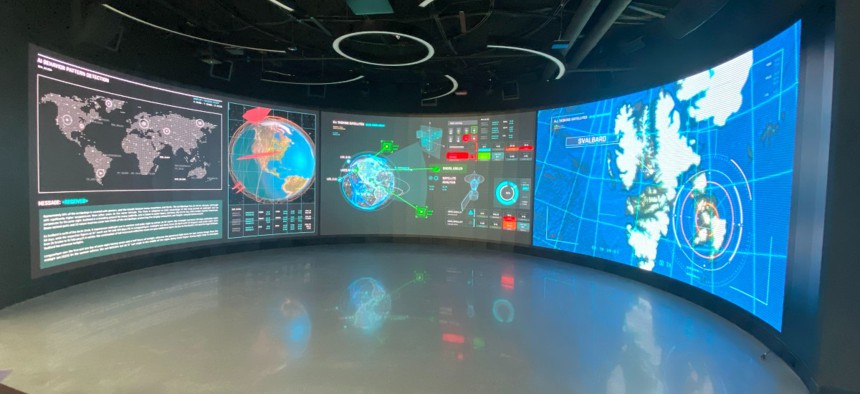 For employees and clients alike, this newly opened innovation center is designed to be a home for shared learning and development.
Booz Allen Hamilton has interlocking and related goals for two its core constituencies with respect to a new innovation center in Washington, D.C., called "The Helix" in the shorthand form.
Regarding employees: the reworked 9,422-square-foot facility can house up to 300 of them when standing and 150 when sitting.
Cubicles are nowhere to be found, but instead one sees a cavalcade of design studios and demonstration tables for everyone to collaborate and test ideas.
Artificial intelligence and 5G are among the core technology areas of focus for those working inside The Helix Center for Innovation, which aligns to Booz Allen's long-term strategy unveiled last year and dubbed VoLT.
For a company that directly correlates talent to its financials, employee engagement and new ways of how they learn and apply that learning into their jobs drove the design and standup of The Helix.
"There is a new classroom we need to be cognizant of in terms of how you both educate and learn," said Brian MacCarthy, vice president of tech scouting and ventures at Booz Allen. "If we get nothing else other than both from a recruiting perspective and current employee perspective, that they can see something outside out of a PowerPoint deck, feel themselves in the space and be able to soak that in from a mission perspective and technology perspective, then I think we'll have done our job."
In speaking with MacCarthy and Booz Allen's Helix director Melissa Lazarofsky at the site, they told me the company did not change its plan or direction for the facility during the COVID-19 pandemic's start and peak.
Lazarofsky said firm leaders held many conversations with members of the Helix team in early 2020, before the pandemic was declared such, to find out what they wanted in a worksite. The feedback consistently hit on a theme of wanting an environment slightly less noisy than what was there before, but also be welcoming to government clients for visits.
The big-picture cycle learning and development goes for both employees and their customers at government agencies, as she pointed out.
"That is one of the convening purposes of the space... both in partnership with our clients, but also upskilling current staff," Lazarofsky said. "That's one of the key components of our programming for the space."
Also top of mind for Booz Allen is its employees based outside of the Washington, D.C. metropolitan region. MacCarthy said roughly half of the company's headcount growth falls into that category, which leads to this line of Booz Allen's thinking he presented as a question:
"How do we design for purpose, design intentionally to make sure that we bring that crew in?"
Regarding leaders from government agencies who might pay a visit: yes they will have opportunities to watch demonstrations of the technologies and solutions that may end up in deployment one day. Lazarofsky said the company expects clients on average to see two or three demos per visit.
But the word "demystification" also came up in our conversation about what visitors can expect when they witness those demonstrations.
Lazarofsky told me The Helix also functions as a place for clients to also ask questions about what they witnessed, which indicates the demos are mainly there to be a conversation starter.
"That is what every part of the experience is going to be geared towards: through the demystification of certain technologies, through the demos," Lazarofsky added. "At the end of each bespoke tour, that is a place to reflect on what you learned, have those deeper conversations."