The talent race will never end, but here's how contractors are talking about it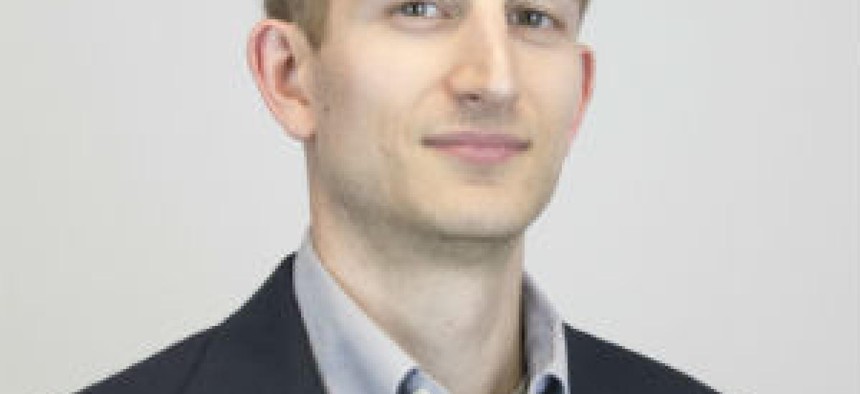 Within the span of 24 hours, four publicly-traded government technology and professional services companies went into some detail on both what they are seeing across the market on the human capital front.
All against the backdrop of conversations surrounding the post-pandemic future of work and the eternal competition to keep top-end, cleared technology talent.
Here are some snapshots of what they said in their second quarter earnings calls with investors.
Parsons Corp.
Among other items in the quarter, Parsons cited the competitive hiring environment as a drag on both its financial performance over the April-June period and what the company expects to achieve this year.
During Parsons' call Wednesday, CEO Carey Smith explained what the company's newly-hired chief human resources officer in Susan Balaguer brings to the equation.
"She comes with federal experience, which we feel is very important because recruiting in federal is different than recruiting in critical infrastructure, and it kind of sets the high bar," Smith said. "She's also co-located with me, which I believe will help."
Then there is the recruiting function Balaguer will be responsible over. As Smith indicated, Parsons is using some of today's practices for a geographically dispersed and hybrid workforce during the pandemic as a lever to go beyond the hotly-contested Washington, D.C. region's talent base.
"What COVID showed us is that you can do a lot of development in an unclassified environment, often to the point of about 90 percent on programs, so we're working with our customers to do software development in an unclassified environment," Smith said.
Centreville-headquartered Parsons lowered this year's financial outlook to between $3.6 billion and $3.7 billion in revenue versus the prior $3.85 billion-to-$4.05 billion range. Second quarter sales of $879 million were down 10 percent from the same period last year.
The bottom line forecast was nudged down to between $295 million and $315 million in adjusted EBITDA (earnings before interest, taxes, depreciation and amortization) versus the prior $350 million-to-$375 million range. Second quarter adjusted EBITDA of $66 million was down 28 percent from the same period last year.
ManTech
For as much onus ManTech puts on growing headcount, the company also is glad to tout all it does for the employees already part of the team.
One of those tools in the Herndon-headquartered company's toolbox is a career mobility program. During ManTech's call Tuesday, Chief Operating Officer Matt Tait said that initiative "hit record numbers this year in terms of enablement of our folks."
But what is the appetite among customers, particularly in the cleared space, to permanently move to a different model with facilities not at full occupancy all of the time?
"We have a wide variety of customers that some want, I'll say 100-percent remote and others that want 100-percent onsite, and so we're working through that, as well as for each of our employees in terms of what experience and career enablement they want to have," Tait said.
"So we're going to be working with them to make sure that they can do that within the context of the pandemic and the things as our customers are, I'll say changing their requirements or updating their requirements for remote work."
Future of work and career enablement were among several talking points in this Project 38 episode with Tait from July.
ManTech's financial outlook for this year remains the same: between $2.65 billion and $2.75 billion in revenue and an EBITDA margin of 9.3-to-9.4 percent. The sales forecast implies growth of 5-to-9 percent over last year.
Second quarter revenue of $648.6 million was 3-percent higher over the same period last year and EBITDA of $67.4 million showed a 19-percent gain.
ICF
One cornerstone of Fairfax-headquartered ICF's strategy with respect to talent is how people across both its government and commercial arms can and do often work together depending on what the customer is calling for.
During ICF's call Tuesday, CEO John Wasson acknowledged "there's no question the current labor market is certainly tight" with respect to both availability and recruiting in both the company's own markets and "more broadly in the economy."
That is also not a new problem as Wasson pointed out. Though the company has hired more in-house recruiters and invested more in those working on contract to identify and bring in more talent.
Outside of overall headcount, another way that ICF measures its success on hiring is the amount of days between a job posting and someone getting hired for that role. Wasson said that number has gone "up a couple of days" over two years but that "all things considered, I'm pretty happy with that metric."
Then there is keeping those already on the team from leaving but knowing the reason why they leave if they do.
"We put in programs to stay engaged with our frontline employees. One of the things we hear is, the number one reason people leave during the pandemic is they don't feel like they're engaged with their frontline manager, so we're managing that," Wasson said.
ICF's financial outlook for this year remains the same: $1.525 billion-to-$1.575 billion in revenue and EBITDA of $145 million-to-$155 million.  Second quarter revenue climbed 10.9 percent year-over-year to $392.5 million and EBITDA rose 26.7 percent to $31.3 million.
Back to Leidos
We went through some of Leidos' key second quarter takeaways on Tuesday, but return to note that they also touted a 11-percent year-over-year gain in headcount to more than 42,000 employees.
The Reston-headquartered company knows it cannot sit still in the race for talent however. Leidos also knows it too has to look outside the Washington, D.C. region for new sources of talent and has done so. Acquiring 1901 Group has helped on that front given their approach to managed IT services.
Geography still matters for some things however.
"Someone with a lifestyle polygraph, a security clearance and can program in a computer language called Python in the national capital region around D.C: yes, we are seeing a lot of competition for that person," Krone said.
"We are on-track to meet our hiring goals but there is always that specific individual, a Ph.D in radiology that is difficult to find, especially if you are geographically limited as you often are in the (intelligence) business."
A wrap
All four companies above mentioned wage inflation as another pressure point on everything they are trying to do on the human capital front. Another discussion for another day.