How ManTech turns its tagline into strategy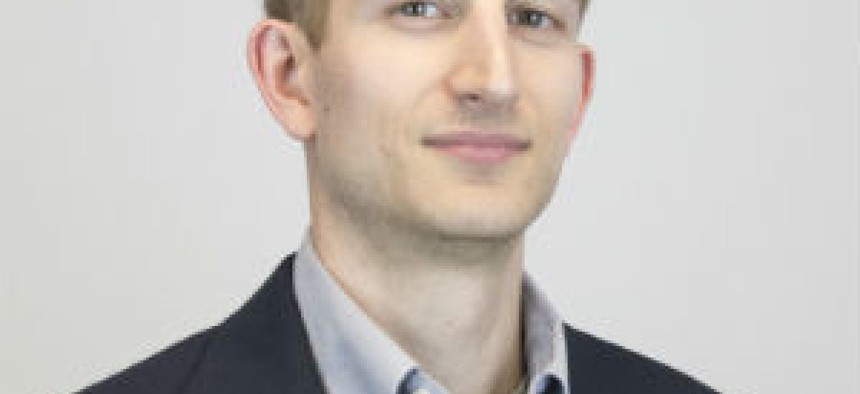 ManTech's return to sustained revenue growth is five years running but the underlying fundamentals that made that happen go back further.
The current blueprint guiding ManTech is its 2023 strategy that can be partially told by the tagline in the company's logo -- Bringing Digital to the Mission.
Five key technical focus areas fall under that umbrella as described to me by Chief Operating Officer Matt Tait, who said that they are the ones ManTech sees as "the most important and would make the most difference in us supporting the national security mission."
Tait listed four of the areas as cognitive cybersecurity, mission and enterprise IT, data at the tactical edge, and intelligence systems engineering. Area number five is internally called "A-cubed" for including everything in automation, artificial intelligence and analytics.
Back to the tagline however: what is the bigger picture idea in bringing digital to the mission as ManTech sees it?
"We are at the tactical edge on a daily basis when you look across our business," Tait told me. "Bringing that digital capability out to that tactical edge and making a difference from a mission perspective is exactly what we're trying to do."
The company's strategy helped it land at No.26 on the 2021 Top 100 with $1.3 billion in prime contract obligations during government fiscal 2020. For calendar year 2020, ManTech recorded 13-percent overall revenue growth to $2.5 billion with 11 percent of that increase organic. The Herndon, Virginia-headquartered company's current guidance for this year indicates growth of between 5 and 9 percent.
Tait characterized calendar 2020 as a "great year in terms of the launching point" for its current three-year strategy and also one somewhat defined by three significant wins.
Win number one Tait highlighted was a three-and-a-half year, $265 million contract the company announced in December to help the Defense Department develop and field an operational cyber infrastructure.
Known as the Joint Common Access Platform or JCAP, that program is part of a larger architecture to help DOD cyber operators connect to their target beyond friendly firewalls. ManTech will also provide specialized procurement support to the department for JCAP and help manage fielded versions of that capability.
Award number two Tait pointed out came from the Customs and Border Protection agency, which selected ManTech for a $273 million business intelligence support services contract.
That five-year "BISS" award sounds very broad given its name, but is focused on helping CBP get ahead of and prevent acts of crime and terrorism across the U.S.' nearly 17,500 miles of borders and coastlines.
Tait said ManTech will focus on helping CBP increase its use of technologies and techniques in artificial intelligence and analytics to support its mission. Data visualization is also part of that effort to help CBP personnel have actionable intelligence in their hands.
A third booking with the Navy mentioned by Tait is for intelligence systems engineering: which is right in the middle of ManTech's strategy.
"All of those are aligned to all five (technical focus areas) in terms of how they combine and differentiate," Tait said. "I looked at that as an exciting blastoff to our 2023 strategy."
No story about ManTech can be told without looking at its most recent acquisitions, of which the company completed two last year and both heavily tilted toward cybersecurity.
In November and December of 2020, ManTech closed its purchases of Minerva Engineering and Tapestry Technologies in quick succession. One common thread between both deals was ManTech being able to deepen its roster of cyber talent, which Tait said has "come in and made a real difference from the get go."
Tait said Tapestry stood out for its work to develop a zero trust architecture offering in use across the Defense Department and other agencies. Regarding Minerva, there was not much Tait could say about what that company does beyond being "pleased with their capabilities and how they're delivering."
But what he could say about both companies is that they are part of ManTech's push to become more of the full spectrum cyber company it sees itself as.
So what is the definition of full spectrum cyber as ManTech sees it?
"That is everything from policy in terms of making sure people are doing things right from a cyber perspective, it's defensive cyber and it's also enabling an offensive capability as well, and everything in between," Tait said.
One other aspect of ManTech's 2023 strategy is to make sure the company is taking into account everything that is driving today's market, but with a keen eye looking ahead to what will shape the environment for the many years beyond that.
So in the bigger picture where does ManTech want to go and hence become more of?
"The high end technical engineering and technology company within the federal space that's focused on national security," Tait said. "We want to be the best at it, we're making tremendous strides in that. But even when we get to 2023, there's no planting of any victory flags. This is just a stepping stone to greater things as we go along."
(A future episode of Project 38 will feature my full conversation with Tait that also includes his views on post-pandemic future of work in the government market, broader technology trends and what ManTech is doing to win the talent recruiting and retention fight)