Air Force wants $800M for enterprise IT as a service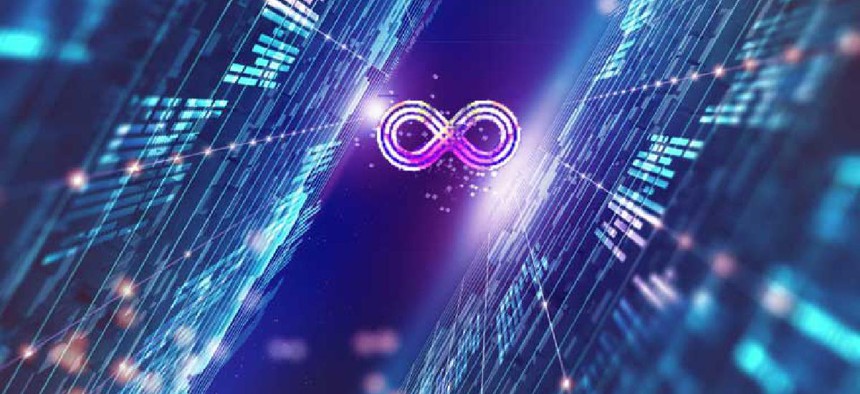 The Air Force is looking to increase its enterprise IT services with capabilities that can support Joint All Domain Command and Control efforts through an $800 million budget boost.
NOTE: This story first appeared on FCW.com.
The Air Force is looking to boost its enterprise IT services with an $811 million program ask in its budget request for fiscal 2022.
According to budget documents, the Air Force is focusing on expanding its foray into "as-a-service" models and software development with a $811 million budget request to modernize IT infrastructure with capabilities that can support Joint All Domain Command and Control efforts.
"The Air Force continues its initiative to transform its information technology model into an as-a-Service construct with a $383 million increase," Maj. Gen. James Peccia, the Air Force's deputy assistant secretary for budget, told reporters May 28. "This effort allows airmen to focus on employment and defense of networks rather than maintenance."
At least part of that increase, $53.6 million under command, control, and communications for operation and maintenance funding, is carved out for base support to transition network operations to enterprise IT as-a-service, according to budget justification documents.
Making seamless communications between services and defense partners and allies was another spotlight in the Air Force's $28.8 billion research and development budget request, including Kessel Run's All Domain Common Platform, a cloud-based, as-a-service model that aims to "deliver highly resilient C2 mission applications and data" so airmen can "build, deploy and monitor mission applications" from anywhere in the world, budget documents state.
The project, which requested $64 million for fiscal 2022, is described in budget documents as "the primary path to production for modernized C2 systems." The plan is to build a Kubernetes-based platform on unclassified, secret, and Joint Worldwide Intelligence Communications System networks and migrate existing customers over the course of the year, according to the documents.
The Air Force also has several software pilot programs with requested funding levels totaling more than $418 million under the Defense Department's software and digital technology pilot effort that aims to change how software is funded: $96 million for the Strategic Mission Planning and Execution System pilot; $186.9 million for the Air and Space Operations Center's pilot program; and $135.1 million for the Defense Enterprise Accounting and Management System pilot.
The Air Force joins the Navy in contributing to the multibillion dollar piloting effort that seeks to streamline software spending under RDT&E starting in fiscal 2021. The Navy's largest IT contract, the Next Generation Enterprise Network (NGEN), is worth more than $950 million and will also join the pilot program.
As a result, the Navy's software pilot budget request jumped from $25 million in 2021 to $984 million for 2022—out of a total request of $22.6 billion in research, development, test and evaluation for 2022.