Unisys gaining steam after slow start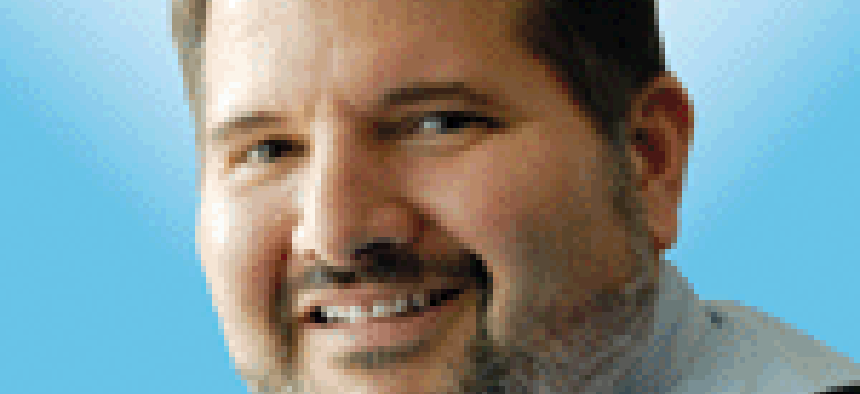 Unisys's federal arm has bounced back in a big way after no growth in a first quarter that included the partial government shutdown. President PV Puvvada explains why.
Many government contractors began 2019 with a slow start given the partial government shutdown for most of January.
Unisys' federal business was no exception, but they've certainly made up for it.
In the first quarter, Unisys Federal saw its revenue fall by nearly 2 percent year-over-year but it is has only been going up from there since.
For the second quarter, Unisys Federal posted revenue growth of 33 percent. Not to be undone, the third quarter saw the federal business grow 54 percent to $206 million compared to the same quarter a year earlier.
Unisys is now projecting 20 percent growth in federal for this year, which would be around $688 million.
The federal business has been a very bright spot for Unisys for several years and often has been the only portion of the business to show growth.
Unisys Federal President Venkatapathi "PV" Puvvada attributes his group's success to three things: people, technology and the right focus.
"All of it has been coming together over the last few years," he said. Last year's sales of $574 million were the highest in several years and 2019 will top that.
"It is a combination of strategy, being in the right areas of government transformation, and having a team that really knows how to execute," Puvvada said.
Unisys Federal also has won more large contracts, including two with the Defense Information Systems Agency. One is a $214 million contract for enterprise IT support and the second $150 million award is to support DISA's Joint Service Provider program for secure management and maintenance of DOD's IT infrastructure. And an unnamed civilian agency signed a $100 million blanket purchase agreement with Unisys for cloud services.
In our conversation a few days after Unisys' third quarter earnings call, Puvvada focused on the technology solutions the company has developed around cybersecurity, managed services and the cloud.
The company has won several contracts this year around the concept of enterprise IT as a service, where Unisys can apply its solutions such as CloudForte to help government customers move business and mission systems to the cloud and transform and optimize them. Unisys also has a solution called IntelliServe to improve IT support, and Stealth for cybersecurity. All of the solutions leverage technologies such as automation and artificial intelligence.
"DOD wants the airman, sailors and soldiers to be focused on the mission and not worry about IT," he said.
Unisys also can draw on its commercial best practices and offer the transformation and IT as a service.
Because the usage of the cloud has matured, the discussion isn't so much about moving to the cloud, but "how you use that cloud to transform your mission and business processes," he said. "We do that well and we it fast too."
Growth of 54 percent or even 33 percent isn't really sustainable, Puvvada said. "But we want to be ahead of the market and grow at a multiple that is faster than the market," he added.
He sees DOD leading the market particularly for cloud-based solutions. Civilian agencies are doing it as well but there has been "an acceleration of the pace at DOD," he said.
DOD sees the cloud as a way of bringing agility to the warfighter that you wouldn't get with a traditional approach, he said.
"We are seeing a significant number of cloud migration, cloud transformation and as a service contract that are underway at DOD," Puvvada said.
The large JEDI cloud infrastructure contract won by Microsoft over Amazon Web Services should only help those opportunities, he said, adding that "To us, it didn't matter who won JEDI. We are strong with AWS and the Microsoft Azure platform."
DOD has other initiatives underway but JEDI is a "bigger umbrella," he said.
Moving forward, Puvvada said Unisys Federal has to remain focused on execution as well as keeping an eye on emerging technologies.
"We have to continue to build platforms that will differentiate ourselves," he said.
Unisys does this through partnerships with emerging Silicon Valley firms as well as large established technology companies. With the large companies, Unisys works on five-year technology roadmaps.
"We want to be disruptive and innovative in the market so you have to have a pipeline of innovation going forward," Puvvada said.
Some of the technologies they are tracking are advanced artificial intelligence, machine learning, robotic process automation, Internet of Things, 5G and quantum computing.