CEO Mac Curtis on why the Vencore-DXC-KeyPoint combo made him go 'Damn!'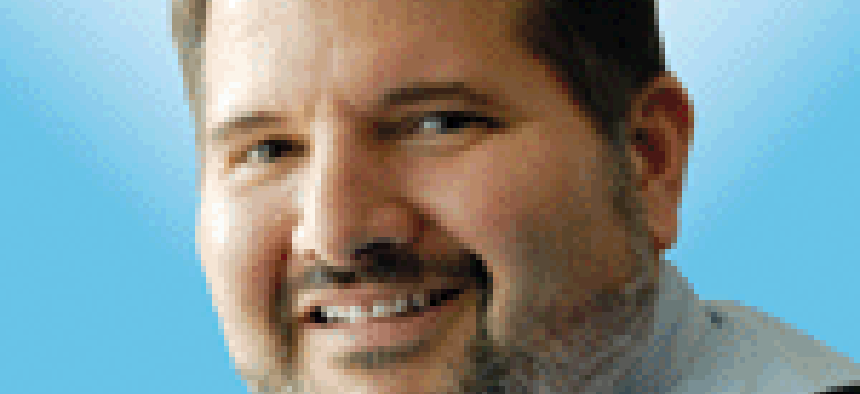 Mac Curtis was leading Vencore toward a public stock offering, but merging it with DXC's U.S. public sector business and KeyPoint became an even more appealing opportunity. Here's what their combination means.
What was Vencore was well on its way to a public stock offering in mid-2017.
It filed with the Securities and Exchange Commission in June 2017, and then by early 2018 it would have been a publicly traded company.
But as we all know, things didn't work out that way. Instead, what is now Perspecta was formed on June 1 through a merger of Vencore, the U.S. public sector business of DXC Technology and KeyPoint Government Solutions.
Perspecta CEO Mac Curtis (and CEO of the former Vencore) chuckled when I asked him how the unique three-way deal occurred.
"There are always bankers in the middle, and they said, these guys should talk to those guys," he said.
DXC was looking at how to divest its federal business because that piece didn't fit with the commercial IT business. Bankers representing DXC connected with Veritas Capital, the private equity owners of Vencore and KeyPoint.
"We knew a little about that group (DXC U.S. public sector) but we never competed with them," Curtis said.
When Veritas came to him about a potential merger, Curtis said his reaction was: "That's interesting."
The talks continued but work on the IPO continued as well. "We were on parallel paths," he said.
The idea of a merger progressed from intriguing to stronger and stronger interest.
"You keep an open mind and you look at it and think, OK. Then you keep looking and then you get to 'Damn, that's strong'," he said.
Perspecta CEO Mac Curtis outside the New York Stock Exchange.
Curtis said the "Damn, that's strong" reaction was based on several things:
Perspecta is a top 5 among pure-play federal IT companies. The company is ranked No. 8 on the 2018 Washington Technology Top 100 with defense firms such as Northrop Grumman, Raytheon, Lockheed Martin and Boeing ranked above it.
Very little overlap of capabilities and customers
A combining of skills such as high-end enterprise architecture, systems engineering, agile software develop, digital transformation, and cloud computing, among others.
How Perspecta Labs can feed both the heritage DXC business and the Vencore business.
"When you think about these mergers, you usually are talking about two companies that do a lot of the same stuff," Curtis said. "But with this thing we have the proverbial pyramid where the skills sit on top of each other."
Perspecta Labs is a key lynchpin for the new enterprise. It traces its heritage back to the legendary Bell Labs of the pre-breakup AT&T. Vencore acquired that business when it bought Applied Communication Sciences in 2013.
That is an $85 million-per year business unit for Perspecta. It does applied research for customers with government agencies such as the Defense Advanced Research Projects Agency, Defense Department laboratories and others. Perspecta Labs holds 275 patents.
"They are solving incredibly complex problems that are a year or two out," he said. "They are looking at acyberseucity, cloud computing, data analytics, advanced networking and things like that."
Perspecta also can take that work and apply it to current bids.
"We can leverage that innovation, the patent portfolio and the intellectual property to help our existing customers with their mission whether it is an IT mission or something in the intelligence community," Curtis said. "That's different. That was part of the wow."
The combination of the companies also has opened additional opportunities that neither Vencore or DXC were looking at because they all had gaps in their capabilities.
Curtis said there are $10 billion-to-$15 billion in new opportunities that neither business had in their pipeline before they came together.
"We can leverage the IT into the mission and the mission into the IT and you've got the intellectual property and innovation in the middle," he said. "And you have 14,000 people all focused on the public sector."
Curtis' people comment is significant when you consider the last 10 years for the DXC part of Perspecta.
That business was founded as EDS Corp. by Ross Perot in 1962. EDS was acquired by the former Hewlett-Packard in 2008 and became the services arm for a much larger technology company.
For awhile it was known as EDS, an HP company. Then the EDS name disappeared and it was just HP. Then HP split and the business became part of Hewlett Packard Enterprise or HPE.
HPE then split out the enterprise services business in 2017 to merge with Computer Sciences Corp. and create DXC. Before that, CSC jettisoned its government business in 2015 to help form CSRA. And of course, CSRA was acquired earlier this year by General Dynamics.
That is a lot of change over just 10 years for a business that prides itself on serving some of the most important government missions.
"Just think about the journey they have taken, Curtis said. "But they are excited because now they are all part of a public sector business."
The DXC portion of the business brought about $2.8 billion in annual revenue, while Vencore contributed about $1.2 billion and KeyPoint brought in about $200 million. That adds up to $4.2 billion in revenue.
Curtis broke the revenue down as follows:
33 percent defense
23 percent federal civilian, plus state and local
21 percent intelligence
13 percent health
8 percent risk decisions (the old KeyPoint business)
2 percent Perspecta labs
"We have a really good spread," he said.
The combined businesses have about 400 contracts and only three caused any kind of issue with overlap and those three were not material to revenue, he said.
Perspecta's top 25 contracts make up for around 65 percent of the company's revenue. The Navy's Next General Enterprise Network IT services contract is by far the largest. NGEN came with the DXC piece and is currently in the recompete phase.
The company also is awaiting to hear about an award of the 10-year, $2.9 billion NASA End-User Services and Technologies contract, another incumbent contract that came with the DXC federal business.
"But NGEN is the 800-pound gorilla," Curtis said.
He declined to discuss the company's recompete strategy in detail but did say that the Navy is working on an extension that could be for as long as 20 months. They have to do something because the current five-year, $3.5 billion contract is set to expire in September.
Perspecta is the incumbent and traces its work on the contract to EDS, which in 2000 won the first contract when it was known as the Navy-Marine Corps Intranet.
Competing as HP, the business won the recompete in 2013.
The competition then was based on a low price, technically acceptable evaluation. This time the Navy wants innovation, which Curtis sees as a positive for Perspecta.
"We have the ability to help transform where it is today to where it should be for the next generation whether it is advanced networking, cybersecurity, or predictive analytics," he said. "We are right in the middle of all of those things. So we are excited about it."
Perspecta hasn't announced its full team yet but Curtis said the DXC portion of the business brings a very strong partner network into play. DXC said in March that it would partner with AT&T to continue their collaboration from the 2013 NGEN contract award.
Perspecta Labs and the partner network will play a crucial role in bringing innovation to the bid, he said.
"We aren't sitting on our laurels as an incumbent," he said. "We know innovation is important, transformation is important, getting the computing power to the sailors and marines is important."
Looking ahead at the next year, Curtis said the focus will be on integration and creating that single Perspecta culture. There are a lot of systems that need to be folded into one. The company will also focus its cash flow on paying down debt, though Curtis wouldn't rule out a small acquisition if the right one presented itself.
But aside from contract wins, one of the crucial metrics Curtis will be watching is employee referrals. Do people at Perspecta want their friends to come work there too?
"The war for talent is real," he said. "Why does someone want to come to work for Perspecta versus someone else? You have to differentiate yourself."
For Perspecta that means a focus on the mission and the customer and where employees see a long-term vision and strategy. 
"People have to have a reason to come to work in the morning," Curtis said. "What we do is really important and the workforce understands that."