IP and R&D will set Perspecta apart from peers, execs say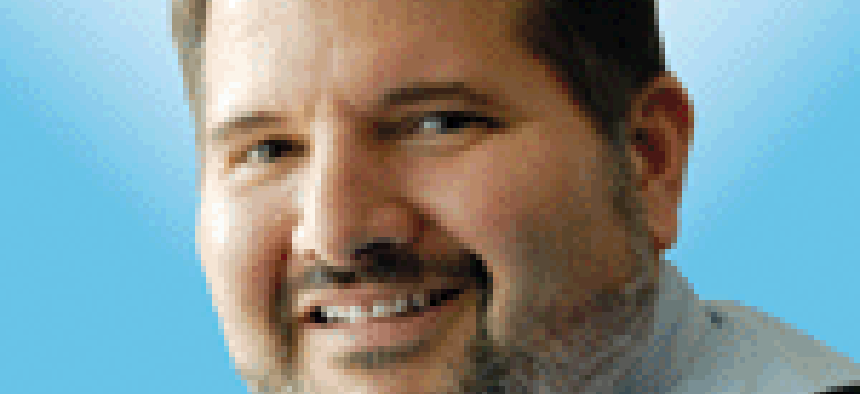 Nearing its debut, Perspecta (the combo of DXC's federal arm, Vencore and KeyPoint) is touting its IP and R&D chops as key differentiators from competitors.
Intellectual property will be a key differentiator for Perspecta, the new entity being formed from the combination of DXC Technology's U.S. public sector business with Vencore and KeyPoint Government Solutions.
Set to launch June 1, Perspecta will marry the mission work of Vencore and KeyPoint with DXC's IT services capabilities, something the new company describes as vertical integration.
The IP and patent portfolio and research capabilities of Vencore and KeyPoint will be a critical component of the new company's growth strategy, executives told analysts during Perspecta's Investor Day presentation Monday.
"We think the combination of people, skills, platform and intellectual property creates a different footprint in the federal government space," said Mike Lawrie, DXC's CEO. He will be chairman of the Perspecta when it launches June 1.
He and future CEO Mac Curtis and Chief Financial Officer John Kavanaugh laid out the strategy for the company and how it differs from others in the market.
The emphasis repeatedly came down to the IP and research and development work as factors that will separate the company from peers, particularly as the government looks toward IT modernization, greater use analytics and digital transformation.
The IP portfolio comes from Vencore's acquisition of Applied Communication Sciences in 2013. That company traces its roots back to Bell Labs. It puts about $80 million per year toward applied research for defense and intelligence customers in areas such as cybersecurity, data analytics, mobility and advanced networking, Curtis said.
KeyPoint has developed a proprietary platform for processing background checks and security clearance investigations that will position it for more work in that area as the government pushes to clear the massive clearance backlog.
The government also is moving toward continuous monitoring and updating of clearances, which will rely heavily on data analytics and artificial intelligence.
"We don't see anyone with the deep research capabilities and the customer relationships that we have," Curtis said. "That is a unique proposition."
The new company will have 14,000 employees -- evenly split between those coming from DXC and those from Vencore and Keypoint. Fifty-five percent work in the enterprise IT service arena, 20 percent on identity authentication services and 25 percent on mission systems engineering and integration services.
Size-wise, Perspecta will have about $4.2 billion in annual revenue to make it one of the six largest federal IT market player. But its earnings before interest, taxes, depreciation and amortization margin sits at 15.8 percent, second only to CSRA's 17.6 percent before its acquisition by General Dynamics.
According to data in their investor presentation, 52 percent of its contracts are firm-fixed price, the highest among the larger players in the market. KeyW has the second-highest at 36 percent.
This high percentage of fixed-price contracts is why Perspecta will have such high margins, Curtis and Kavanaugh said.
Its pipeline of new business will sustain the high margins because the company sees a lot of firm fixed price contracts in that pipeline, Kavanaugh said.
"When we look at the pipeline we see more than ample opportunity to main those margins. There is enough fixed price content in the pipeline," he said. "And we do fixed price very well."
The company has identified a large pipeline, valued at $67 billion over the next three years. Of that, $12 billion is protecting its existing business, $40 billion to $45 billion is new business it will compete for, and $10 billion to $15 billion is what they described as the "third pipeline." This is work that none of the companies would have pursued on their own.
But the big item on the near horizon is a contract DXC and its predecessors have held for 18 years -- the Navy's Next Generation Enterprise Network. The recompete for NGEN is underway. Its roots go back to EDS Corp., which won the Navy-Marine Corps Intranet contract in 2000.
NGEN is set to expire in September and Curtis said negotiations are underway to extend the contract for 20 months until the new contract is awarded.
Perspecta's expected growth rate of 3 percent to 5 percent through 2022 takes into account whether the company wins or loses the NGEN recompete, he said.
DXC has signed a partnership agreement with AT&T and Perspecta executives made it clear that winning the contract is a top priority. The recompete is expected to be worth about $3.5 billion.
In an April 30 report, credit ratings agency Moody's Investors Service estimates that NGEN comprises almost 20 percent of Perspecta's revenue base.
The recompete is being divided into two parts. One part is for end-user hardware, which Perspecta is not expected to pursue as a prime. Curtis declined to describe how Perspecta might be involved in that contract. The end-user hardware piece will be competed as a lowest price, technically acceptable contract.
The services part of NGEN will be competed as best value and here Perspecta will team with AT&T.
The Navy apparently is adding more services, engineering work, another network and data center support to the services contract. "It could get larger (than the current contract)," Curtis said. "There is still a lot under construction."
There are other major new contracts on the horizon that Perspecta will pursue, such as the State Department's Vanguard 2.2.1 contract worth $3 billion and the Navy's Personnel and Pay Modernization contract worth $900 million.
Both are contracts that none of the companies had in their pipeline before, Curtis said.
Science Applications International Corp. is the incumbent on Vanguard and CSRA (now part of General Dynamics) holds the Navy PPM contract. The current Vanguard contract is slated to expire in February 2021 with Navy PPM due for expiration in June 2019, according to Deltek data.
Curtis said Perspecta will be organized around six lines of business:
Intelligence
Defense
Civilian/State & Local
Health
Risk Decisions (this is KeyPoint's portfolio plus some other work)
Perspecta Labs (mostly Vencore Labs)
They also are focused on taking capabilities from one customer and pulling them across to other customers. For example, a data center consolidation and cloud migration project for the Housing and Urban Development Department is being leveraged to help a classified customer with petabytes of unstructured data, Curtis said.
He cited other examples that involved cybersecurity, applied research, analytics and data services, and digital transformation, where capabilities can be pulled from one customer to another.
"It is all about supporting mission objectives and business outcomes," Curtis said.
Perspecta gets its official launch and debut as a public company on June 1. In addition to Curtis as CEO and Kavanaugh as CFO, DXC's U.S. public sector leader Marilyn Crouther will serve as chief operating officer.
During his presentation, Lawrie also talked about the board of the new company, which includes people such as Sondra Barbour, who was executive vice president of the former Lockheed Martin Information Systems & Global Services business; Lisa Disbrow, former undersecretary of the Air Force; and Phil Nolan, former CEO of Camber Corp. and Stanley Associates.
Those board members have deep experience in the federal market, while other members such as Sanju Bansal, co-founder of MircoStrategy and CEO of Hunch Analytics, and Pamela Kimmet, chief human resources officer at Cardinal Health, bring perspectives from outside the government market.
Also on the board is Ramzi Musallam, CEO of Veritas Capital, the private equity group that owns Veritas and KeyPoint. Veritas will own 14 percent of the stock in Perspecta.
Diverse viewpoints from inside and outside the government market are critical as the company gets its start, Lawrie said.
"You need a steady hand at the tiller as you head out into the wide open," he said.