New space player's journey starts in D.C.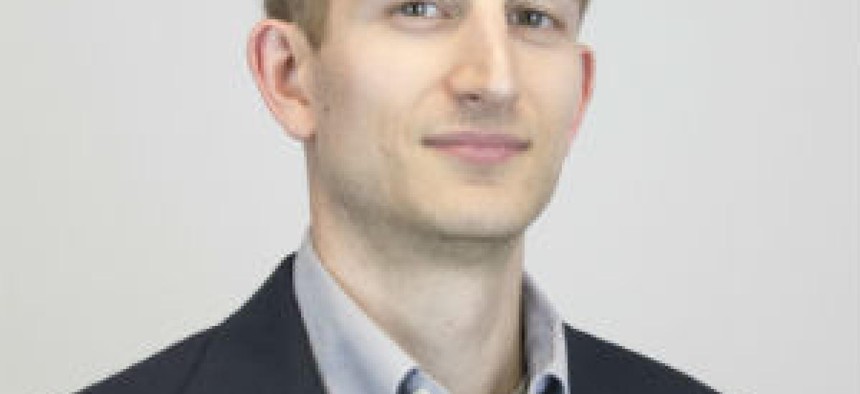 Space and satellite technology company Maxar Technologies is only two months into its new identity and subsequent journey to become even more of a global player out of its U.S. and Canada base.
The journey of the now almost $2.3 billion pro forma revenue Maxar also contains a sizeable Washington, D.C., area footprint as the U.S. federal government is a major customer, company executives told me.
Maxar officially launched in October through the combination of satellite maker and imagery provider DigitalGlobe with Canada's best-known space company, MacDonald, Dettwiler and Associates. The new Maxar's operating headquarters are in San Francisco along with a metropolitan Vancouver, Canada hub as part of its U.S. Access Plan to perform classified space work.
Almost 700 of Maxar's total 6,500 employees are based in the region, executives said. And between 350 and 400 of those regional workers will move into a consolidated Herndon, Va. site that will house staffers from across Maxar's four segments: Radiant Solutions, DigitalGlobe, MDA and SSL (formerly Space Systems Loral).
"We're going to have team members… that interface with the U.S. government," said Tony Frazier, president of the Herndon-based Radiant business. "We anticipate this being a hub where we would bring together different elements of Maxar to bring more complete solutions to our U.S. government customers."
"A lot of synergy comes from that just in terms of employees… going to a building where there's going to be hundreds of people showing up to work every day," said Richard White, president of SSL's government systems business. "As opposed to having to pick up the phone to talk, it's walk across the hall. To schedule a meeting, people can do it more ad hoc."
When I spoke with Maxar CEO Howard Lance upon its launch, he touted the company's increased scale and blend of both specialized technologies and services as an engine for government growth. Lance added the company's dual-listing on the Toronto and New York Stock Exchanges seeks to tell "what we think will be a compelling story" and get access to additional capital.
But the U.S. government is merely one component of Maxar's diverse mix. Close to one-fourth of Maxar's revenue is in the federal market. Fifty-seven percent is in commercial and the remaining 18 percent is with the Canadian and other international governments, according to a Nov. 15 presentation at the Goldman Sachs Industrial Conference.
That broad spectrum of customers was one reason DigitalGlobe at $702.4 million in sales for last year decided to vertically integrate with Maxar as it "wanted to diversify our revenue," said Frazier, who led DigitalGlobe's services business prior to the Maxar combination.
Two-thirds of DigitalGlobe's business pre-transaction was in the U.S. government market and "a large majority of that was with one contract with one buying center" at the National Geospatial-Intelligence Agency, Frazier said. "That's really challenging as a public company to have such a high percentage of our business" in one place, he said.
DigitalGlobe also has what Frazier termed a "very capital intensive model" as a builder of imagery satellites such as the WorldView Legion that operate between seven and 10 years in space and then require replenishment.
"By having a manufacturing capability within the (Maxar) family, we'll be able to drive efficiencies to reduce our capital intensity," Frazier said. "We're already seeing that through the WorldView Legion program. It's costing us much less to replenish… we're spending less to build more satellites that'll collect more data."
The newfound scale of Maxar and relationships between its four segments "really gives us the value chain of opportunity across the mission space," SSL's White said.
"They (Radiant) help set the requirements for systems, they help do the modeling of those systems, they're on the processing side of information those systems are collecting. So working together, we (SSL) can then get in and from a space component perspective (we) make sure that what we design to satisfy the mission need is optimized."
DigitalGlobe brings to Maxar its experience in operating systems and has increased opportunities for employees to collaborate across the business units on earth observation systems and electro-optical infrared systems as well, White said.
From a Radiant perspective, Frazier said it will contribute Herndon hub employees such as aerospace engineers, geospatial analysts with backgrounds in geographic information systems, weather and ocean analysts, software developers, data scientists and cloud computing specialists.
"The common denominator is you need multi-disciplinary teams to leverage all the data, make it accessible in the cloud and answer intelligence questions to do it at scale," Frazier said.
One place where the Maxar business units already are collaborating on is how Radiant brings knowledge of tasking, processing and distribution of information across platforms with SSL's satellite platforms.
White said this includes Radiant's ground systems, analytics, geospatial analytics tools and mission modeling. Where the MDA unit comes in for the broader Maxar enterprise is through their payload expertise along with their radar and robotics portfolio, White said.
Another key area where the cross-segment collaboration is currently ongoing is between DigitalGlobe's spacecraft systems engineering work White sees as "very additive" to SSL's design and manufacturing portfolio.
"That's a case where one plus one is definitely going to equal more than two," he said.