PSC bids adieu to Soloway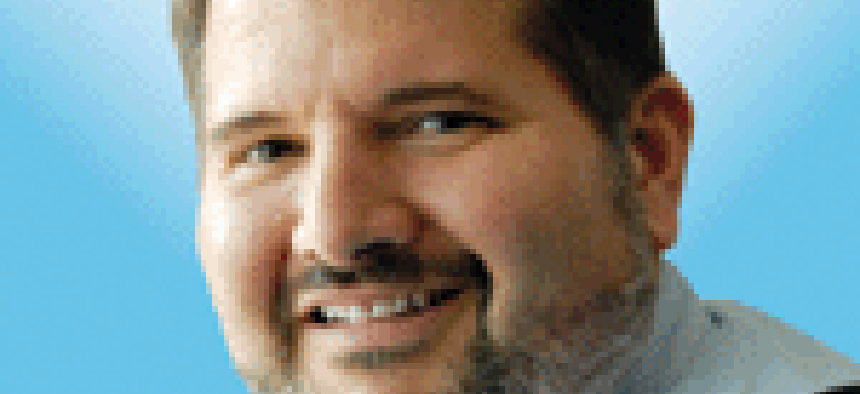 Stan Soloway, the long-time leader of the Professional Services Council, heads off on his next yet-to-be named adventure and leaves behind a legacy of leadership, friendship and passion.
The Professional Services Council threw their official and public farewell to Stan Soloway Thursday night.
Soloway is leaving the organization he has led for 15 years at the end of the month. The tributes were sweet and heart felt. There were plenty of big names in attendance. From Capitol Hill, there was Rep. Gerry Connolly, himself a former government contractor. Representing the executive branch was Beth Cobert, acting director of the Office of Personnel Manager.
You also had industry executives speaking such as John Goodman of Accenture, Anne Altman of IBM and Ellen Glover of ICF International. All three also hold or have held senior positions on PSC's board. Altman is leading the search committee to find Soloway's replacement.
The comments were insightful and heartwarming and tracked the progress of PSC from when Soloway took over in 2001 up to the present. The organization has experienced exponential growth over the years, adding new member companies and acquiring other industry groups.
PSC's stature has grown and it truly lives up to its tagline: the voice of the government services industry.
But while many of the speakers talked about the public Stan Soloway, a more emotional and truer picture was painted for me by the two PSC staffers who spoke.
I've made no secret that I admire Soloway and enjoy a friendship with him. But I only see one-side. I don't have to work with him every day.
So when Matthew Busby, director of membership at PSC and Melissa Phillips, vice president of events and operations at PSC, spoke about Soloway's guidance, support and mentorship over the years, I know many in the crowd were moved tears. He's been their boss and so much more.
And apparently, all three share a love of tequila.
A third PSCer also spoke, Alan Chvotkin, the group's executive vice president and counsel. Chvotkin joined PSC shortly after Soloway did and the two have become synonymous with the organization. Soloway called him his partner in crime.
And if there is anyone who can bust Soloway's chops, it is Chvotkin, and he did skewer him a few times during his remarks. But he also spoke warmly and emotionally about their working relationship and friendship.
Finally, Soloway took the stage and threw a few barbs of his own before settling into his farewell remarks.
One word that has been used to describe Soloway is his passion – for government, for procurement, for debate, but also for his friends and family. All of that was on display. He loves this market and takes pride in the important role it plays in our society.
He choked back tears on several occasions as he talked about Chvotkin and the PSC staff. But nothing clearly moved him as much as when he talked about his family.
You can tell from his Facebook posts and from the way he talks about his wife and grown daughters that he credits much of his success to them. I can't do justice what he said and the emotion he showed. I do hope when my sons are grown men that I'll have a similar relationship with them.
Soloway said last night that leaving PSC is bittersweet, but that he mostly feels grateful -- for the years at PSC, the friendships and relationships he's built, the successes he's experienced, and most profoundly for his family, who have been his support network through it all.
He received a well-deserved standing ovation.
But two questions still linger as Soloway moves on.
First, who will replace him at PSC? Obviously, his are big shoes to fill, but they will be filled. Part of his legacy will be the success of the organization after he leaves. The issues the industry and the government face are large, complex and important and PSC has an important role to play as a broker between the private and public sectors.
Second, what's next for Soloway? The only hints he's given is that he plans to remain active in the marketplace. He said last night that he'll likely join PSC as member. Is that a clue?
Even Soloway's pre-PSC career had a major focus on better government when he worked at the Pentagon. I would expect his next role will continue to build on that legacy.
But last night wasn't the time or place for an announcement, but the New Year is coming and I think we'll know sooner rather than later.
For now, I'll just say thanks, Stan. You've lent me your ear. You've supported Washington Technology and me personally. I'm glad we're friends.
See you in 2016, and best of luck with everything. Oh, and I still want that monthly column. Your new deadline is Jan. 18. Don't miss it.