Passion drives Unisys Federal's new president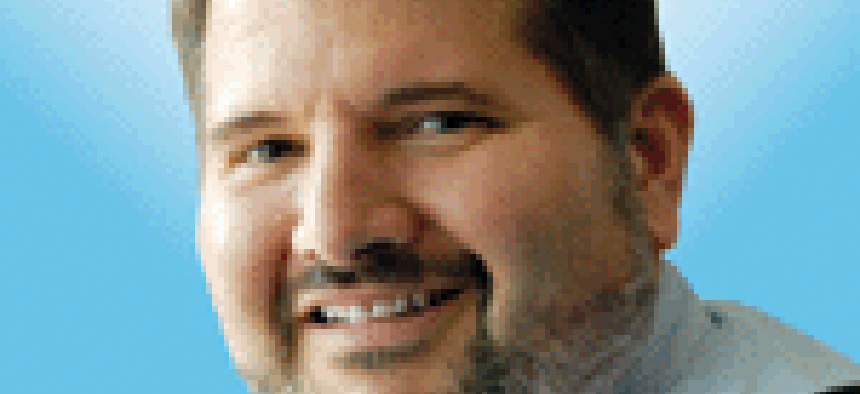 Unisys didn't have to look far for the right candidate for president of its federal business. PV Puvvada has led its civilian business for five years and is a 23-year veteran of the company.
Unisys Corp.'s choice for the new president of its federal business is a well-known and well-liked personality inside and outside the company.
Venkataphathi Puvvada, almost universally known as PV, was named today to be president of Unisys Federal. He's a 23-year veteran of Unisys, having joined the company in 1992. He was the division's chief technology officer for five years and the last five years, he's led the civilian practice.
"It's a great honor personally to lead this team and serve these clients," he said in an interview prior to today's public announcement.
The choice of Puvvada is probably not a surprise to many who know him and the company. He has a reputation for driving innovation at the company as well as for his work in the broader IT community. This year, he is receiving his fourth Fed100 award from our sister publication FCW. He also was named a CTO of the year by the Northern Virginia Technology Council and Washington Technology in 2010, the last year he held that post at Unisys. He's been very active with industry group's such as the Professional Services Council and the Industry Advisory Council.
He's replacing Ted Davies, who left the company in July. I joked with Puvvada about why it took so long for them to pick him; after all, he became acting president after Davies departed to become CEO of Altamira.
It all had to do with timing, he said. Because the position of Unisys Federal president includes a designation as a corporate officer, a board of directors vote is required.
"So, it's proper that there be a process. That you look internally and externally for candidates," Puvvada said.
But that process came to a halt when Unisys' CEO  Ed Coleman announced that he'd be leaving at the end of the year. Again, Puvvada said it was "proper" that the search be suspended until the new CEO was on board and could pick his own person. Peter Altabef took the reins on Jan. 1 and the process restarted.
"Venkatapathi combines strong leadership skills with an unerring focus on innovation and client satisfaction," Altabef said in a statement. He cited the role Puvvada has played in bringing new solutions to GSA, the IRS and the Agriculture, Interior and Justice departments.
"I look forward to working with him in his new role to continue to provide innovative solutions across all sectors of the federal government," he said.
Puvvada's passion for federal work shines when you ask him about why he wanted the job.
"It's a great opportunity to bring new thinking centered around innovation and a passion to the client's mission and a commitment to service delivery excellence," he said.
Government customers are facing challenges around budgets, workforce, a lack of clarity in the political environment and the need to make decisions around consolidating operations. "I think I can make a difference in providing solutions and services that are forward leaning," he said.
Some prime examples of work he's led in the civilian sector include cloud projects such as GSA's enterprise email and a SAP-in-the-cloud implementation for Interior. At the IRS, Unisys built an on-premises private cloud where the agency only pays for consumption of the storage it uses.
Many of these projects are the first of their kind in the government. "We saw the opportunity early and invested in these things and all have gone very well from a delivery perspective," he said.
Those projects serve as a baseline of sorts, and prepare Unisys Federal well for where the market is headed. "We've built significant expertise around how do manage a cloud migration and the change management needed and we think that demand from agencies is only going to accelerate," he said.
Now that he is president, part of his responsibility will be to keep the company focused. "We aren't the size of some of our competitors, so we need a laser focus on the areas and agencies that we chose," he said.
In addition to the cloud, other technology areas that are important for the company's growth are mobility, unified communications and data analytics, he said.
"The mission is what drives me. It's about security and the Defense Department and law enforcement and public safety and homeland security. It's about economic development and the work we do with the financial services agencies," Puvvada said.
The work, for example, that Unisys Federal does with Agriculture and rural development is very personal to Puvvada. "I grew up in a rural community and I saw the importance of investments in rural communities," he said.
He grew up in Andhra Pradesh, a rural state along the east coast of India and migrated to the United States when he was in his 20s, eventually becoming a U.S. citizen.
"I'm both the American Dream come true and the Indian Dream come true," he said.
Invariably in our conversation, Puvvada often came back to people, especially Unisys employees. "We have such great talent here, not just in emerging technologies but in understanding the client's mission and being missioned focused," he said. "That team will take us to the next level."