Joe Theismann's 5 lessons for life and business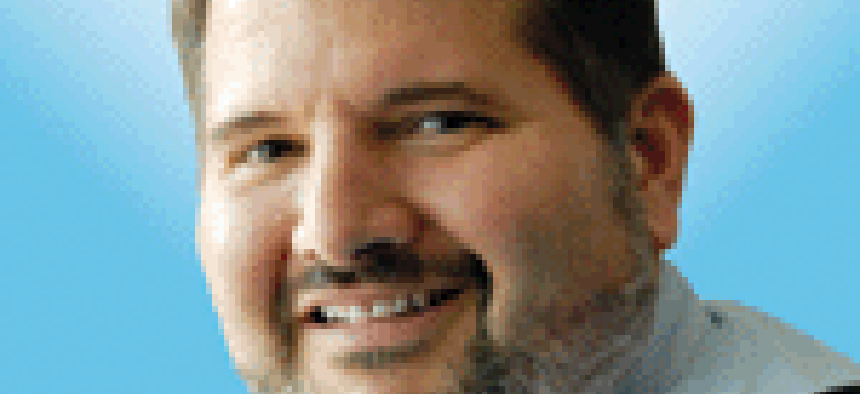 In an exclusive interview, football great Joe Theismann shares his stories from the ballpark and beyond, including how a career-ending injury was a blessing, and how a strike-shortened season holds lessons for government contractors.
Next week, former Washington Redskins quarterback Joe Theismann will be a keynote speaker at FOSE, the massive government technology trade show that my company produces each year.
It begs the question, what can a former professional football player, known during his playing days for being brash and cocky, teach government executives and federal contractors?
You don't have to talk to him long before you realize he has plenty to say, especially when your market is racked by sequestration, budget cuts, escalating mission demands and a public that holds you low regard.
It was with that in mind that I talked to Theismann about his upcoming May 14 speech, and what lessons others can draw from his life.
Former Washington Redskins quarterback Joe Theisman
He describes his speeches as motivational in nature, and how the world of sports, business and the personal intertwine. His own life is an example.
"The breaking of my leg is one of the most powerful things I can relate to people," he said, referring to the gruesome way his playing career ended. Theismann's leg was broken while being sacked by the New York Giants on Monday Night Football.
"Everybody knows what happened to my leg, but they don't know how it affected me as a person. I was really an ego out of control prior to my leg break," he said. "I had this very loft opinion of who Joe Theismann was. I was a star."
But the broken leg shattered that. "I found out that it's a lonely world out there," he said. But today, he calls the injury a blessing.
"I was going to have to be a different person if I ever thought I'd have a chance to be successful away from the football field," he said.
But it wasn't an instantaneous revelation; it took years to recover mentally, even though his body has never completely recovered. One leg is shorter than the other, and he probably only got back 85 percent of his strength.
"But I was still living the dream, but after five or six years I finally came to realize the significance of celebrity," he said.
He also developed the foundation of his speeches, which revolve around five principles:
Goals – Everyone needs them.
Attitude – It precedes everything we do in life.
Customer service – It is basically relationships between people.
Teamwork
Motivation – What gets you going? Why do you do what you do?
"Those are the principles I'll talk about, and I'll tell some stories," he said. "I really want people to think about the things I'm saying, and how they might apply to their life," he said.
He was quick to point out that he isn't giving a formula for success, but rather food for thought.
There was one incident from Theismann's career that I was particularly interested in, but it had nothing to do with his leg or his ego. During the strike-shortened 1982 seasons, the players went on strike, and were locked out for 57 days. But when the strike ended, the Redskins went on to defeat the Miami Dolphins in the Super Bowl. One reason was that the Redskins players continued to work out and practice on their own, separate from the coaches and management.
It struck me when I learned I'd get to interview Theismann that there are some parallels between the strike and the current sequestration and budget cut environment, namely the threat to your ability to make a living, and the uncertainty about the future.
What lessons did Theismann learn?
Leadership: "You need to be able to show that you're worthy of leading," he said. "You need to prove that you're organized and understand the situation."
Training and preparation: "We had the uncertainty of not knowing when we were going to go back to work. It could have been a week or it could have been five or six, like it was," Theismann said. "You need to be ready whenever the time comes."
Belief: "We all felt we could be special. That was our advantage. We stayed together," he said. "It was my responsibility to get everybody together and get them organized."
Several times during our talk, Theismann talked about being a celebrity, something he still clearly enjoys.
"I still have an ego, but I know now that you can use celebrity for the good of so many others," he said.
But he didn't always have that outlook. "There was a time in my life where I did things solely for the purpose of me getting something," he said.
Now he uses his celebrity for good causes. For example, fans can send memorabilia to Theismann and he won't charge for his signature, according to his website, but he asks for a donation to the St. Jude's Children's Research Hospital. The cashier's check or money order is made out directly to the charity.
He also emphasizes that you don't have to be a celebrity to do good. Whether in the office or the community, "you can influence and have an impact on other people's lives," he said. "Go out and volunteer."
Theismann calls his FOSE speech Game Plan for Success.
"What I really try and do with people when I talk to them is get them to think about where they are. I want them to feel great about who they are as people, and I want them to feel great about the organization they work for," he said.
He speaks May 15 at 9 a.m. FOSE will be held at the Washington Convention Center in downtown D.C. Click here for more info.