Lockheed's 5 principles for a stronger workforce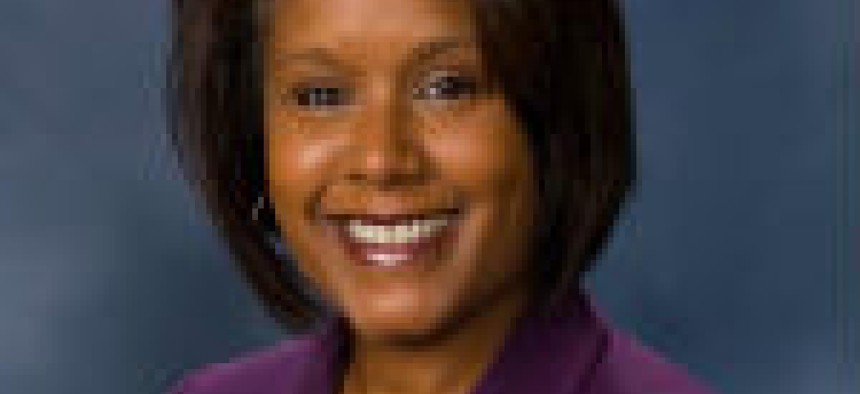 Stephanie C. Hill, Lockheed Martin president of Information Systems & Global Services-Civil, explains the five principles behind building a stronger workforce.
We recently conducted outside perception research among a select group of our government customers.

Our goal was to gain a deeper and better understanding about what is currently most important to them as government leaders, how to better serve their needs, and how they rank their priorities when hiring a contractor.

Familiar buzz words were used across multiple conversations and groups: affordability, proven, tailored, malleable solutions.

Certainly these are all concepts we know are important and are similar across our customers. However, there was a clear narrative that resonated with me. Common questions and comments included:
"The focus is on your people, your employees."
"Can you really provide the experts and bandwidth to get the job done accurately and on time?"
"When you bid a 30-year expert, you're not going to supply a kid out of college with two years of experience, are you?"
I couldn't agree more with those statements. A core pillar of success is people. A deep bench of talent is a major discriminator – and it's our responsibility as leaders to ensure that our employees' growth is encouraged. Expanding their capabilities is ultimately what best serves our customers.

After 25 years at Lockheed Martin in a broad series of engineering and leadership roles, I am now president, Information Systems & Global Solutions-Civil- a line of business supplying technology, infrastructure and staffing support to a broad set of civil government agencies and commercial markets.

Since the first moment in this new role, I've made it my mission to prioritize our people by listening and then applying strategies that will energize our workforce and enhance their ability to deliver the highest level of services to our customers and, equally important, drive our future workforce.

Sometimes it can be a challenge – external factors like the threat of sequestration, economic uncertainty and the upcoming elections certainly occupy our attention but I think it's important to remember who makes your company great. After all, no matter what else, a talented and motivated workforce can help companies survive and thrive in tougher times.

Here are five principles for developing a highly skilled workforce:

1. Develop a Common "Language of Leadership." Lockheed Martin has implemented a common leadership framework that we call Full Spectrum Leadership, comprised of five leadership imperatives: Shape The Future, Build Effective Relationships, Energize The Team, Deliver Results, and Model Personal Excellence, Integrity and Accountability. Full Spectrum Leadership provides a foundation and sets the expectation that both results and behaviors impact the outcome of your business. It establishes a common leadership language that can be shared throughout our large and diverse organization.

2. Invest in our Future. It is well known that we are facing a shortage of science, technology, engineering and math (STEM) talent in our country. While we are committed to providing experts with years of past performance for our customers, we are also committed to working with our K-12 and higher education partners to develop the next generation STEM workforce. As industry leaders, we must carve out time to give back to academia and promote STEM education at all levels, especially within college curriculums, mentoring students, providing internships and investing as a company into the education community. This is a national imperative – benefitting the country and industry alike.

3. Engage with Employees at Every Level. Every project has an array of staff from the most junior level to highly seasoned professionals. Those team members need constant guidance from and interaction with senior leadership to secure a successful outcome for the customer. Provide opportunities for mentoring, on-site roundtable discussions and other ongoing interactions with their leaders. In my view, mentoring has been one of the most valuable tools in my arsenal- both for my own career development and for those around me. When senior staff engage with all levels of employees in a transparent and collaborative way, they are building trust within the team. And trust is a crucial element to driving accountability and success.

4. Lead With Employee Resources. Creating a leading workforce is about providing opportunities to help employees thrive and grow in their careers. The highest performers in the business want to be constantly challenged and inspired in their assignments. If they aren't challenged, they will cross the halls of the agency to another contractor. Providing professional growth resources, such as graduate reimbursement, stretch assignments and training (classroom or online), is essential to building an elite workforce committed to your company and customers' missions.

5. Know Your Customers' Needs. Within my business, our customers' needs couldn't be more diverse. That is why it is that much more important to have an ongoing dialogue at every level with your customers. At the forefront of these dialogues should always be the people question – are we staffing the program at the right level? Do we need to bring in additional resources with new skill sets? Is it time for a change? Leadership and program managers should have a staffing "touch plan" to ensure ongoing, documented dialogues to effectively address staffing needs related to shifts in contract task orders or other areas needing adjustment.