Author Archive
Ross Wilkers
Senior Staff Reporter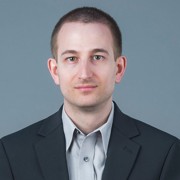 Ross Wilkers is Washington Technology's senior staff reporter covering the business of government contracting, plus the companies and trends that shape the market. He joined WT in 2017 and works with Editor-in-Chief Nick Wakeman to host and produce our "Project 38" podcast featuring interviews with the market's leading executives and voices. Ross is a native of Northern Virginia and is an alumnus of George Mason University.
Companies
Autonomy and artificial intelligence technology is one of four broad priority areas for RTX Ventures.
Companies
A recession may seem like a certainty but when and if it hits is anyone's guess, which complicates any federal budget forecast.
Contracts
Version two of the massive vehicle known as "T4NG" starts to take shape.
Companies
IBM's purchase of this midsized government technology company takes place amid a myriad of happenings within Big Blue itself and across the market.
Companies
Cydecor is looking to become a more formidable competitor in database and business intelligence services.
Podcasts
The U.S. national defense strategy is a guide for how Razor's Edge Ventures decides where to make its investments, as two of their leaders explain in this episode.
Companies
The Defense Information Systems Agency again chooses someone other than the incumbent.
Companies
The contract known as "Evolve" seeks technology modernization services in support of diplomatic goals.
Companies
The defense software maker only opened for business five years ago but has made serious headway and grown to a multi-billion dollar valuation.
Companies
This is one of a few executive appointments for the tech consultant's U.S. government arm.
Opinion
The Defense Department is standing up an organization to route more private sector money towards key technology areas such as quantum computing and advanced materials.
Companies
The six-decade-old consulting company is buying a developer of software to help manage and analyze space architectures.
Opinion
For its Navy partnership with Lockheed, the software provider puts on its good partner hat and broadens its strategy to be a disruptor in the market.
Companies
The government market investment firm wants to help build a more formidable middle-tier player.
Companies
The nonprofit firm brings in a new leader for its employee engagement and retention functions.
Companies
Red Cat Holdings will focus its time and money on defense and other government customers.
Contracts
The VA conducts an on-ramp nearly four years after task order activity started on the contract known as VECTOR.
Companies
National security is a main focus for the company in this current strategy, but not the only one.
Companies
The British defense technology company has big ambitions for growth and success in the U.S.
Companies
The subsidiary of Ultra Electronics brings in a former Science Applications International Corp. business unit leader.