Author Archive
Ross Wilkers
Senior Staff Reporter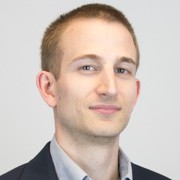 Ross Wilkers is Washington Technology's senior staff reporter covering the business of government contracting, plus the companies and trends that shape the market. He joined WT in 2017 and works with Editor-in-Chief Nick Wakeman to host and produce our "Project 38" podcast featuring interviews with the market's leading executives and voices. Ross is a native of Northern Virginia and is an alumnus of George Mason University.
Companies
The company's rail business nearly doubled its revenue under his eight years of leadership there.
Companies
Both Parsons' federal and critical infrastructure segments will have access to Xator's offerings after the $400 million transaction's closure.
Companies
The 25-year industrial veteran joins one year after the company's acquisition by two private equity investors.
Companies
The two-decade industry veteran joins nearly a year after Red River was itself acquired.
Companies
Year number one under that strategy involves executive moves (including a new COO), a reorganization of its technology teams and integrations of acquisitions.
Contracts
Awardees will help operate technologies used by crews in the air and command centers on the ground.
Companies
The panel sought her knowledge and experience in the government satellite market.
Companies
The company continues to build out its senior team under new private equity ownership.
Companies
The 11-year industry veteran previously led BigBear's work with the Air Force and Homeland Security Department.
Companies
Several cybersecurity and privacy requirements are combining into this procurement.
Companies
Sagewind Capital, DC Capital Partners and Highlander Partners are behind the other transactions that came to us in the wake of Monday's "big one."
Companies
The company is seeing more convergence and collaboration opportunities in its federal and critical infrastructure segments.
Contracts
Fifty-six companies will work with the agency to translate findings and innovations into medical practices for combat casualty care.
Companies
The two-decade industry veteran most recently led a subsidiary of CACI International focused on specialized hardware.
Companies
The all-cash transaction ends ManTech's current 20-year run as a public company.
Companies
The three-decade defense veteran led SOSi to almost $1 billion in new business wins during his last four-year stint there.
Companies
The combined entity seeks to enable ubiquitous connectivity at Defense Department locations.
Contracts
After collecting industry feedback, the General Services Administration will give a new proposal due date and open the bid submission portal.
Companies
The two-decade industry veteran's areas of expertise include wireless, electronic warfare and cyber.
Companies
Hermeus will use the funding from Raytheon and others for developing unmanned aircraft to go five times faster than the speed of sound.