Author Archive
Ross Wilkers
Senior Staff Reporter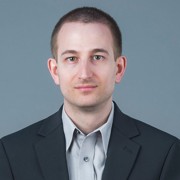 Ross Wilkers is Washington Technology's senior staff reporter covering the business of government contracting, plus the companies and trends that shape the market. He joined WT in 2017 and works with Editor-in-Chief Nick Wakeman to host and produce our "Project 38" podcast featuring interviews with the market's leading executives and voices. Ross is a native of Northern Virginia and is an alumnus of George Mason University.
Contracts
The current iteration of this multiple-award vehicle called PACTS has a $2 billion ceiling and runs to February 2025.
Companies
The digital transformation and consulting services provider adds these veterans to help lead its next growth phase.
Contracts
The Immigration and Customs Enforcement agency makes this award nearly a year after it started the procurement all over again.
Contracts
The National Nuclear Security Administration consolidates program management and other support work into this blanket purchase agreement.
Companies
The buyer is backed by the government market investment firm Enlightenment Capital.
Contracts
The veteran-owned small business will help develop new systems to analyze vulnerabilities.
Companies
Anuvu is working on an eight-satellite constellation and evidently has federal users in mind.
Contracts
The Pentagon's SMART Program Office awards at least 400 scholarships a year and gave out 480 in 2021.
Companies
Acquisition teams inside federal agencies need workers too and are losing them, which has a knock-on effect that CACI International wants investors to consider.
Companies
The global technology consultant is focusing on services centered around low-code/no-code and open source software, ICF's chief executive tells us.
Companies
She joins the digital transformation company as it looks to scale up its human resources infrastructure.
Companies
The counter-unmanned aircraft tech firm was acquired three years ago by a middle market-focused private equity firm.
Companies
That realignment also means reassignments for some executive team members.
Companies
The enterprise data software maker is looking to take on an identity similar to that of another large defense company.
Contracts
Five companies will vie for work to support the National Cancer Institute.
Companies
A team of scientists from Los Alamos National Laboratory founded Descartes Labs in 2014.
Companies
The British defense tech maker explains to "Lombard Street" (London's Wall Street equivalent) why they see this $590 million transaction as making sense for the U.S. expansion strategy.
Companies
The three-decade federal market veteran most recently led Salient CRGT through its sale to GovernmentCIO.
Companies
The $826 million Defense Department win came through its 2021 Alion acquisition but it is hard to predict when the next big win will come because of customer delays.
Contracts
The buyer is seeking a greater presence in IT modernization and intelligence training programs, among others.