Author Archive
Nick Wakeman
Editor-in-chief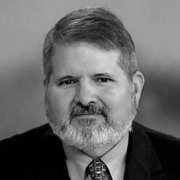 Nick Wakeman is the editor-in-chief of Washington Technology and joined the publication in 1996 as a staff writer. He's a graduate of Bridgewater College and earned a masters degree from American University. When he isn't writing about government contractors, he's thinking of cooking large pieces of meat over fire and dreaming of ways to embarrass his two sons. Follow him on Twitter:
@nick_wakeman
.
Podcasts
DeEtte Gray, president of CACI International's business and information technology solutions sector, shares with Editor Nick Wakeman her experiences as a female executive coming up through the ranks in the government contracting market and offers her best advice for the next generation of women leaders.
Companies
The retired Air Force colonel and former DISA executive was well-known across the market for his leadership, character and willingness to embrace new concepts to improve government operations.
Companies
The renamed unit's focus is on highly-classified defense and intelligence programs.
Companies
Fred Funk battled brain cancer for the past year before his passing earlier this month.
Contracts
The law enforcement agency will rethink its decision and didn't take long to determine it would do so.
Contracts
Challenges like this are an avenue for companies to both help NASA solve hard technical problems and find potential partners.
Contracts
How well agencies document their decisions dictates the outcome of bid protests.
Contracts
The National Nuclear Security Administration is taking current global events into account as it develops new solicitations.
Opinion
Saturday's tragic event is a stark reminder of the work still to be done in addressing racism in the U.S., an effort contractors have a role in.
Contracts
Deloitte is claiming the Defense Counterintelligence and Security Agency evaluated bids improperly.
Companies
ManTech may have found a near-perfect buyer in Carlyle Group, which will take the contractor private through a $4.2 billion all-cash transaction.
Companies
Fed 100 and Government Hall of Fame winners set examples for dedication and commitment to government service, which many times means breaking down barriers.
Podcasts
CACI International's lead IT executive DeEtte Gray describes to Editor Nick Wakeman the focus companies must have to win business and deliver enterprise solutions in today's federal market.
Contracts
The decision to re-evaluate bids comes just as bid protest rulings were due.
Contracts
More companies join the effort, for which NASA expanded the ceiling to $175 million so it could conduct more prize challenges to solve tough problems.
Companies
Purchase number two in 18 months adds more data analytics and data science capabilities focused on the intelligence market.
Contracts
The Navy will take second look at its selection of Serco Inc. for the award.
Contracts
The Air Force Research Laboratory hires a company to help develop design principles for human-machine teaming to improve analytics.
Companies
General Dynamics IT will support efforts around atmospheric modeling, fluid dynamics and bioinformatics for the Environmental Protection Agency.
Contracts
The tax collection agency wants to adopt more digital methods for sorting 100 million pieces of mail each year.