Author Archive
Courtney Bublé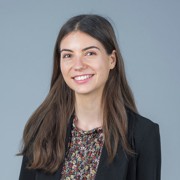 Courtney Bublé is a staff correspondent who covers the federal government with a focus on oversight, management, contracting and regulations. In 2022, she won the American Society of Business Publication Editors' Young Leaders Scholarship and was selected for the Poynter-Koch Media and Journalism Fellowship for 2022-2023. Before joining Government Executive in July 2019, she worked for NBC News. Courtney graduated from The George Washington University in 2018.
Podcasts
Courtney Bublé of Government Executive and Chris Riotta of FCW join to go over the Biden administration's "Buy American" push, new contractor regulations for climate reporting and cybersecurity, and the direction of best-in-class contracts.
By

Ross Wilkers, Nick Wakeman, Courtney Bublé and Chris Riotta
Contracts
But this may not be the end of the dispute, which stems from an April 2021 executive order.
Companies
The proposed rule is part of the Biden administration's larger environmental agenda, but it comes with costs for contractors. 
---
Contracts
More guidance to federal agencies is expected from the Office of Management and Budget.
Companies
This carries out a recommendation from the White House task force on worker organizing. 
Contracts
The Office of Federal Procurement Policy has not had a confirmed leader since the Trump administration, despite the Biden administration's goals to use procurement to advance equity and curb climate change. 
Companies
There's a lot to keep track of. Here's a list of this week's news updates and stories you may have missed.
Contracts
The Interior Department's final rule advances the president's executive order on equity.
Contracts
A top House oversight Democrat says her bill limiting contracts with companies operating in Russia during the Ukraine war would supplement existing sanctions. 
Contracts
Department argues the changes would increase flexibility, efficiency and enforcement, but attorneys for contractors say the revisions would hurt transparency.
Contracts
The Safer Federal Workforce Task Force updated its guidance following new guidelines from the Centers for Disease Control and Prevention.
Contracts
These stopgap spending measures can lead to "endless stop-and-start contract cycles, creating inefficiency and disruption."