CIO-SP4 award plan changes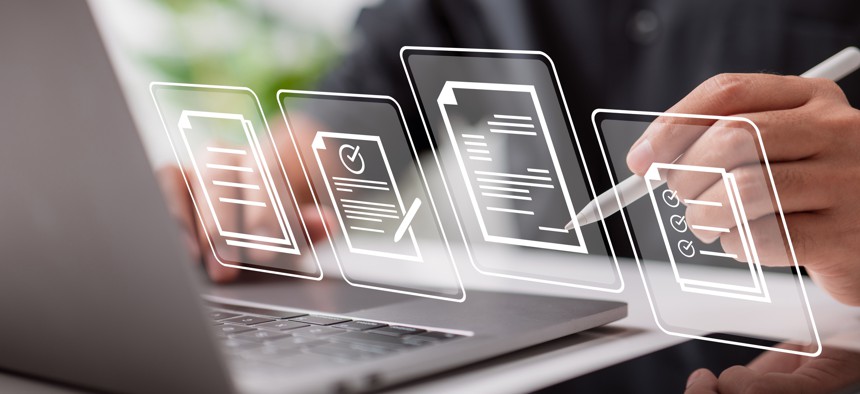 The agency running this $50 billion IT contract is working to send out a "preliminary notification" of potential winners instead of announcing final awards.
The National Institutes of Health's IT acquisition organization has wiped clean from its website any reference that it ever intended to make awards for the CIO-SP4 contract vehicle Friday (today).
NIH's IT Acquisition and Assessment Center has deleted its March 17 notice that said it would make awards "on or about" March 24.
Now on the website is a new notice dated March 23 (Thursday) that says NITAAC will start to send out the "preliminary notification of apparent successful offerors for CIO-SP4 on or before 3/27/23" -- which is Monday.
Missing from that most recent notice is what drove the change. As we reported Thursday, yet another round of protests is underway against how NITAAC is running the potential $50 billion vehicle.
Six protests are listed as active on the Government Accountability Office docket as of this story's publication and sources have indicated that number will grow.
The objections continue to center on the threshold NITAAC has set for the self-scoring portion of the competition. Protesters argue that the threshold bidders need to pass to move to phase two of the competition is at an arbitrary level
While there are pending protests, agencies generally cannot make contract awards unless they can show there is some sort of urgency.
NITAAC's switch from using "awards" to "preliminary notification" is an interesting move. It is common to see these types of announcements with small business contracts.
Those announcements give a short window of time to verify the small business status of a potential winner. In theory, other companies can look at that list and challenge whether a potential winner is actually a small business.
I don't believe that is what NITAAC is doing here and am curious if the notifications will include companies that are not small businesses. I've asked NITAAC but I don't expect a response. The last time they responded to one of my requests was early January. So much for their statement that "NITAAC values transparency."
It is interesting that NITAAC has two places on its website that talk about CIO-SP4.
There is the update page for the contract itself (https://nitaac.nih.gov/gwacs/cio-sp4) and the NITAAC homepage (https://nitaac.nih.gov/). I mostly track the update page, but then a source pointed out the homepage.
Some information on the homepage isn't included in the update page. The homepage of NITAAC homepage says that "After a robust competition, we expect to meet or exceed the number of small business awards as stated in the (request for proposals)."
I'm not sure what to make of how the homepage says there could be even more SB awards because in the final RFP, NITAAC said it would make up to 345 of them. NITAAC could get itself out of the crush of protests by expanding the number of awards.
It's worth noting that NITAAC has had everybody's final bids since they were due in February 2022.
We'll have to wait and see what comes out early next week.