What the slogans of the 2022 Top 100 tell us about the market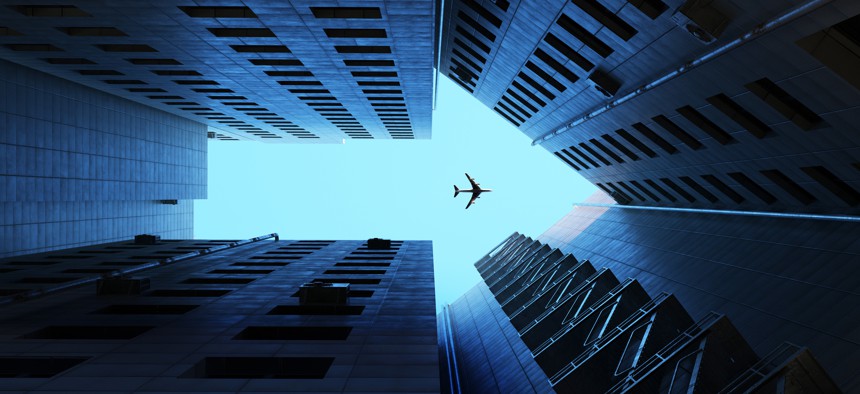 "If I had more time, I would have written a shorter letter."
Over the centuries, this old adage has been attributed to numerous scholars, statesmen, philosophers, authors and community leaders. Who said it first doesn't matter. But it does capture the challenge and beauty of succinct communications. For companies, the most succinct message is a slogan or tagline. And, just like writing a shorter letter, it takes time to get those few words just right.
For more than 15 years, Boscobel has tracked and analyzed the slogans and taglines of the Washington Technology Top 100 government contractors. To discover what's working, we explore trends and changes in how the top-tier contractors are presenting themselves to the federal market.
Here are six slogan best practices we learned from the 2022 Top 100.
ONE: Use a slogan
Most Top 100 government contractors use a slogan or tagline. In fact, 90 of the Top 100 are using a slogan or tagline this year, up from only 81 in 2021. For the third year in a row, nine of the top 10 companies have one.
We compared the 85 companies returning to the Top 100 this year with the 15 new ones. Incumbents are more likely to have a slogan (92%) than those who are new to the list (80%).
TWO: Keep it short
Slogans and taglines aren't meant to be descriptions. The best ones quickly create an impression about a company's brand – who they are, what they do or what they stand for – in just a few words.
Though this year's slogans range in length from two words to 12, the overwhelming majority (83%) are five words or shorter.
The most common slogan length is four words, followed closely by three, then five. Together, slogans that are three, four or five words long make up 66% of all slogans this year.
If you're thinking that two words aren't enough to inspire, here are a few examples of two-word slogans that do just that:
Defining Possible | Northrop Grumman
Accelerating Possible | Axient
Fast. Forward. | L3Harris Technologies
THREE: Make your point
It's surprising to realize how much can be communicated by a company in one short word or phrase.
Optimism. Determination. Strength. These are just some of the inspirational sentiments expressed by the Top 100 GovCons in slogans:
Made for this moment | Raytheon Technologies
Do The Can't Be Done | Peraton
The Power of a Nation | Cherokee Nation Businesses
Other slogans explicitly reference the services a company offers:
5G Built Right | Verizon
Healthcare is too important to stay the same | Oracle Cerner
Connectivity Anywhere. That's the power of satellite. | Viasat
A few emphasize collaboration with clients:
Shared Vision. Outcome Assured. | SMX
One Measure of Success. Yours. | Credence Management Solutions
Your Mission is Ours. | Lockheed Martin
Still, others share a promise or expectation about outcomes:
Complexity Minimized. Performance Optimized. | Thundercat Technology
Delivering the promise of science for global good | RTI International
Insights you can act on | CGI
FOUR: Tell the world
Word choice is important when it comes to slogans. What three or four words are meaningful, impactful and easy to say? When we looked at all the words from all the Top 100 slogans, a few stood out for frequency of use:
World or global was used in 16 slogans.
Technology/technologies/IT was used in 13 slogans.
Deliver in eight slogans.
Better was used seven times in six slogans. (It was used twice in one.)
Innovate/innovative/innovator was used six times.
Solutions/solving also showed up in six slogans.
So, to summarize the message from this year's Top 100, these government contractors "deliver innovative technology solutions that make the world better."
FIVE: Stay the course
It takes time to come up with a slogan or tagline that fits. The good news is that a slogan is meant to last for years – until the company outgrows it.
Adhering to this best practice, most (78%) of the returning Top 100 companies with slogans have no change since last year. Only nine companies (12%) revised their slogan. Eight (10%) added a tagline or slogan since last year.
Of the 10 companies with no slogans, seven are returning to the Top 100 from last year. None of those returning companies had a slogan last year – so all have stayed their course for slogan usage.
SIX: Know when to change
Just as Nick Wakeman emphasized in his analysis of the Top 100, the successful companies are the ones who embrace change. A change in company strategy, executive leadership, mergers or acquisitions, and/or services pivots or expansions are all good reasons to change a slogan.
Both SMX (formerly, Smartronix) and Empower AI (formerly, NCI Inc.) made revisions as part of a larger company rebrand. SMX rebranded to better represent a broader services portfolio following multiple acquisitions. Empower AI's rebrand reflected the successful adoption of an AI platform the company delivers to the federal market.
We don't know what prompted the other revisions, but one change did catch our attention.
Back in 2020, we found six companies whose slogans had not changed in the previous five years. Last year, only three of those slogans with "staying power" remained. (Two were revised and the third company dropped out of the Top 100 in 2021).
Now, one of the remaining three has changed its slogan: Tetra Tech. Like SMX, the change may be prompted by a series of acquisitions that have pushed the company beyond its legacy slogan. If so, well done.
Still, we have to give a tip of the hat to the two slogans or taglines that are still standing the test of time:
Bold thinking to improve people's lives |Abt Associates
Ever Vigilant | CACI International
Created in 2003, CACI's "Ever Vigilant" tagline is a model for the industry. A succinct message that the company got right – 19 years ago!
---
For inspiration, education or simply to satisfy a sense of curiosity, you're invited to download Boscobel's 2022 Top 100 Government Contract Slogans.