What Patrick Mahomes and the Chiefs can teach government contractors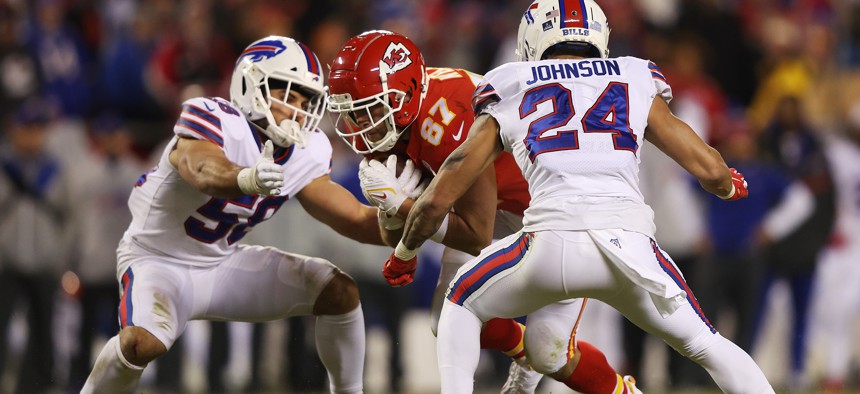 The NFL playoffs are an object lesson in training and preparation. Fewer better examples show that than how the Kansas City Chiefs managed the end of regulation time in their playoff game, and how the Dallas Cowboys failed to in theirs.
The ongoing NFL playoffs are offering plenty of lessons about execution and preparation that any team can draw from, whether they are in sports or business or otherwise.
I want to talk about two examples I've been thinking about since the past weekend of football.
The Dallas Cowboys failed to properly manage the clock at the end of their game against the San Francisco 49ers. But the Kansas City Chiefs flawlessly executed the end of regulation time in their game against the Buffalo Bills.
There are significant differences between those two scenarios. The Cowboys had no timeouts with 32 seconds to go, while the Chiefs had all three of their stoppages with 13 seconds remaining.
What we all saw at the end of the Cowboys game was chaos and confusion along with play-calling that was, well, subpar. In short, their leaders on the sideline and field of play didn't know the rules. The players didn't know what to do in that situation.
Now consider the end of regulation in the Chiefs game. Quarterback Patrick Mahomes completes a pass Travis Kelce for a 25-yard gain. They call timeout with seconds to spare and are able to set up for game tying field goal.
The key word in that last sentence is "they." In watching the replay, you see Kelce jump up and signal timeout. You see Mahones running down the field calling timeout. You see linemen calling time out. Head Coach Andy Reid is signaling timeout.
Everyone on the Chiefs was prepared and knew what to do. They knew time was short and had the rules down pat, unlike the Cowboys.
Watching the Chiefs in that game-tying and season-saving drive is a great lesson in understanding the situation you are in and knowing how to react. The Chiefs understood what was going on around them and didn't panic because of their training and practice. I'm sure they run through various if/then scenarios to prepare for different end-of-game situations.
Sound familiar? It should because that's exactly what you should be doing with your teams.Not sure who I'm rooting for this weekend, but I'll be watching.
If you want a little inspiration, watch this YouTube video released by the Chiefs. One angle shows Kelce and two linemen all signaling for the timeout at once.