GAO: Navy should disqualify Booz Allen from $400M Navy win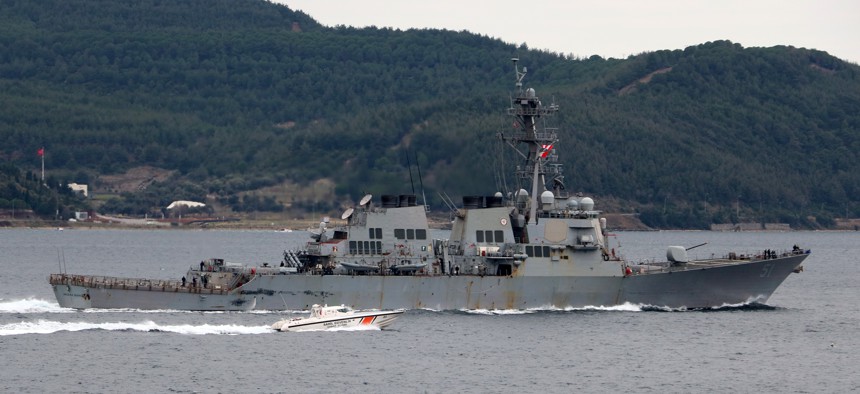 Two former Navy officials helped shape Booz Allen Hamilton's winning bid for a nearly $400 million Navy task order, but the Government Accountability Office agrees with incumbent Serco Inc. that the winner had an unfair advantage.
Booz Allen Hamilton is at risk of losing a nearly $400 million Navy contract it took away from an incumbent after the Government Accountability Office has ruled the firm unfairly benefited from insights from two former Navy officials.
In its 16-page decision unsealed Monday, GAO lays out two potential choices for the Navy to consider.
Choice number one that GAO sees as easiest and best: disqualify Booz Allen from the task order competition to support the deputy commander for Surface Warfare organization known as SEA 21.
The second, more complicated choice is to rework the contract to mitigate the information Booz Allen learned from the two former Navy officials.
Booz Allen officials declined to comment on the specifics of GAO's decision but issued this statement through a spokeswoman: "We take strong issue with the accuracy and characterization of the protest allegations and have filed a request for reconsideration."
A ruling in Booz Allen's favor on the consideration is a real long shot. I can think of just one reconsideration that GAO ruled in favor of. That case involved a company that argued its protest was wrongly eliminated. GAO reinstated the protest. I can't think of any other where GAO changed its mind involving a denied or sustained protest.
But a reconsideration is Booz Allen's only course of action because task order protests can rarely be filed at the U.S. Court of Federal Claims. GAO is usually the one and only stop.
The competition for this task order was between Booz Allen and Serco Inc., which inherited the current task order through its acquisition of the Alion Science & Technology Navy systems engineering business in 2019.
Booz Allen first won the task order under the Navy SeaPort-NxG professional services vehicle in February 2021. Serco immediately protested, alleging that Booz Allen had access to non-public information via access to two former Navy officials who worked as subcontractors.
The Navy took a corrective action to investigate those allegations and told GAO no evidence was found that Booz Allen had "unequal access to non-public, competitively useful information," according to the just-released GAO report.
The award to Booz Allen was reinstated and Serco filed a fresh protest.
The task order supports four program offices at SEA-21: surface ship modernization, surface ship in-service readiness, surface training systems, and inactive ships.
One Navy officer, identified with the alias Capt. John Jones, is a former program manager for readiness at the Navy. A second officer, alias Capt. Sam Smith, was the program manager for training and also for the Navy. (Side note: As a kid I was a big fan of the TV western Alias Smith & Jones, about two outlaws trying to go straight.)
The Navy compiled monthly reports with information on labor rates, employees, and numbers of hours worked by name and position as part of the task order. As program managers, Smith and Jones had access to these reports.
In May 2018, Booz Allen began preparing to pursue the task order through a recompete. That same month, Jones left the Navy and went to work part-time for Hepburn & Sons LLC as director of advisory services.
Booz Allen signed a teaming agreement with Hepburn in June 2018. Jones immediately began meeting with Booz Allen officials, who would later prepare the company's proposal.
Jones shared several criticisms of Serco's performance such as vacant positions, inconsistent delivery, and a claim that the company "doesn't do cyber well," according to the GAO report.
Booz Allen also started teaming arrangement with CDI Government, where Smith was hired in July 2018 as operations center manager and capture manager. Smith provided information about manpower requirements at SEA 21 to Booz Allen.
Smith and Jones eventually met to discuss staffing. Smith subsequently left CDI and went to work at Hepburn. The pair continued to work with Booz Allen and helped confirm key personnel for the proposal.
Another area where Booz Allen received extra information was at a meeting with the contracting officer's representative, who told them that Serco was going to exceed the ceiling of the current contract.
The COR also told Booz Allen the next award would increase to $400 million and that a specific contract line item number would surge by 20 percent to $80 million.
That meeting took place before the Navy issued a solicitation.
GAO's ruling in favor of Serco said that company identified "multiple specific examples, documented in the agency record, which establish Jones's and Smith's involvement in BAH's proposal preparation efforts, noting that neither BAH or its teammates imposed any limitations on the input they provided."
The information Jones and Smith provided formed the basis for Booz Allen's bid, including the drafting and pricing of its proposal. That led to Booz Allen have a lower price and technical superiority, Serco said.
For its part, the Navy claims it didn't find any unfair advantage in the branch's own investigation. But the Navy also said it relied on Smith and Jones' assertions that they "recalled very little regarding Serco's contract or performance," GAO quotes the Navy as saying.
GAO didn't buy any of that and seems to have easily reached the opposite conclusion, particularly around the assertions that Smith and Jones didn't recall much about Serco.
"The declarations of both individuals are inconsistent with documents provided in the record," GAO wrote.
GAO's decision against Booz Allen is consistent with other rulings.
When a company hires "former government officials who have had recent access to competitively useful information, and uses those officials to assist in proposal preparation efforts, our Office will assume that the offeror benefited from the information," GAO wrote.
"Disqualification is appropriate based on the appearance of an unfair competitive advantage."
GAO went on to say that based on the record of the procurement, Booz Allen "obtained an unfair competitive advantage in preparing its successful proposal."
The watchdog agency recommends that Booz Allen be disqualified, but nothing more will happen until GAO rules on the reconsideration. A decision is due March 23.