CACI's bigger picture for its space investments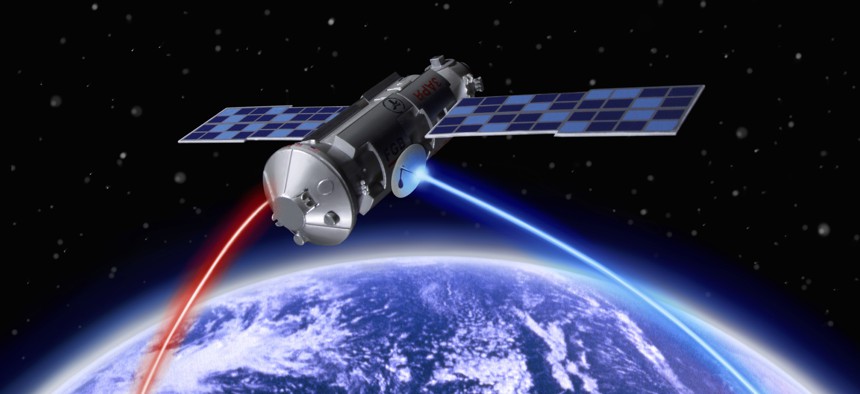 CACI International sped up its movement into certain areas of the space domain through two acquisitions over two years with the goal of being an early mover in that part of the market.
That leg of CACI's strategy is in the build-and-investment phase, but the company is also touting some of the work it is undertaking to lay foundations for growth in future years.
During CACI's fiscal third quarter earnings call with investors Thursday, CEO John Mengucci laid out some of the blueprint for growth in space and particularly the field of optical communications.
Optical communication has been in use for thousands of years, but the idea of using it in space involves using light propagating there to wirelessly transmit data for communications and computer networking.
Reston, Virginia-headquartered CACI stood up a new photonics unit in 2019 when it acquired LGS Innovations to bring in more spectrum management and other communications solutions. Two years later, CACI added the laser technology piece with its purchase of SA Photonics.
"The thesis to that acquisition was, let's take what we purchased with LGS on the large, extremely reliable bespoke kind of solutions market, and then here's SA Photonics who could use some assistance on the algorithm piece, but also they had phenomenal early-stage successes at building satellite-based optics at scale," Mengucci told analysts. "I'll reiterate, we are in the investment phase still."
Now with both of those businesses fully in tow, Mengucci told analysts that CACI is expanding its production facility in Orlando as part of that overall investment.
Located in the proximity of Florida's Space Coast region, that facility focuses on high-volume manufacturing of laser communications technology for use in national security and commercial programs.
Then there is the work happening there and at other locations. Mengucci said CACI is participating in several cooperative research-and-development agreements, or those between one or more federal laboratories and one or more non-federal parties.
The idea behind CRADA arrangements is to advance R&D and generate new intellectual property in an effort to develop and commercialize technologies.
During the third quarter, CACI also secured contracts for light detection and ranging applications plus communications. While Mengucci described those in the general sense, they do at least provide a broad picture of what the company wants to achieve.
"We're sort of already looking at capability that the airborne layer is going to require as it comes to optical comms," Mengucci added.
A larger share of CACI's capital expenditure spend for its current 2023 fiscal year is going toward ensuring the company has the right internal capacity and model to succeed on its space strategy. That includes the Orlando consolidation move to have all the optical offerings built out of one location.
"There will be more on the investment case than there will be on the profitability case throughout (fiscal) '24, and then as we get into '25, we'll see revenue meet up with profitability, sort of that chocolate and peanut butter game," Mengucci said. "That really gives us a five-to-10 year strength in what we're going to do in the satellite-based optical comms," Mengucci said.
Fiscal third quarter revenue of $1.7 billion showed year-over-year growth of 10.1%, while the bottom-line of $191.8 million represented an increase of 18.8% in adjusted EBITDA (earnings before interest, taxes, depreciation and amortization).
CACI lifted its full fiscal year sales outlook to a range of $6.675 billion-to-$6.75 billion, which suggests growth of between 7.5% and 9%. The company sees its fiscal year margin at mid-to-high 10% adjusted EBITDA.