CACI's tech transformation driven by customer focus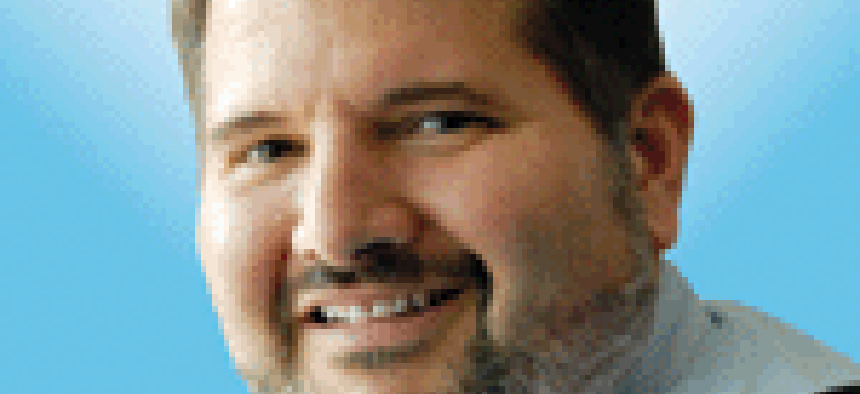 CACI International will mark its 60th year in business in 2022 and while the company is much different today than when it was founded by Herb Karr and Harry Markowitz in 1962, current CEO John Mengucci can draw a direct line from today to the past and also into the future.
It all starts with customer focus and understanding the emerging needs of the customer, Mengucci said.
"You have to make sure you are in the middle of where the next threat is coming from and that you've invested enough years ahead of time so you are right in the sweet spot," he said. "That's what all of my predecessors have done since Herb Karr founded the business almost 60 years ago."
John Mengucci, CEO, CACI International
CACI has gone through a transformation over the last decade with positive results. The company hit $6 billion in its fiscal 2021 revenue and expects to reach $6.2 billion to $6.4 billion in 2022.
Whether it has been through its mergers and acquisition activities or through a revamped business development process, the company's strategic moves reinforce where it sees the customer headed.
 "We always strive to understand where the market's going and make the necessary changes," Mengucci said.
He joined CACI as chief operating officer in 2012 and became CEO in 2019. Under his watch as both COO and then CEO, CACI business has shifted from predominantly professional services to a closer to a 50-50 mix of services and technology.
A decade ago, CACI's business was about 80 percent services (or expertise, as Mengucci describes it) and 20 percent technology. Then along came sequestration and the rise of lowest price, technically acceptable contracts and other policies that put tremendous pressure on pricing and margins.
"It really moved a portion of the services business to a commodity buy landscape," he said. That was not where CACI saw its future.
"We embarked on a purposeful strategy to add technology to our offerings," Mengucci said.
This was reflected in CACI's acquisitions such as the $820 million deal it made in 2013 for Six3 Systems and a $750 million deal in 2019 for LGS Innovations. The company added capabilities around software development, artificial intelligence, photonics, signal intelligence, unmanned aerial systems, and enterprise IT.
The capabilities from its acquisitions also fueled a shift in CACI's business development approach. Instead of bidding on a large number of contracts, CACI became more selective. "We want to bid less and win more," he said.
This means getting in front of the customer, learning their pain points and then matching that with new technologies and solutions.
"We want to show them the art of the possible and shape a more favorable RFP for us and so the government gets something that they actually need," Mengucci said.
Two of the company's bigger wins reflect the success of this approach. One was the Army's $880 million IT Enterprise Management Systems Solution contract and the $1.8 billion BEAGLE contract to modernize back office systems for Customs and Border Protection.
Mengucci cited both as examples of how CACI engaged with the customer years ahead of the solicitations. The predecessor contracts relied hundreds of people paid for through hourly rates and CACI's early work helped shift the customer to try a different approach.
Two years ahead of time CACI began talking to the customers and showing what was possible with a new approach.
"What if you provide us the apps, we do it in an agile manner and we provide half the people and you pay less. I may make more but you shouldn't worry about that because the productivity is going to go through the roof," Mengucci said in describing the pitch.
Both of those contracts rely on CACI's Agile Solutions Factory, where the company can use agile software development practices on a large scale. It is a strong selling point for customers.
"We can bring them to a physical place where you're developing software so they can see how quickly you can create code," he said. "It is nearly defect-free and it's done with very few people."
Visitors to the software factory and CACI's Center for Research, Application Development, Learning and Engagement, or CRADLE, aren't coming for product demos. CACI pulls together customers, technical experts, commercial providers and other stakeholders.
"The customer actually gets to touch, look at, feel [the solution] and talk to the experts," he said. "It's a space where we can do conceptual designs, we can look at potential requirements. We can listen a little and build a little."
The hoped for result is an RFP that incorporates requirements that play to CACI's strengths. CACI also gains more insights into customer's pain points and challenges.
"I talk about investing ahead of the customer's need, but it is tough to invest if you don't have a good understanding of the customer's needs," Mengucci said.
One thing Mengucci wants to avoid is something he has seen throughout his 40-year career and that's what he calls "Museums of IRAD," where companies have spent billions of dollars on research and development of technologies that work great but the customer doesn't want.
That is why he puts a focus on talking to the customer and having people as close to the boots on the ground as possible. Those employees see the needs and can bring that knowledge back to CACI.
CACI's push toward more technology capabilities also has had an impact on the people it hires and increased the professional development opportunities once inside the company.
The competition for talent is intense and "we've had to come up with creative ways to attract talent and retain them," he said. "We want people who want to come here and create a lifetime career here."
CACI has made it easier for people to move around the company to the point where one in four open positions are filled by people internally. The company has also enhanced its referral program with one in three new hires coming through a current employee.
The company's internship program has grown significantly as well with 300 people participating this year.
While CACI shift toward technology and solutions is significant and represents half its business and is the faster growing portion of its business, Mengucci is quick to point out that that the professional services or expertise portion of the business is still critical. In fact, the two work hand-in-hand.
"I love selling talent to the government as much as I enjoy delivering technology," Mengucci said. "The folks on the expertise side are with the customer every day and they are performing the customer's mission."
The ability to get their feedback on new solutions and insights on the customer is invaluable and better than waiting for the solicitation to come out, especially when you are the incumbent.
"While I have that customer right now in my hands, I should be introducing them to technological solutions," he said. "They're not going to fire me because my rate is a little bit higher because I've taken a lot of risks out and added capabilities. That's the beauty of adding that tech piece to the company."