2019 Industry Innovators put their focus on the mission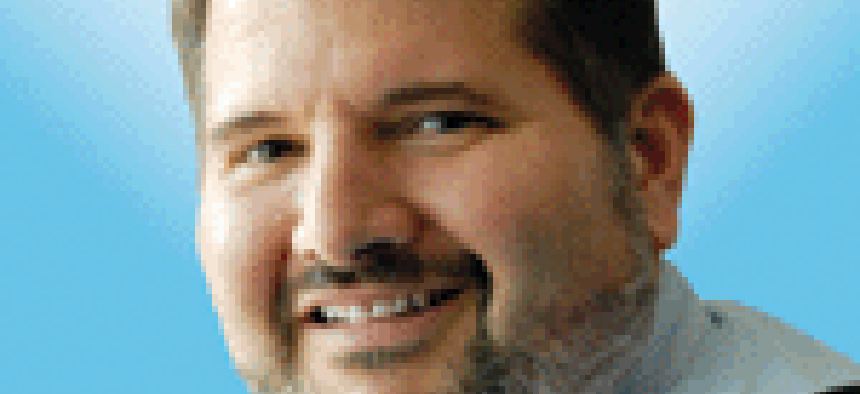 While the technologies and market approaches vary between companies, the 2019 Industry Innovators share a common goal of helping customers accomplish their missions.
The 2019 winners of our annual Industry Innovator Awards are a showcase of the breadth and depth of capabilities of government contractors.
The projects and solutions developed by these companies are diverse and vary from artificial intelligence to better cloud migration to logistics management to improved cybersecurity.
While the solutions are as different as the companies themselves, there is a common theme. They are all focused on the mission. In many ways the technology itself takes a back seat. In fact, some of the 2019 Industry Innovators didn't tout their technology as much as they touted the way they work with the customers.
The predominant focus on mission marks a shift in the market over the past decade as companies come to rely less on their IT skills as a differentiator and more on their understanding of what their customer is trying to accomplish.
For example, Chemonics International leveraged its understanding of the U.S. Agency for International Development's supply chain challenges to develop a system for tracking products that works on handheld devices in remote locations.
Science Applications International Corp. has developed an Internet of Battlefield Things to tie sensors and other devices together to improve situational awareness for the warfighter. And it has applications beyond the battlefield.
ICF created a process that changes how people exchange ideas and work together to create solutions.
You'll see more examples of innovation in the projects described below. They represent the best of the best. These companies deserve kudos but they also represent what the industry as a whole is doing -- combining great technology with mission expertise to produce tangible results. That combination has become the hallmark of successful companies in the government market.
Accenture 
Accenture Federal Digital Studio
When the Accenture Federal Digital Studio opened in 2016, the goal was to help government customers, partners and stakeholders find new ways to drive change. The studio's two main offerings -- service design and digital product design -- bring proven commercial practices and emerging technologies to bear on public-sector problems.
In one project, the company is developing ways to deliver training to veterans and building an online community to change how veterans receive on-demand care for combat stress.
More than 9,000 Accenture Federal employees have been trained on the Digital Studio's approach to co-creation and collaborative problem-solving.
Applied Insight
Altitude
Applied Insight has invested in cutting-edge technologies through acquisitions, internal research and the creation of aiLabs. The company also created Altitude, an automated and scalable platform-as-a-service cloud management solution that lets organizations retain total control, compliance and visibility over their cloud environments. The solution helps remove barriers to large-scale cloud adoption by working across private and public cloud infrastructures and enabling data analytics and machine learning tasks.
B3 Group 
Digital Transformation Center
Leveraging its Salesforce expertise, B3 has worked to overcome major issues at the Department of Veterans Affairs' Digital Transformation Center, including internal resistance to change and competing demands on time and resources. The VA has struggled with deciding when to apply modernization principles to IT operations, but B3 has taken on several of those initiatives, including developing relevant standards and guidelines and pushing out support to 22,000 users. The company is also handling a case management system for a White House hotline and developing a time-tracking application for employees of the Veterans Benefits Administration.
Thanks to the continuous integration process B3 implemented, more than 20 development projects are being deployed each month. As a result, VA is moving away from many of its homegrown solutions as it gains more confidence in the capabilities and value of the Digital Transformation Center.
CACI International
Agile Solution Factory
CACI developed its Agile Solution Factory as a way to speed the development of high-quality software that meets agency missions. More than 200 government customers have toured the Ashburn, Va., facility to learn about best practices related to agile transformation, optimization, scaling and holistic integration. The factory helped CACI win an $880 million task order to help the Army develop software for its personnel and force management systems.
Customers are seeing improvements that include increased productivity, lower implementation costs, delivery of what CACI says is 99 percent defect-free software and a faster time to market. 
CGI Federal
Unify360
CGI Federal developed Unify360 to help agencies transition to hybrid cloud environments. It supports provisioning, configuration, reporting, billing and workload management for on-premises and cloud-based services. 
One CGI customer, a large agency with 29 internal organizations, needed to move away from a private data center model before the existing contract expired. With Unify360 at the heart of the project, the firm handled the architecture, design, implementation and migration of over 900 critical business system workloads -- and 700 servers and associated applications -- into a hybrid cloud. Unify360 allowed the agency to become the first in the federal government to successfully migrate 95 percent of its workloads to the cloud and do so without a single unplanned outage during migration. 
Chemonics International 
TransIT and ePOD
Through its work on the U.S. Agency for International Development's Global Health Supply Chain Procurement and Supply Management project, Chemonics developed the Transportation Information Tool (TransIT) and an app called ePOD, for Electronic Proof of Delivery.
The solutions provide better visibility by tracking products throughout the supply chain and capturing photos at delivery. They enhance security, mitigate risks and improve financial controls. TransIT and ePOD are being tested in Cameroon, Mozambique and Angola and will be rolled out to more countries in the coming months. 
CyberCore Technologies
WindRose
WindRose is an automated tool for assessing supply chain threats. It captures and analyzes open-source and public data from over 50,000 sources — including the deep and dark webs, news feeds, social media, financial institutions and data corruption lists. The technology uses five key vectors of analysis to identify threats to the supply chain: cyber exposure, hardware and device risks, regulatory and legal risks, and financial risks.
With support from CyberCore's analysts, WindRose pulls the best methods, sources, service providers and analytical tools into a single platform.
Galois 
Preserving Privacy and Security in Critical Federal Intelligence IT
The Defense Advanced Research Projects Agency tapped Galois to develop a secure election system using technology that could then be applied to other situations. The election system will be opened to anyone to try to hack it as a way of identifying vulnerabilities. 
Galois is also enhancing the security and privacy of Census Bureau products, including those that inform Congress about the health of the economy. The industry inputs that feed the bureau's calculations are often paper-based and delayed by months, but the company's efforts are speeding the delivery of that information. 
General Dynamics Mission Systems
Multi-Intelligence Exploitation
The defense contractor used AI and machine learning to develop the Multi-INT Analysis and Archive System (MAAS) to capture, distribute and exploit full-motion video and geospatial intelligence capabilities.
The company built the Fusion Analytics Core Element Traction Services (FACETS) system so customers with intelligence, surveillance and reconnaissance missions could leverage open-source and cloud-based capabilities. FACETS brings AI and machine learning to MAAS and incorporates automated algorithm deep learning, object detection and characterization, and correlation and fusion of information from multiple sources. 
ICF
Innovation Management and Spark Sessions to Modernize Government Programs
ICF's innovation is not a specific technology but rather a management approach that creates intentional space to identify priorities for change and a framework for continuing to advance change. ICF's Spark Labs engage customers in innovation activities to build the capacity for ongoing innovation management so that the benefits can expand and live on beyond the scope of individual projects. The approach is designed to build buy-in and develop capacity at the critical middle layer of organizations that directly manage project teams and deliver day-to-day work.
Officials at the Centers for Disease Control and Prevention and the National Institutes of Health have used Spark sessions to prepare for and make the most of innovative technologies such as artificial intelligence, machine learning and cloud.
LMI
Maintenance and Availability Data Warehouse
LMI created the Maintenance and Availability Data Warehouse to capture maintenance costs related to corrosion on weapon systems. It now contains 1.1 billion task-level transaction records and another 500 million supply and materials requisition records. The warehouse aggregates data from 46 systems across the Defense Department and enables visibility into almost all aspects of enterprise maintenance -- a first at DOD.
To pull this together, LMI created a common language for measuring availability of weapon systems, inventory and costs with the help of machine learning and natural language algorithms. 
NCI Information Systems
AI-Driven Application Modernization
In the past two years, NCI has formed exclusive partnerships with three other companies that are developing artificial intelligence and machine learning technologies. Through its partnership with Olive, the company developed Scaling Humans with AI (Shai), which helps agencies shift their workforces to high-value tasks. NCI has since formed partnerships with Tanjo and Holonic Technologies to add more AI capabilities to Shai.
For an Air Force customer, NCI used Shai to convert 80,000 lines of code while maintaining like-to-like capabilities, including over 300 business rules, 15 user interfaces and 325 input files. Estimated to take 18 months and cost over $5 million, the Shai-powered conversion instead took only three months at a cost of less than $1.5 million.
Noblis
Pieces of Eight
Noblis' Pieces of Eight is a process for studying connected vehicle applications on a large scale rather than looking at individual autonomous machines. It uses blockchain technology to enable secure communication among a group of autonomous vehicles. The concept won the Highest Potential Impact Award and the Most Creative Award at the Mobility Open Blockchain Initiative competition in Munich, Germany, in February. 
Noblis used a fleet of small 3-D-printed machines for its demonstration, which included land vehicles and drones. The vehicles operated independently and essentially bid for the right of way to show what autonomous orchestrated movement looks like. 
NTT Data
Accelerating Smart-City Platform Solution
NTT Data partnered with Dell Technologies and the city of Las Vegas to deliver a smart-city solution that relies on internet-of-things edge analytics. It uses high-definition optical, sound and motion sensors and an array of IoT devices to monitor locations then incorporates historical sources such as crime, weather and social media data. The system identifies incidents such as wrong-way driving and people of interest, and detects loud noises such as gunshots, breaking glass or panicked screams. The result is improved situational awareness, warnings and alerts.
NuWave
Virtual Anticipation Network for Enterprise Management Decision Support
NuWave created the Virtual Anticipation Network (VANE) as part of a project for the Army's Combating Terrorism Technical Support Office to provide a transparent platform for assessing machine learning-generated insights. The application now supports users in the U.S., Britain, Singapore and elsewhere. It runs hundreds of "what if" scenario models concurrently in near-real time against 667 sensors that produce millions of data points.
By factoring in political, military, economic and social variables, VANE gives decision-makers insight into their organization or operating environment. One client, the Army G3 Force Management Directorate, brought together data from over 20 enterprise systems to power dashboards of consolidated information in the Enterprise Management Decision Support application to identify obstacles to military readiness. 
Octo Consulting
LogChain
Blockchain solutions have been a priority at Octo, and one result is its LogChain offering. For the Department of Health and Human Services, the company proved that LogChain is a cost-effective and trustworthy tool for securing networks and expediting security audits. In addition, LogChain helps agencies meet the Continuous Diagnostics and Mitigation program's requirement for trusted log information. Once the company's proof of concept was completed, it made the offering available as an "as a service" node that agencies can use to verify their log files. 
PacStar
Secure Wireless Command Post
PacStar's Secure Wireless Command Post is helping the Army and Marine Corps secure networking and communications at the tactical edge. Because the solution eliminates the need for miles of cabling and air-conditioned tents, the Army has been able to dramatically reduce command post setup and tear-down times while transforming how it securely transmits information. The Marine Corps, meanwhile, can now send classified data using commercial smartphones and tablets for mission-critical operations.
Peraton 
Cyber Hardened Exascale Secure Survivable Cross Domain Solution 
Peraton developed the Cyber Hardened Exascale Secure Survivable (CHESS) cross-domain solution to enable secure machine-to-machine transfer of information across multiple security classification networks. It protects those networks from cyber intrusions and unauthorized access to sensitive information.
CHESS' zero trust model validates system integrity by continuously isolating and mitigating threats. The architecture is scalable and agile, and it uses commercial off-the-shelf technology along with free and open-source software based on Open Mission Systems and the Universal Command and Control Interface.
Perspecta Labs
Situational Awareness, Cyber Weapon Hunting and Dynamic Network Reconfiguration
Perspecta has developed a group of technologies that combine sensors, cyber defenses and the ability to dynamically reconfigure networks to create a moving target as a defense. 
Three tools -- Scalable and Holistic Energy Cyber Weapon Localization and Characterization; Machine-Intelligence for Advance Notification of Threats and Energy-Grid Survivable Situational Awareness; and Distributed, Assured and Dynamic Configuration -- were put to the test by the Defense Advanced Research Projects Agency and the Energy Department. The agencies jointly evaluated the tools' grid recovery capabilities during a multifaceted, simulated cyberattack on a model of the U.S. power grid built on Plum Island, N.Y. 
The tested technology is now being deployed by state and federal cybersecurity first responders such as the Maryland Air National Guard. 
PotomacWave Consulting
FedDataCheck
PotomacWave created FedDataCheck to help its government customers maintain data integrity by alerting contracting officers to inaccuracies in contract information. The tool uses standard Microsoft technology combined with data warehousing and business intelligence. It pulls data from the Federal Procurement Data System-Next Generation and the System for Award Management and runs close to 140 checks for each contract. 
When an inaccuracy is found, FedDataCheck flags it and notifies contracting officers so they can correct the information. Ten agencies are already using the tool.
Precise Software Solutions
Food Outbreak Signal Detection System
Precise Software Solutions built the Food Outbreak Signal Detection System using the latest natural language model. It identifies potential food safety problems based on social media streams such as Twitter, predicts whether the text contains food safety information and extracts food types, symptoms and locations. A website with a geographic information system interface shows the number of signals in each area and the relevant details.
Raytheon
DevOps in the Air Operations Center-Weapon System
Raytheon Intelligence, Information and Services partnered with other companies -- including Pivotal, Solidus and Elevate -- to speed the development and deployment of new software capabilities to warfighters through the Air Force's Air Operations Center-Weapon System, the Army's Air Soldier System and other programs.
Combining new technologies with its engineering expertise, Raytheon created a system that can deliver new applications the same way smartphones receive updates. Using commercial software models allows the company to give customers the products they want. A constant feedback loop helps Raytheon developers understand how their choices affect users so that they can deliver better software.
RSDC Group
Implementation of Amelia AI Solution 
RSDC adapted IPsoft's Amelia digital assistant as a help-desk tool. After successful tests at the Department of Veterans Affairs and the Army's Network Enterprise Technology Command, RSDC partnered with the Defense Logistics Agency for broader implementation.
At DLA, the focus started with the most common help-desk inquiries. In the first year, Amelia was trained on the agency's functions and the language used by employees and customers. The solution can understand spoken or typed words and infer the user's intent.
With Amelia on track to take the majority of tier zero calls in the coming year, employees are increasingly free to respond to more complex inquiries.
Science Applications International Corp. 
Internet of Battlefield Things
With its Internet of Battlefield Things, SAIC took on the task of ensuring that warfighters have real-time, multi-domain situational awareness and persistent communications that operate even in disconnected mode. The solution uses internet-of-things and related commercial technologies.
The Army and the Marine Corps are interested in the concept, which incorporates sensors, mobile broadband and networking, cloud computing, high-performance computing and other technologies. It will allow Defense Department organizations to collect, aggregate and process massive amounts of sensor data.
During a demonstration, the Marine Corps presented numerous challenges that represented the complexity of battlefield conditions. Using SAIC's solution, Marines were able to respond to those challenges armed with real-time information -- captured via sensors and translated through a software gateway and layers of analytics that gave meaning to the data. The result was actionable intelligence that could inform targeting and other battlefield actions.
The implications extend beyond military operations to other organizations that have highly specialized requirements, such as border security, disaster relief and counter-narcotics activities.