Salient CRGT makes strong move into health care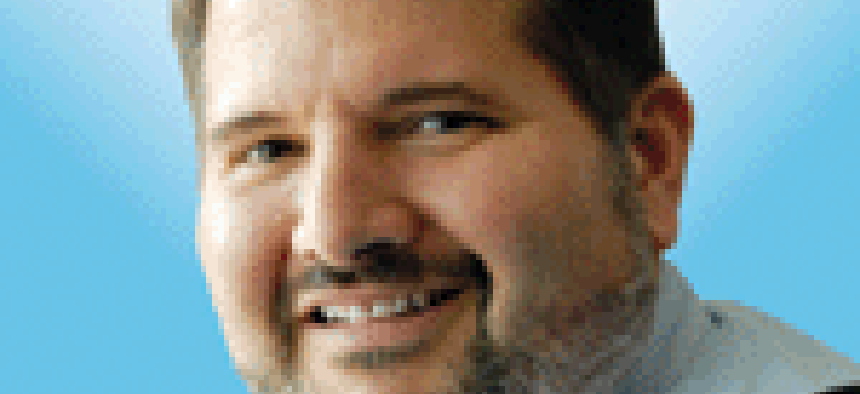 Salient CRGT is moving aggressively into the federal health care market with its planned acquisition of Triple I, a firm serving Veterans Affairs, FDA and the Defense Health Agency.
Salient CRGT Inc. is jumping into the health care market in a big way with its acquisition of Information Innovators Inc.
Known as Triple I, the Springfield, Va., company brings with it clients and contracts across the federal health care spectrum including Health and Human Services, the Food and Drug Administration, the Defense Health Agency and Veterans Affairs.
"We've wanted to add health care capabilities for a couple years and everyone recognizes that there will be strong growth in that area for some time to come,' Brad Antle, CEO of Salient CRGT, told me.
Terms of the deal, which will close before the end of March, were not disclosed, but Salient CRGT is picking up about $200 million in new revenue, which will push the company's total revenue over the $500 million mark.
About $120 million of Triple I's revenue is health care related. Among its health care-related contracts are the VA's Transformation Twenty-One Total Technology Next Gen program, FDA's Enterprise Life Cycle Management contract, NIH CIO-SP3,  the Tricare Evaluation, Analysis and Management Support vehicle and the Centers for Medicare and Medicaid Services Strategic Partners Acquisition Readiness Contract or SPARC.
Triple I also increases Salient CRGT's scale, something that was a strategic goal for the company.
"This moves us solidly into the mid-tier, and out of the smaller end of the middle tier," he said.
Antle describes the middle tier as companies in the $50 million to $1 billion revenue range.
"It is hard to compete as a mid-tier, so the scale helps us," he said. "We also are picking up great past performance, and that will help us compete for larger opportunities."
The integration will help Salient CRGT find costs savings and efficiencies, which also will help its competitiveness, he said.
Triple I's health care business will become its own vertical at Salient CRGT. The relatively small amount of health care work the company had already been doing will be rolled into that vertical. The rest of Triple I will be integrated into existing operations at Salient CRGT.
Integration of acquisition is something the company has plenty of experience with. In 2015, Salient and CRGT came together through a merger of equals. Triple I is about the same size those two companies.
Antle also was the CEO of SI International, which grew through a series of acquisitions until it was acquired by Serco in 2008.
The Salient CRGT acquisition strategy isn't a repeat of SI, in that SI made a lot of small acquisitions, and Antle is more interested in larger deals.
"Acquisitions are just as challenging if you do smaller ones. A larger one lets you accomplish a lot more at once than doing two or three smaller ones," he said. "Plus they are just a great fit."
Once the deal closes, Salient CRGT will be about 25 percent health care, 25 percent defense and intelligence and 50 percent federal civilian.
Triple I's CEO, Steve Ikirt, will not be coming over to Salient CRGT. "We haven't made any decisions beyond that," Antle said. "But we are looking for the best athletes. As we integrate, we'll be looking to pick up the best from the other side."
Among the capabilities that the company is strengthening are agile software development, data analytics, cyber security and mobility solution and service. Triple I also is bringing more cloud capabilities.
While Antle didn't rule out other acquisitions, the main focus for the next year or two will be on organic growth.
"We'll be doing a lot of cross-selling and the blocking and tackling that we know how to do to get the business growing and on a solid footing," he said.
But the company will continue to look for acquisition opportunities if they can add to certain areas such as health care, cybersecurity and the cloud. "But our real focus is on getting the growth engine going," he said.
While he didn't speak about specific opportunities, Antle said that even at this stage, they have identified contracts they can bid on as a prime that they probably would have been a teammate on. More of those will be identified as the company goes through the integration process, he said.
He wants to company eventually to pursue opportunities over $100 million, but it takes time to get in position to bid on those. In the shorter term, "we are now much more competitive on a lot of $50 million opportunities," he said.
To make the deal, Salient CRGT was backed by its private equity owners Bridge Growth Partners and Frontenac. Triple I is owned by DFW Capital Partners.
RBC Capital Markets and Sagent Advisors served as Salient CRGT's financial advisors, and KippsDeSanto & Co. served as Triple-i's financial advisor. Willkie Farr & Gallagher LLP and Garvey Schubert Barer served as legal advisor for Salient CRGT. Holland & Knight served as legal advisor for Triple-I.