How will Trump tackle tech?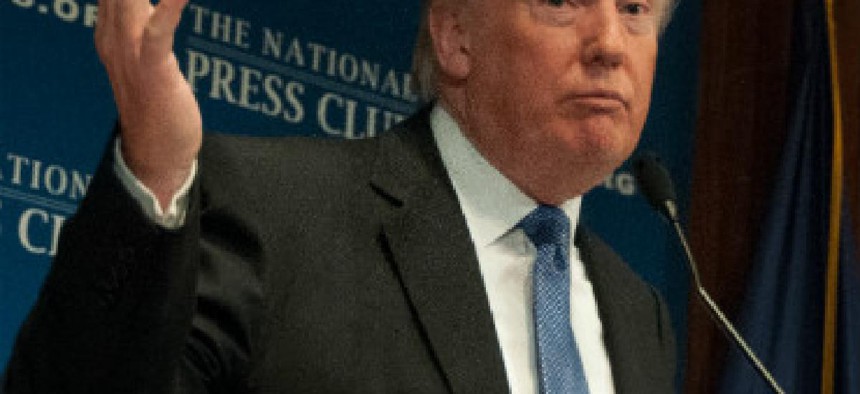 What will the Trump Administration mean for broader technology issues?
Editor's Note: This article originally appeared on FCW.com
As a user of the social media platform Twitter, Donald J. Trump, the 45th president of the United States, was able to drive media coverage and conversation about the campaign from his personal Android device.
Yet Trump famously does not use email or a computer.
So the new president is both immersed in technology and a stranger to it. He faces the job of leading a government that is ever more reliant on technology to deliver services to citizens and increasingly under threat from cyber attacks directed at the nation's internet-connected assets and critical infrastructure.
Cybersecurity
Trump is expected to lead on cybersecurity, even as he assumes the job of leader of the free world amid ongoing investigations in federal law enforcement and probes on Capitol Hill about the extent to which cyberattacks and hacks of political targets during the 2016 campaign were linked to Russian state security or their proxies. Investigators also are exploring whether there were any direct links between hackers and individuals involved in the Trump campaign.
Trump's statements and policies on cyber have evolved since the Sept. 26, 2016, presidential debate, when he closed out an answer to a question on the subject by saying, "The security aspect of cyber is very, very tough. And maybe it's hardly doable."
On Oct. 3, 2016, Trump tried to advance his cyber policies in a brief statement, saying, "As President, improving cybersecurity will be an immediate and top priority for my Administration. One of the very first things I will do is to order a thorough review of our cyber defenses and weaknesses, including all vital infrastructure."
That review, which Trump has said will be completed in his first 90 days, will "provide specific recommendations for safeguarding different entities with the best defense technologies tailored to the likely threats, and will followed up regularly at various Federal agencies and departments."
In addition, he said, "The Cyber Review Team will establish detailed protocols and mandatory cyber awareness training for all government employees while remaining current on evolving methods of cyber-attack."
Trump also said he would enhance U.S. Cyber Command and boost offensive cyber capabilities to deter adversaries.
Cyber experts contacted by FCW, however, could not point to much in the way of specifics regarding policies or personnel the transition team has put in place to address cyber.
Former federal CIO Karen Evans, who more recently has run the U.S. Cyber Challenge organization, is among the transition team advisers on cybersecurity. Former New York Mayor Rudy Giuliani will lead a group tackling cybersecurity issues. And Trump has appointed Tom Bossert, a former George W. Bush administration official with significant cybersecurity experience, to the White House post of homeland security advisor.
But beyond that, "we know virtually nothing," said Michael Sulmeyer, director of the Cyber Security Project at the Harvard Kennedy School. Sulmeyer said appointing Giuliani to head an advisory panel puts a high profile face on the topic, but "an external advisory board…doesn't substitute in the slightest for a governance structure."
"What you need are people inside the government who actually have the responsibility to execute cybersecurity-type functions and tasks and jobs," he said.
Sulmeyer said he hopes Trump follows the example of the Obama administration when it adopted and built on much of the work done by the Bush administration.
"The hope is that the incoming team recognizes that the work that the previous administration has done is not partisan," and they look for ways to improve upon and continue the work that's been done to date, Sulmeyer said.
He cautioned that cyber will not be a day-one priority for the Trump team given other more pressing demands, including continuing to staff the executive branch.
"At some point within the first 30 days, we really should be expecting a little more depth from the new team [on cyber], even in terms of vision, even in terms of objectives," he said "That would be, standard, and I think a fair expectation that those of us on the outside should have of the incoming team."
Contracting
As president-elect, Trump has inserted himself directly into conversations about government projects, naming and shaming high-profile contractors. Using the reach of his Twitter account, Trump challenged Boeing about the $4.2 billion price tag on the pair of new Air Force One 747s and threatened to cancel the aircraft company's contract.
Shortly after that tweet, Trump took to Twitter to warn Lockheed Martin about the rising cost and delays of the F-35 joint strike fighter program. He suggested that he would ask Boeing to look at modernizing the F-18 as an alternative. Following that flurry of tweets, Lockheed's stock took a 2 percent tumble, and Boeing' edged up 1.5 percent.
Some federal IT contractors FCW spoke with in January said those tweets have made them a little nervous, not because they are leery of being called on the carpet, but because of the uncertainty injected by the abrupt combative stance, as well as an apparent new unpredictability from the White House on contracting issues.
"Can I expect to bid one thing on a contract, then have to renegotiate it when the White House objects to it later?" asked one of those contractors, who asked not to be identified for fear of putting his company on Trump's radar. "That makes bidding on big contracts a harder thing to do. ... It's not the tweets, it's the uncertainty they inject."
However, one agency CIO told FCW the new president's call out of contractors might be a good thing overall for federal buyers. The president's use of social media acts as a kind of "soft power," the CIO said, which gives the administration leverage to keep contractors in line. On the downside, the official noted that soft power could also push some contractors to "overbid" to cover unforeseen future costs and not be perceived as inflating the price later on.
"The use of social media by the president has the interesting effect of both discouraging contractors who don't think they can deliver at a fair price and discouraging contractors from [post-award] price inflation," the CIO said.
In the meantime, Boeing CEO Dennis Muilenburg told reporters on Jan. 17 that he had talked with President-elect Trump and the two had "made some great progress" on reducing the costs on the two new Air Force One 747s his company is building. Trump also reportedly told Lockheed Martin in mid-January that he wants a 10 percent reduction in the $379 billion F-35 fighter-jet program.
Innovation and agency tech
The Trump administration has expressed an interest in modernizing government tech and changing procurement. In the readout of a December "Tech Summit," which included leaders from tech giants Google, IBM, Apple, Intel, Cisco, Facebook, Amazon and others, the transition team noted that "updating government software systems," "reducing bureaucracy" and "introducing greater accountability in the government procurement process" were among the key topics under discussion. The transition has indicated that the group of tech leaders could be convened quarterly.
One of the biggest question marks in the federal IT community is whether the Trump administration will carry forth with some of the initiatives dating back to the 25-point plan introduced by Obama's first federal CIO Vivek Kundra.
Will the emphasis on data center consolidation and cloud adoption remain, as well as efforts to leverage government buying power through more centralization of software licensing and hardware? These aren't presidential-level decisions, and there may be momentum for continuity on these policies from career acquisitions personnel inside the General Services Administration and elsewhere.
Another open question is the future of in-house innovation shops like 18F at GSA and the U.S. Digital Service, housed at the Office of Management and Budget and digital service teams inside agencies.
The groups have some powerful allies in Congress, including House Majority Leader Kevin McCarthy (R-Calif.). McCarthy is also a backer of legislation to make the presidential innovation fellows program permanent and to make the federal chief technology officer position a Senate-confirmable post. The CTO provision was signed into law by President Barack Obama on Jan. 6, while the bill to cement the PIF program cleared Obama's desk the morning of Jan. 20. 
But among vendors, questions linger about whether these government innovation groups are doing too much in-house development.
"There remains industry concern about how it fits in the lanes of government and how it impacts commercial providers," Mike Hettinger, a lobbyist and adviser to tech companies and a former senior Capitol Hill staffer, told FCW in an interview a week after the election. "It is probably a good time given the transition to take a look at 18F and how it fits and the role it should play going forward. I expect the Trump administration will do that."
Encryption
Trump is also likely to take another look at law enforcement access to encrypted communications, the problem FBI Director James Comey calls "going dark."
Trump waded into the controversy in the wake of the San Bernardino terrorist murders in 2015, when Apple opposed a court order to disable security features on an iPhone belonging to one of the shooters. Trump publicly sided with law enforcement and called for a boycott of Apple products.
Trump's pick for attorney general, Sen. Jeff Sessions (R-Ala.), is also leery of the potential for unbreakable encryption to lock out law enforcement. At a February 2016 Senate hearing on the subject, Sessions said that Apple's decision was "a more serious issue than [Apple CEO] Tim Cook understands."
The Internet Association, which includes Google, Facebook, Amazon, Uber, eBay, PayPal and other leading online firms, advocated for strong encryption in a post-election letter to Trump.
"Laws that require companies to engineer vulnerabilities into products and services harm personal privacy and endanger national security. Support for strong encryption makes America more secure," the association's CEO Michael Beckerman wrote.
Kevin Bankston, director of the Open Technology Institute, was more direct. He told Verge after the election that, "We need to be prepared for a full frontal assault on the right to encrypt in 2017."
Note: This article was updated on Jan. 20 to reflect President Obama's signing of a bill to codify the Presidential Innovation Fellows Program.
FCW Staff Writer Chase Gunter also contributed to this article.