Sign of maturity: Applied Insight adds large business chops with its new CEO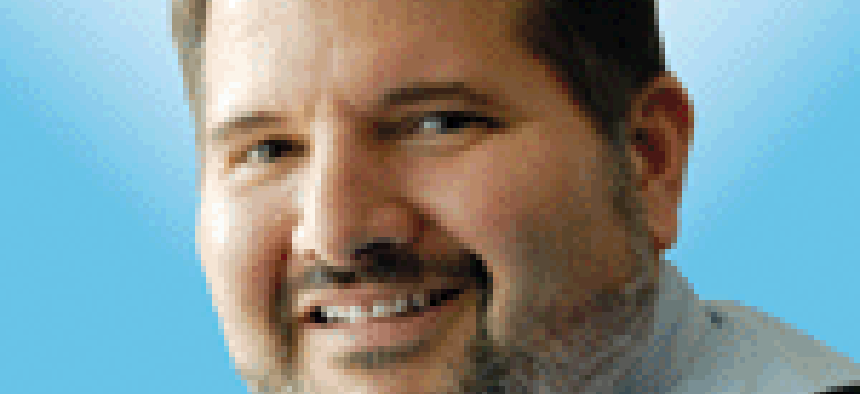 Companies grow and mature, and people's careers grow and mature as well. We can see those phenomenon converge with the leadership changes occurring at both cloud and mission IT services provider Applied Insight and its private equity owner in the Acacia Group.
Dede Dascalu, CEO of Applied Insight, is shifting to the Acacia Group to serve as lead technology partner. He'll bring a technology focus to Acacia's new investments and lend expertise to the private equity firm's platforms as they develop new intellectual property and solutions and look to make more acquisitions.
Taking his place at Applied Insight is Amanda Brownfield, an Army veteran and former executive at larger businesses such as Science Applications International Corp., Engility Corp. and TASC. Brownfield joins Applied Insight from Geospark Analytics, the commercial geospatial technology firm she most recently led as CEO.
For both Dascalu and Brownfield, they see the new positions as opportunities to apply what they've learned during their careers in a new setting.
"We wanted a consistent product development and technology development approach at Acacia and Dede will do that for us," said Gavin Long, co-founder and partner at Acacia. "He'll run those types of initiatives."
Amanda Brownfield, CEO, Applied Insight
Dascalu said the exciting part for him is taking the practices he has used at Applied Insight and bringing them to the broader portfolio at Acacia.
Acacia also owns MajorKey, a commercial IT and digital solutions company; and ID Technologies, an IT product and services company. Acacia bought what was formerly Intelligent Decisions in 2018 and subsequently split it into ID Technologies and Applied Insight.
"We've driven the technical edge and discriminators at Applied Insight," Dascalu said. "As the portfolio gets larger and larger there's more of need for that technical capability."
His departure from the CEO role from Applied Insight also is an indication of the company's maturity as a mid-tier company built on several acquisitions. The back-end integration of those various deals is complete, including the latest in February when it bought Bridges.
Dascalu said they've been working to establish common culture across the company. Applied Insight has over $200 million in annual revenue to put it solidly in the middle tier.
"The leadership team has done a ton to bring it all together," Brownfield said. "It's not just integrating the back office but also unifying and telling the story to your workforce and the market."
Brownfield said one of her jobs is to take her experience and help scale what Dascalu's team has done.
"I believe that our mission is to build a company with long-term enduring value," she said.
Organic growth is a key to that long-term value, so Brownfield said she'd be looking to optimize Applied Insight's growth organizations. That means taking those parts and pieces and moving them forward.
"I give Dede and his team a lot of credit. They began to make that transition in the 2020-2021 timeframe when you look at the size of the deals they've pursued," she said.
Brownfield and I spoke just a few hours before she was to meet the Applied Insight employees at an all-hands town hall meeting on Aug. 10. More specific goals and plans will develop after that meeting.
"But I know they are taking some big swings and that is what attracted me to a company this size," Brownfield said. "We have the size, scope and capabilities to take those swings but we are still small enough to nurture that collaborative and entrepreneurial culture."
That was one of the reasons why Brownfield said she made the shift from large businesses to smaller ones. She joined Geospark as president in Spring 2020 and then became CEO in the fall.
Her career also includes stints as a senior vice president at TASC and then Engility, the latter of which she left after it was acquired by SAIC in January 2019. She spent 14 years at SAIC earlier in career after leaving the Army.
"It was a very deliberative choice on my part to be in the middle market," Brownfield said. "I can reach out and touch customers. When you are in a larger business you get farther from the impact on the customer."