Author Archive
Ross Wilkers
Senior Staff Reporter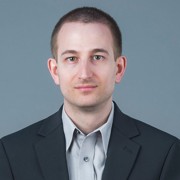 Ross Wilkers is Washington Technology's senior staff reporter covering the business of government contracting, plus the companies and trends that shape the market. He joined WT in 2017 and works with Editor-in-Chief Nick Wakeman to host and produce our "Project 38" podcast featuring interviews with the market's leading executives and voices. Ross is a native of Northern Virginia and is an alumnus of George Mason University.
Companies
Fund IV's final amount is double that of the last one the government market investment firm raised.
Podcasts
The "Fourth Industrial Revolution" is about both technological advancement and rapid societal change. It is also in Lumen Technologies' corporate mission and drives its federal strategy as explained to our Ross Wilkers by Zain Ahmed, senior vice president of public sector at company no. 31 on our 2022 Top 100.
Contracts
The company has been the lead systems integrator for the nuclear triad's land portion since 2013.
Companies
Two well-known government market executives will join the board as a result.
Contracts
Government contractors talk up the talent fight all the time as their watch-item, but what of the teams that award the work?
Podcasts
Parsons Corp. was born an engineering company in 1944 and still is. But software is also a core component in both federal and infrastructure markets as our Ross Wilkers heard from Peter Torrellas, president of the company's connected communities business.
Top 100
Company No. 10 on our 2022 Top 100 rankings is implementing a strategy it says askews a 'business as usual' approach in favor of doing things differently.
Top 100
The No. 31 company on our 2022 Top 100 is also focused on execution for the task orders it has booked under the EIS contract vehicle to transform agency networks.
Companies
Interest in listing the DRS business on the stock market never wavered even after a planned IPO was nixed.
Contracts
The potential $50 billion IT services and solutions vehicle feeds into the White House's larger procurement equity push.
Companies
She joins the company within a year of its private equity owner joining the fold.
Companies
Private equity firm Godspeed Capital formed the company out of three acquisitions.
Contracts
Work will support the Defense Department's network of centers that house high-performance computing capabilities.
Companies
Barring more action, this lets Leidos proceed on its work for the 10-year Defense Enclave Services award and consolidate IT systems for 22 DOD agencies.
Companies
The companies expect to close their transaction in the third quarter of this year.
Companies
Her new areas of responsibility at C2TI will cover customers, business operations and strategic growth
Companies
The nearly three-decade industry veteran also held the CFO role at what was then DigitalGlobe and GeoEye.
Companies
The digital services company wants to align with agencies' efforts to embrace techniques and tools found in the consumer technology landscape.
Companies
The 16-year veteran of Jacobs helped that company carry out its acquisition of KeyW Corp. in 2019.
Companies
The eight-member panel includes several executives from CNSI's private equity owner.