Author Archive
Ross Wilkers
Senior Staff Reporter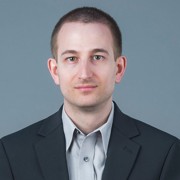 Ross Wilkers is Washington Technology's senior staff reporter covering the business of government contracting, plus the companies and trends that shape the market. He joined WT in 2017 and works with Editor-in-Chief Nick Wakeman to host and produce our "Project 38" podcast featuring interviews with the market's leading executives and voices. Ross is a native of Northern Virginia and is an alumnus of George Mason University.
Contracts
Advanced manufacturing, data transformation and digital health innovation are among the VA's key focus areas for this contract.
Contracts
Awardees will help operate and maintain systems used to control entry into Army facilities.
Contracts
The Missile Defense Agency also wants the awardee to help make a new instrumentation system.
Contracts
The branch sought support for a system that supplies enterprise software to users.
Companies
The shipbuilding giant continues to emphasize the technology integration leg of its overall strategy.
Companies
The executive currently in that role will move into another focused on overall corporate strategy.
Contracts
The Customs and Border Protection agency is building on efforts to modernize telecommunications environment.
Contracts
The military continues to cast an open net across industry for networking and communications technologies.
Companies
The information security company is looking for growth with agencies and through partnerships.
Companies
That segment was formed out of a corporate realignment in 2019.
Companies
Google stood up the business over the summer to have a single unit responsible for selling the tech giant's product suite in the government and education markets.
Contracts
This phase of the effort will focus on analytics and visualization, among other areas.
Contracts
Service branch leaders use the systems to manage pay and personnel, financial and accounting operations.
Companies
The government IT company is looking to further expand its engagement and support of agencies.
Companies
The venture investment firm exceeds its target for new capital to back startup defense technology outfits by nearly 30%.
Companies
The company is preparing to roll out an M&A program for 2023 in support of its top-line goal.
Companies
The data services company's board looks to the interim chief executive.
Companies
The conglomerate's U.S. subsidiary is in the midst of a transaction to take it public.
Podcasts
Where companies are prioritizing their investments and seeing headwinds is the focus of this episode that has our Ross Wilkers swap notes and thoughts with John Caucis and James Wichert, public sector market analysts at Technology Business Research.
Contracts
The General Services Administration has released the final solicitation for service-disabled and HUBzone small businesses to bid on the Polaris IT vehicle.