Author Archive
Ross Wilkers
Senior Staff Reporter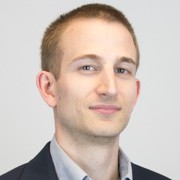 Ross Wilkers is Washington Technology's senior staff reporter covering the business of government contracting, plus the companies and trends that shape the market. He joined WT in 2017 and works with Editor-in-Chief Nick Wakeman to host and produce our "Project 38" podcast featuring interviews with the market's leading executives and voices. Ross is a native of Northern Virginia and is an alumnus of George Mason University.
Companies
BT Group appoints a new chief executive for the telecommunications giant's subsidiary focused on the U.S. government market that joins from Cubic Corp.
Companies
QinetiQ Group's U.S. arm wants to double in size to $600 million-annual revenue by its 2026 fiscal year and has named a new CEO to lead that pursuit.
Companies
In acquiring Gryphon Technologies, ManTech finds a company it sees as at the forefront of a very different model of engineering than the traditional document-based approach.
Companies
Private equity firm Godspeed Capital Management acquires a second government technology solutions company just shy of one month on from its first transaction.
Companies
NetCentrics names John Dillon, a market veteran, as its new senior VP of business development.
Companies
Iron Bow Technologies' new senior vice president of sales operations joins the company from his prior role as a leader at Cisco's defense business.
Companies
Government and commercial consulting firm Cadmus appoints a new chief growth officer that formerly led expansion initiatives at Dovel Technologies until its sale to Guidehouse.
Companies
CACI International confirms its win of a $514 million task order to help the Army modernize outside plant infrastructure and facilities so they can have more fiber optic cables for communications.
Companies
DCS Corp. promotes one of its executive vice presidents to chief operating officer as the company's current COO retires after 35 years there.
Companies
Australia-headquartered Droneshield elevates from within a new CEO of its U.S. subsidiary to be responsible for expanding that business.
Companies
CBEYONData promotes one of its vice presidents to chief growth officer with responsibility over pursuit and capture at the cloud migration and business intelligence-focused company.
Companies
Roboyo brings in a new senior vice president for its U.S. public sector business that will chart the automation technology firm's growth strategy across federal, state and local government.
Companies
Amid Castellum's push for acquisitions, the government technology services company has given its chief growth officer added responsibilities and adds a second executive to the team.
Companies
We saw several executive moves across the market this week. Here is a round up of several.
Companies
GCOM's acquisition of ASR Analytics puts the buyer in the federal market to provide agencies automation and data analytics services.
Companies
Calibre Systems' new chief operations officer, Jerry Hogge, joins the company from Mitre and brings three decades of experience including at Leidos.
Companies
Geoanalytics firm Hawkeye 360 counts many defense companies as investors and has now lined up Leidos, the federal technology market's largest player.
Companies
Less than a year on from being acquired itself, Cubic Corp. brings in both a new CEO and chairman of the defense and transportation company's board of directors.
Companies
Leidos' new chief security officer joins the company from his prior role of leading the office of special projects within the Air Force's Office of Special Investigations.
Companies
ECS, the government technology segment of ASGN, brings in a Perspecta executive as senior vice president of business development.