Author Archive
Frank Konkel
Vice President, Editorial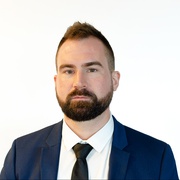 Frank Konkel is vice president of editorial and an editor at large for Nextgov/FCW. He writes about the intersection of government and technology. Frank began covering tech in 2013 upon moving to the Washington, D.C., area after getting his start in journalism working at local and state issues at daily newspapers in his home state of Michigan. Frank was born and raised on a dairy farm and graduated from Michigan State University.
Companies
Dave Goldfein, retired general and former Air Force chief of staff, will serve as the board's chairman, alongside professionals with backgrounds in defense and intelligence, technology, education, health care and state and local government.
Companies
The growth reflects rising concern about the potential threat posed by fully realized quantum computers.
Contracts
These multiple-award opportunities range in potential estimated value from $5 billion to $100 billion.
---
Contracts
Technology and efforts to improve digital service delivery factor into many trends identified in a March report by Deloitte's Center for Government Insights.
Companies
The Federal Trade Commission is asking for public feedback about the market power of cloud computing providers, among other information.
Contracts
The funding stems from the Department of Homeland Security's Science and Technology directorate.
Contracts
The Defense Department moves ahead on JEDI cloud contract replacement.
Contracts
Defense spending dipped significantly in fiscal 2022, while civilian agencies spent slightly more on contracts compared to the previous year.
Contracts
Two agencies released a request for information this week asking for ideas to achieve net-zero carbon emissions.
Contracts
The Virginia-based company will provide an assortment of IT services to the U.S. Navy.
Companies
Google Public Sector aims to accelerate digital transformation across government.
Contracts
The Cyber-Informed Engineering Strategy is organized across five pillars.
Contracts
The partnership builds on years of previous innovation efforts in various tech fields.
Contracts
The Interior Department's next cloud contract appears to be a big one.
Contracts
GSA-controlled facilities will become a proving ground for clean energy technologies.
Contracts
Amazon Web Services beat out Microsoft for the contract after a bid protest battle.
Contracts
The Chief Data and Artificial Intelligence Office was stood up in February.
Contracts
Tech and cybersecurity spending would receive major boosts under President Joe Biden's proposed 2023 budget.
By

Frank Konkel and Alexandra Kelley
Companies
The company will make use of special regions to store the government's data.
Contracts
The legislation aims to improve government contracting opportunities for small businesses but could have a major impact on governmentwide procurement.