4/21/2011
We ranked the Top 100 government contractors based on sales related to IT products and services, systems integration, telecommunications, professional services and engineering services.
If agencies carefully choose the right tactics at the right time for the right mission, they can reap significant financial savings with a move to cloud computing.

To truly optimize data center operations and get the biggest return on related investments, government organizations must take a more 'holistic' view of the equipment housed there, say industry observers.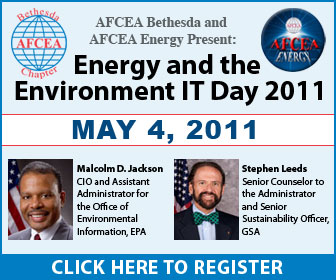 AFCEA Bethesda and AFCEA Energy Present Energy and the Environment IT Day 2011

The goals of this full-day conference are to foster better inter-agency communication among key stakeholders, share valuable lessons learned and best practices, identify mission-critical IT issues and spotlight programs - such as climate change, cyber security, data center consolidation, data exchange emergency preparedness, enterprise lifecycle management, mobility, smart grid, sustainability, telework and cloud computing - to improve the Administration's energy efficiency and national security initiatives.

Learn more
Download resources
Special Report: Network Infrastructure
Sponsored by: CDW-G

Unified communications (UC) delivers productivity gains as well as significant cost reductions. UC not only provides more reliable and cross-functional communication, but also increases resilience against network disruptions. In addition, UC enhances a sense of belonging and affinity among remote or mobile workers.

Read the full article.