White House raises contract spending goals for small disadvantaged businesses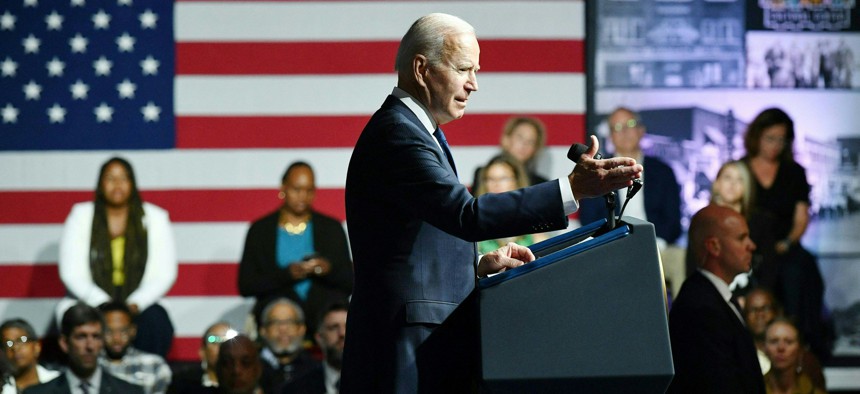 The Office of Management and Budget is directing agencies to award at least 12% of all federal contracting dollars to small disadvantaged businesses in fiscal year 2023.
The White House has issued new guidance for federal agencies to increase the share of government contracting dollars to small disadvantaged businesses (SDBs) in fiscal year 2023 as part of the administration's effort to steer $100 billion in new contracting opportunities to minority-owned businesses over the next five years. 
The Office of Management and Budget guidance on Tuesday directed agencies and the Small Business Administration  to negotiate new contracting goals and to award at least 12% of all federal contract spending to SDBs in FY2023. 
"Increasing the share of contract dollars awarded to SDBs is designed to support a more dynamic and resilient supplier base and create opportunities for entities owned by underrepresented individuals," OMB Director Shalanda Young wrote in the memorandum. 
Federal agencies met the White House goal of awarding at least 11% of all contracting opportunities to SDBs in fiscal year 2021 with a record-setting $62.4 billion awarded to Black-owned, Latino-owned and other minority-owned businesses, according to SBA. 
The government also achieved record-level spending in the previous fiscal year to small businesses overall, as well as for Historically Underutilized Business Zone and service-disabled veteran owned small businesses.
The latest guidance "builds on progress we've made to ensure federal procurement fosters economic opportunity for underserved communities," Young said in a series of tweets. 
The guidance also said OMB will continue to work with SBA and various government councils to help lower barriers to entry for SDBs and other socioeconomic small businesses "so that these entities may compete effectively for federal contracts."  
Last year, President Joe Biden announced his plan to lift federal spending on SDBs to 15% by fiscal year 2025 during an event commemorating the 100-year anniversary of the Tulsa race massacre. Minority-owned businesses received less than 10% of total federal contracting dollars on average through fiscal years 2016 to 2020. The administration additionally unveiled a $31 billion program at the time meant to help connect SDBs and other minority-owned businesses with federal partnership opportunities.
Federal agencies also released the first-ever set of equity action plans earlier this year, which outlined several initiatives at the General Services Administration and others to improve access to federal contracting vehicles and support for SDBs seeking to enter the federal marketplace.