Tech wanted: government calls on industry to help with net-zero carbon buildings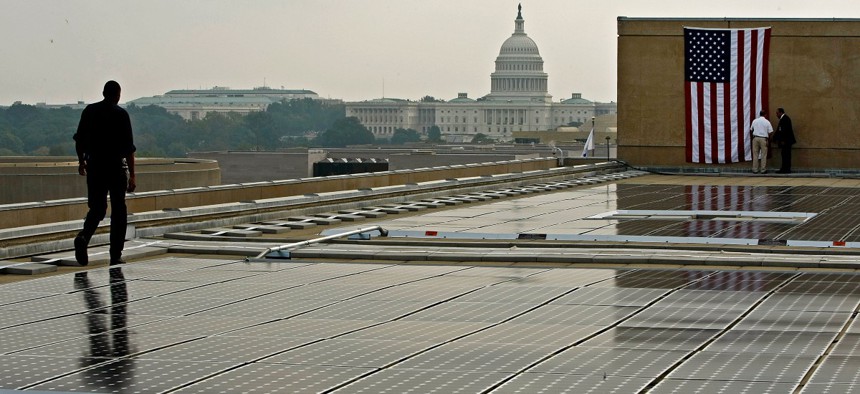 Two agencies released a request for information this week asking for ideas to achieve net-zero carbon emissions.
The General Services Administration and Department of Energy Tuesday released a request for information to industry seeking innovative, emerging technologies that may one day help the federal government achieve net-zero carbon emissions.
The RFI specifically seeks industry feedback regarding technologies that reduce greenhouse gas emissions of commercial buildings, improve energy grid resiliency and have the potential for equitable, broad adoption across the country.
"We're eager to hear from industry about the emerging technologies that can help build on GSA's success in greening our footprint and catalyzing innovation through programs like Green Proving Ground program," GSA Administrator Robin Carnahan said in a statement. "The Inflation Reduction Act will provide even more opportunities for us to transform federal buildings into high-performing, high-tech testbeds for clean energy innovation."
The Biden-Harris administration has a stated goal of achieving net-zero emissions economy-wide by 2050. The RFI is geared toward finding emerging technologies that could help the administration achieve those ends. The RFI specifically calls for ideas regarding technologies that:
Improve operating efficiency and promote healthy workplaces.
Enable whole building electrification.
Facilitate GHG and carbon reduction.
Provide on-site energy generation and storage systems.
Deliver electric fleet and load management solutions.
The RFI will be open for submissions through Dec. 9. Tech submitted should be "early commercial," and "ready for evaluation in occupied, operational buildings." Proposals could be considered for either privately-owned facilities through DOE partnership programs or through GSA's Green Proving Grounds Program, which consists of federally-owned facilities.