FCW co-founder Anne Armstrong honored with ACT-IAC award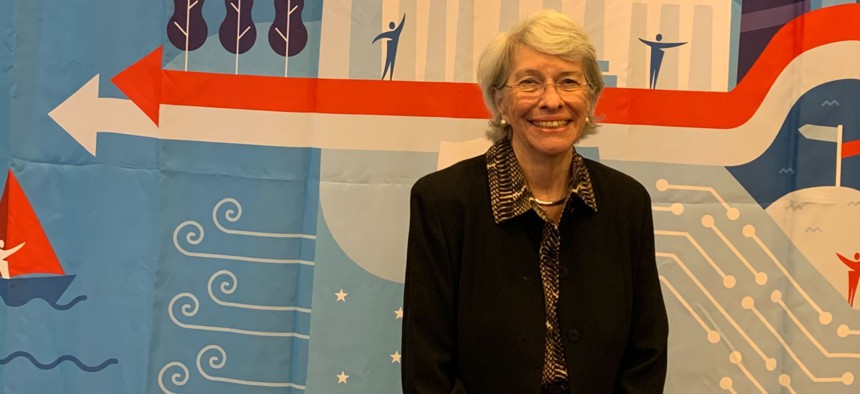 ACT-IAC honored several federal IT notables at their annual executive leadership conference this week.
Anne Armstrong, part of the founding team at FCW, was honored at the ACT-IAC Imagine Nation ELC 2022 conference in Hershey, Pennsylvania with the annual Mendenhall Award, which recognizes a leader who has made significant and continuing contributions to improving government and to ACT-IAC over a sustained period of time. Armstrong's contributions include the founding of FCW and the Federal 100 Awards, leadership at Virginia's Center for Innovative Technology and her ongoing work as GovExec's vice president of strategic alliances.
Former Deputy Federal Chief Information Officer Maria Roat won ACT-IAC's Franke Award, which honors executive leadership in government.
"The ACT-IAC awards have a long history of identifying outstanding achievements by government and industry executives both for their outstanding leadership in the federal technology market and also in their support of ACT-IAC's mission to accelerate government mission outcomes through collaboration, leadership and education," ACT-IAC CEO Dave Wennergren said  in a press release announcing the news.
Additional winners are:
Education Award: Sam Navarro, customer services director for the Centers of Excellence at the General Services Administration.
Leadership Awards: Laura Stanton, acting commissioner, Information Technology Category at GSA and Jonathan Benett, technical director, government solutions at Adobe.
Government Individual Contributor of the Year: Melvin Brown, deputy chief information officer, Office of Personnel Management.
Industry Individual Contributor of the Year: Sudha Venkateswaran, vice president, Alpha Omega Integration.