Amy Gilliland on the future of systems integrators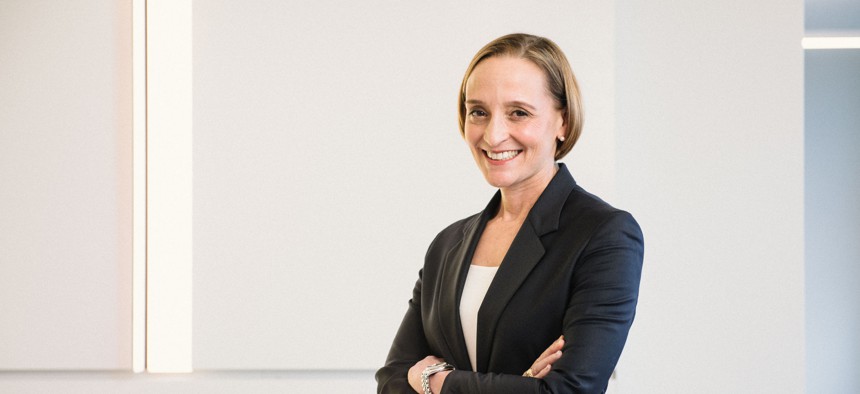 Systems integrators should secure their future in the market by applying domain expertise to help customers apply new technologies, according to General Dynamics' IT business leader.
In a wide-ranging interview, General Dynamics IT's president Amy Gilliland touched on the future of systems integrators, the rapid pace of emerging technologies and how people drive success.
The people themes she visited during a virtual program on Friday with the Northern Virginia Technology Council echoed what she told us in an extensive interview that we crafted into a pair of Project 38 episodes. SEE RELATED ARTICLES
But I was particularly interested when an audience member asked her about the future of systems integrators considering the growth of the cloud and the as a service business model.
Her answer focused on the value of the systems integrators' knowledge of the mission.
"SI's have been literally sitting next to the warfighter for decades," she said. "It's our job to pair that repository of information with technology and what is coming next."
That's why GDIT focuses on training for its employees and having them earn certifications from its commercial technology partners, Gilliland said.
"Whether it is the cloud, zero trust, or 5G, it is our job to make the mission and the technology work," she said.
The role of the systems integrator will grow as the pace of adoption of new technologies is increasing, she added.
GDIT is already looking at technologies such as the metaverse, digital twins, and blockchain and how they can help government customers. Government customers are interested, she said, though =she doesn't expect agencies to rush and broadly adapt these technologies.
"But we need to understand where these technologies are, where they are going and how they can benefit our customers," she said.
Whatever the technology, they will be adopted more rapidly than we expect. "That's the great lesson of the pandemic," she said.
Across the spectrum of customers, the adoption of digital technologies rapidly increased as remote work took hold. Many of these technologies were in the pipeline for agencies but the expectation pre-COVID was adoption later this decade and not in the first year, she said.
A second major change wrought by the pandemic is how communications with employees has changed.
Pre-COVID communications were primarily in-person or via email. With the pandemic, in-person stopped, and email was found to be less effective.
Different people respond to different forms of communications, Gilliland said. Some like short videos. Others won't read an email if it is longer than a paragraph.
Virtual town halls have been popular. "People want to look at you live and engage with you," she said.
Social media platforms are being used more broadly by many companies in the market especially as they work to attract and retain employees.
Whether it is LinkedIn, Instagram, or another platform, she said "it is important that we meet people where they are."
You can click here to watch Gilliland's entire interview at the NVTC event.