CACI's Jack London dead at 83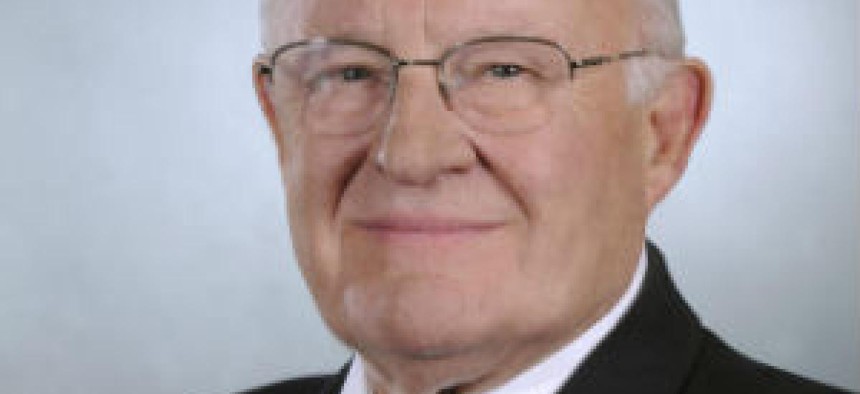 The government market has lost one of its giants.
Jack London, executive chairman and chairman of the board of CACI International, has died at age 83.
London joined CACI in 1972 as a program manager. CACI was just 10 years old at the time and he was the 35th employee. He rose quickly through the ranks, joining the company's board in 1981 and named president and CEO in 1984. In 1990, he became chairman.
He served as chairman, president and CEO for 23 years. In 2007, he gave up the role of president and CEO to become executive chairman, the role he retained until his death.
Michael Daniels, a member of CACI's board, has been elected chairman.
London's career at CACI is nothing short of extraordinary and not just for its length but how he continually worked to keep the company ahead of the curve on technology and business models.
He launched a mergeacquisition strategy in 1992 that often created significant shifts at the company as it added capabilities that allowed it to expand the company's footprint in the market. Today, it stands as a $5.7 billion a year government contractor.
Through it all he also led with the principles that he learned at the U.S. Naval Academy, from which he graduated in 1959. He also graduated from the Naval Postgraduate School in 1967.
CACI hailed London's leadership, innovation and entrepreneurship in its statement to announce London's death.
"All of us at CACI are deeply saddened by Dr. London's passing. It was our great privilege to know and work with him, and he leaves a legacy of outstanding success and accomplishments," said John Mengucci, CACI president and CEO. "He was a true pioneer in the federal contracting industry, drawing from his military service to set the standard for leading with ethics and integrity. He set the bar high for business leaders across our industry, developing a successful business that continuously excelled and stayed strong through more than 50 years of changes in the federal landscape."
London wasn't shy when it came to things he thought were important. He wrote a book -- Character, The Ultimate Success Factor -- in which he talked about that simple straightforward concepts of honesty and integrity and how adhering to those highest standards can drive success.
"Jack was an exceptional business leader of great and enduring vision, and an extraordinary individual in every way," CACI wrote in a message on its webpage. "As a role model, mentor, and friend, he provided unsurpassed guidance and wisdom. As a patriot, he was unwavering in his devotion to our nation. And as a man of good character, he was a steadfast champion of the commitment to ethics and integrity that has driven our company's success and was a shining example to us all."