CACI CEO talks strategic priorities for today's market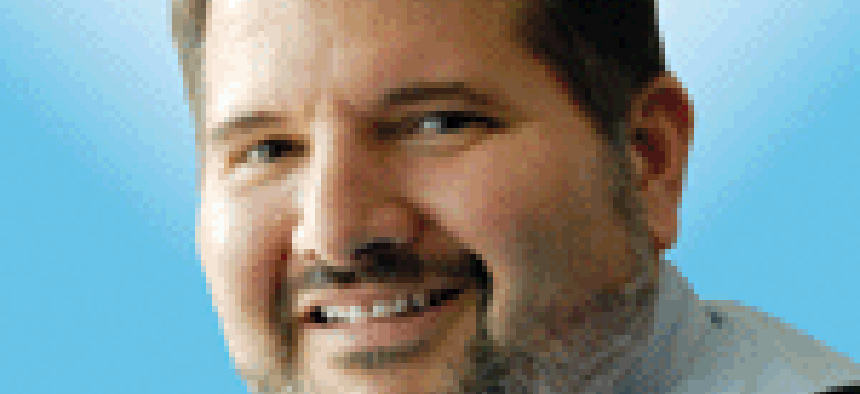 If there is anything that doesn't change in the market, it is that CACI International is going to make a deal. CACI is always on the lookout for an acquisition that can bring new capabilities, new customers or new contracts.
So I surprised myself that it was nearly 25 minutes into my conversation with CEO John Mengucci before I asked him about CACI's M&A strategy. One big reason for that is that Mengucci had so many other things to say.
One of CACI's strengths isn't just that they make acquisitions, it is what those buys do for the company.
For Mengucci, acquisitions are just one tool driving the company's strategy.
A top priority is growing the company's addressable market. "We want to expand our customer capability set and become more immune to government shutdowns and price shoot outs," he said as the keynote speaker at our Jan. 22 WT Power Breakfast. Mengucci spoke just two days after the company's long time leader and executive chairman Jack London died at age 83.
Deals are a part of the company's strategy, but another big factor are the contracts the company pursues as well as the kind of workplace it is, he said.
As CEO, Mengucci said he's focused on being a place where people want to come to work.
"I wanted a renewed focus on who we hire... and I wanted a world class internship program," 
The company is moving more toward the technology side of the business and so it is investing in relationships with universities and their research and development efforts as well as getting involved in STEM programs with K-12 schools.
"Employees vote everyday on who they want to work for and it is no secret, I want our employees to stay with us," he said.
Another strategy for the company has been the decisions it makes about what work to pursue. "We want to win longer term, higher dollar value awards," he said. "When we do that, we're less susceptible to the constant recompetes."
Adjusting the company's aperture to pursue larger programs -- such as its $1.8 billion BEAGLE contract to modernize the back office systems for Customs and Border Protection -- also expands the company's addressable market. That allows CACI to combine its products and its professional services, he said.
A key to this kind of success isn't just knowing the customers' needs but getting ahead of those needs. It is important to get the customer talking about outcomes.
"That drives us to be a more innovative company," Mengucci said. "We are investing in technology that comes from talking to customers about their toughest problems."
CACI has been training program leads and solution architects to talk to customers and draw out insights.
"We are trying to make certain we are investing at a pace that when the customer needs something in the field that that is not when we start talking about what it is they need," he said.
Companies need to be willing to invest even before they see a program out there. For defense customers, the threat landscape changes so quickly.
"You have to have had those discussions already," Mengucci said. "Customers want companies out there investing ahead of time and that can see life through their eyes and see threats through their eyes."
For CACI, this approach is reflected in the people they hire and growing relationships with colleges and universities. Despite the challenges of life in a pandemic, CACI still field over 250 interns last year, he said.
Another part of that strategy are CACI's acquisitions. Mengucci said that the $750 million LGS Innovations acquisition in 2019 brought a new research-and-development engine to the company. Each year it files about 20 patents and holds 300 total.
"These aren't patents that go up on a wall. They have to have some technology that our customers need," he said. Work is going on involving 5G, signals collection, cloud-based apps, DevSecOps tools and photonics.
M&A is part of CACI's DNA, Mengucci said, but they aren't making deals for the sake of making deals. It all has to fit a strategy.
For Mengucci that means looking at customer needs and looking at CACI capabilities and past performance to address that need. That examination helps the company identify gaps. "If I don't fill that gap then I can't go after that part of the market," he said.
It starts with where the customer is going, what the budgets are and what the threat is. Those factors guide CACI's M&A decisions and not what other companies may be buying, he said.
Timing also is a factor.
"If I see something that's going to be a five-year trend, I probably have time to invest in it and generate my intellectual property. Then we'll be ready to go when the budgets and threats come," he said.
But when the threat is moving quickly, the company has to act.
Right now, CACI is more likely to buy on the technology side rather than expertise. But companies that combine both are very attractive.
"I'm a firm believer that expertise informs technology," Mengucci said. "You don't get a better look than working side by side with a customer providing expertise."
From there you can learn what technology can solve their challenges, such as applying artificial intelligence or machine learning.
"At the end of the day, technology should deliver more value to our customers," Mengucci said.
If you are a WT Insider, click here to listen to the entire interview.