How a logo change can mean so much more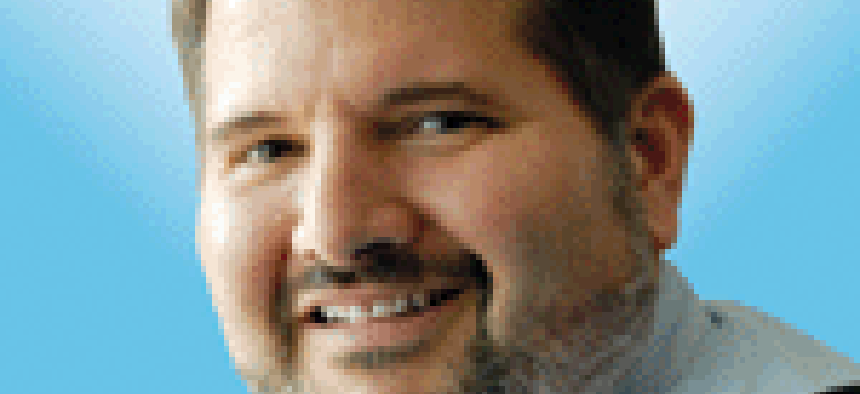 Sometimes a logo change represents more than just an update to a company's public image.
In the case of MCR, its new logo represents a two-year transformation and a path forward for the Reston, Virginia-based company.
CEO Bill Parker took the reins of the company in 2018 and looked for how he could leverage the company's strengths, which he felt were undersold both internally and with customers.
"It's really about focusing on outcomes," Parker said.
As a result MCR has focused on analytics, talent and productivity -- all elements of the new logo. Those three features are the elements of what the company calls the CommandEdge framework, which Parker said which is a way MCR manages itself internally and how it works with customers.
The solutions it delivers are built around those three elements and are "what our customers are asking for," Parker said.
The people part of MCR's equation is probably the most element of the formula because it overlaps with the analytics offering and how the company drives productivity.
Headcount has grown by 50 percent since Parker joined the company to show one proof point for MCR's success.
"I decided we needed to invest in talent," he said.
To hire the best people, MCR has taken a page from the commercial world of recruiting and is using technologies that scour the internet and social media to identify potential employees.
That approach has broadened the pool of candidates beyond people who are responding to help wanted ads and changed MCR's business in some aspects from subcontract to prime.
"It's important to get to people who aren't looking for jobs," Parker said. "We are hiring our brilliance now, not outsourcing it."
Revenue has grown by 12 percent in the last year and the quality of the revenue has improved as well, according to Parker.
As it developed its CommandEdge framework, MCR pulled together what it already was doing around collaboration, systems engineering, strategic and acquisition support, and research-and-development. MCR's work in analytics and visualization also factored in.
Those capabilities were not coordinated in a holistic way. "They were not expressed internally nor to the market," Parker said.
To bolster its productivity, MCR has invested in how it communicates and collaborates internally and then uses that to present solutions to customers more efficiently. One example is the use of visualization tools instead of traditional slide presentations.
The customer can get actionable data in real-time to make quicker and better informed decisions, Parker said.
CommandEdge's three pillars also line up with requirements that need to be answered in solicitations – technical requirements (analytics), staffing requirements (talent) and management requirements (productivity).
MCR is gaining traction with the approach. For example, it has won work with Space Force to support decision making processes with analytics. The company also is winning more positions on large multiple-award contracts such as the Air Force's Concepts, Development and Management Office vehicle.
Work in Europe, particularly supporting NATO, has always been an important part of MCR's business. That represents nearly one-third of its revenue, and Parker said he sees growth opportunities there as threats have evolved given more aggression on the part of Russia.
MCR is in a good position for growth because there are barriers to entry to the European market, he said.