Diana Gowen, long-time telecom exec, has died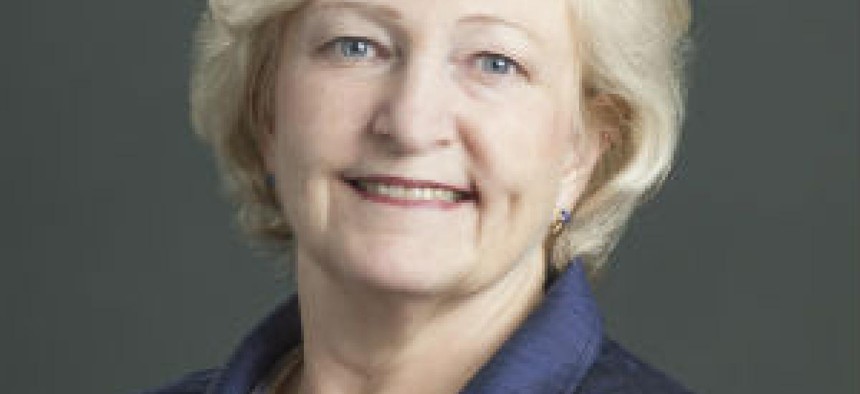 Diana Gowen, a long-time leader in the government telecommunications market, has died after a battle with cancer.
Gowen led the chase and capture of some of the biggest telecom contracts in the government market -- FTS 2001, Networx, and the Defense Research and Engineering Network. Then more recently, the Enterprise Infrastructure Solutions contract.
Her career included executive positions at AT&T, MCI, WorldCom, Qwest, CenturyLink and finally at MetTel, where she came out of semi-retirement to become senior vice president and general manager of the company's federal business.
"Since joining our team in 2015, Diana began building MetTel's Federal Practice -- bringing with her a reputation for only 'making promises you can keep' and a leadership style that brought out the best in those around her," said Marshall Aronow, CEO of MetTel. "We are honored that Diana chose to be a part of MetTel and we extend our deepest sympathies to her family."
Aronow's sentiments were echoed by many people we talked to about Gowen's death and the legacy she leaves behind. Colleagues, co-workers, customers and competitors described a person of great integrity, intelligence and caring.
Michael Magliato, senior vice president of enterprise communication solutions at MicroTech, both worked for Gowen at MCI and later competed against her. He called her a mentor.
"I know at least 100 others that came up around my time that are now leading other organizations that would say the same," he said. 
Mary Davie, now deputy associate administrator of NASA' mission support transformation office, recalled how Gowen reached out when she became assistant commissioner of GSA's integrated technology services portfolio that oversaw much of GSA's telecom programs. Davie's background was in IT, not telecom.
"Diana reached out to me immediately and offered help and ideas," Davie said via email. "She became one of my go to people for leadership and advice, especially as we began planning the next generation of network services solutions."
Davie said Gowen had the ability to balance the best interest of her company with the best interest of the government.
"Not easy to do in government telecom," Davie said. "She was someone I admired and trusted and feel lucky to have gotten to know… (It) brings a smile to my face thinking of her."
It's a cliche to call someone a giant in their field, but it is hard to resist giving Gowen that title. Twice companies brought her in to win large telecom contracts and twice she succeeded.
She led Qwest's effort to win the Networx contract, when the company was considered a long shot. She continued to successfully lead efforts to grow the contract after CenturyLink acquired the company in 2011.
After she retired from CenturyLink in 2014, she consulted and began working with MetTel. She led MetTel's effort to capture one of 10 spots on the EIS contract in 2017.
"At an early EIS executive meeting with all suppliers present, it was quite humorous to see and hear that the majority of those senior executives had worked for Diana at one time or another," said Fred Haines, director of supplier engagement at GSA. "They owed their current positions as a result from their experiences with her."
Haines and others praised Gowen's strategic and tactical acumen.
"I saw her as someone I trusted and someone who would answer truthfully when you had a question or issue," said Bob Woods, former commissioner of GSA's Federal Technology Service.
Warren Suss of Suss Consulting used Gowen as a consultant after her retirement from CenturyLink.
"Her colleagues and her competitors held her in high regard for her strategic and tactical skills in capturing large opportunities, building marketing and sales organizations, and positioning companies for accelerated growth," Suss said.
"She touched so many people and helped so many careers, including our own Lisa Bruch. Her legacy lives on in the organizations she built, which felt more like family," said Dave Young, senior vice president of the public sector group at CenturyLink.
With her strengths in strategy and the breadth of knowledge of the federal market, Gowen earned a reputation as a tough competitor.
"You had to be three steps ahead of where you think you needed to be if you knew she was competing on the other side," Magliato said.
"I would call her highly ethical, a great team leader who watched out for her people and liked to blend team building with hard work," said Sara DeCarlo, former AT&T, Nortel and Bell Atlantic executive. "She set high standards for herself and others and was just plain smart!"
Tony Bardo, assistant vice president for government solutions at Hughes, has at different times worked with, for and against Gowen over the years.
"A twisting, turning relationship but she was a great personality, a force to be reckoned with and a great person with a caring heart," Bardo said.
While many people talked about how smart and tough Gowen was, it was that kind heart that stands out for many.
"When working for her she could be a harsh disciplinarian, however, there were many, many times that her motherly instincts, compassion and love was evident," Magliato said.
"Diana showed you could be tough, successful executive, yet still be a charming and kind lady who had compassion for others," Haines said. "Our federal telecommunications community has lost one of its titans. There will not be another Diana Gowen."
FCW's Mark Rockwell contributed to this story.
RELATED CONTENT:
Listen to our 2018 Project 38 Podcast interview with Gowen.
Read our Q&A interview with Gowen after she retired from CenturyLink in 2014.