Former Agilex, Accenture execs launch new venture: Steampunk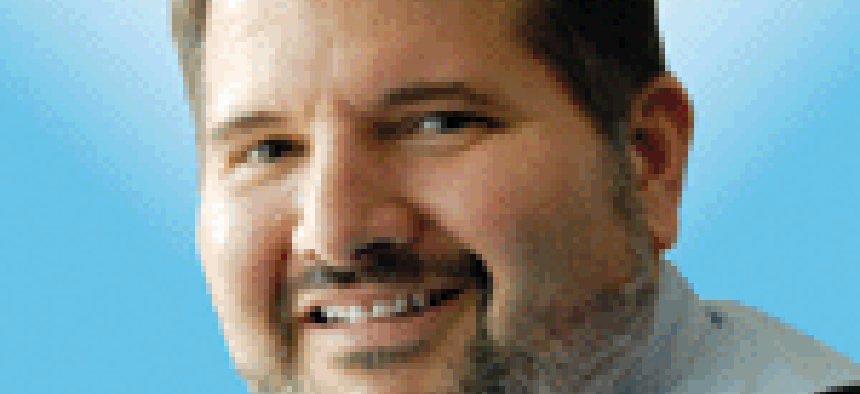 A group of former Agilex executives who went to Accenture when they bought the company have acquired and are now rebranding SE Solutions as Steampunk: which will focus on the "collision" of humans and technology.
Agilex was the third company that Bob LaRose launched when he and Jay Naussbaum formed it in 2007.
In their eyes, Agilex continued a decades-long belief in employee-ownership as an engine for innovation and growth.
That legacy carried on at Agilex after LaRose's sudden death in 2010 and continued on after Accenture acquired the company in 2015.
And now a group of former Agilex executives are off on their own, applying LaRose's lessons to their new venture: "Steampunk." More on that name later on.
"When Bob and Jay built Agilex they told us, that someday we want you to go do this on your own," Steampunk Chief Growth Office Brad Cole told me. "Even at Accenture, we knew that the entrepreneurial spirit was still burning."
Step one to fuel that fire was the move by five former Agilex executives to leave Accenture and acquire SE Solutions, an IT services provider primarily supporting the Homeland Security Department. They made the deal with backing from John LaRose, Bob's son.
"The four years at Accenture were great but we knew the core would get back together again," Cole said.
Applying several of the lessons from Agilex, the company now known as Steampunk is employee-owned. The idea is to take the Agilex strength in agile development and push it farther by focusing on human-centered design as the guiding philosophy of how the company approaches the work it does for government customers.
That gets us back to the name: Steampunk.
This week, the company launched a rebranding from SE Solutions to Steampunk. The name conveys several things, according to Cole and Chief Marketing Officer Robbe Pearson.
"It is the collision of humans and technology," Pearson said. That's where human-centered design comes in.
Steampunk's logo is written in lower case, which helps the word team standout so the emphasis is on the group and not the individual. The word "punk" stands out in bright pink.
"It is the kind of name you have to own," Pearson said. "We wanted to have some fun but also be able to talk about what the name means."
The company is focused on five core capabilities: cloud, cybersecurity, data exploitation, DevSecOps and digital platforms. Tying those capabilities together is human centered design.
For Steampunk, Cole said human-centered design means leading with people before technology.
"We think that government clients are thirsty for someone to help them change how they do things," he said.
Human-center design starts with a conversation.
"You bring all the stakeholders together so they can identify the problem and attack it together," he said. "You brainstorm how to solve the problem and then you talk about the solution and how to leverage technology."
Sometimes the answer won't be a technical solution but a reorganization or a reworked process, he said.
The approach to the customer is a change from SE Solutions' traditional way of working with customers. But the process is being applied to current work and contracts as well as being included as part of new bids.
"As we move forward, we'll infuse this into our proposals. We think it will differentiate us," Cole said.
Another part of the LaRose legacy is employee ownership. When Agilex was sold to Accenture, more than 50 percent of the employees had a stake in the company. The goal for Steampunk is well beyond that.
"I'm really surprised that more people don't embrace the employee-ownership model," Cole said. "It makes people feel accountable and excited to come to work."
A lot of Steampunk's 150 employees work on customer sites and the employee ownership model will help them feel connected to the company and its culture, he said.
Related to the employee-ownership philosophy is the flatness of the company's structure. They want no stovepipes because they want the entire company to collaborate and share. That approach is reflected in the leadership structure.
Steampunk does not have a CEO, but instead there are co-chief operating officers in Matt Warren, COO of emerging markets; and John Harllee, COO of established markets and corporate operations. Rounding out the senior leadership team are Cole as chief growth officer; Sean Dillion, chief technology officer; and Dan Parker, chief human resources officer.
Those five are the former Accenture executives, who were at Agilex. Cole said the group was "part of the Bob LaRose/Jay Nussbaum school of entrepreneurship."
But SE Solutions also had other connections to LaRose. Tom Stepka, chief financial officer, and Carolyn Muir, the general counsel, worked for LaRose at Integic, a company he built before Agilex. Matt Reeves, another former Agilex person, was already at SE Solutions.
And John Rothensberger, who founded SE Solutions after the Sept. 11 terrorist attacks, was mentored by LaRose during the late 1990s. "That's part of why SE was a great platform from which to launch Steampunk," Cole said.
So now there is a new company with a bright shining logo. It has a compelling tagline: Design. Disrupt. Repeat. It has lofty ideas about how to solve customer problems and how to empower employees.
"There is a lot of excitement, but now we have to live up to that," Cole said.