KBR sees space as growth market, even with many details TBD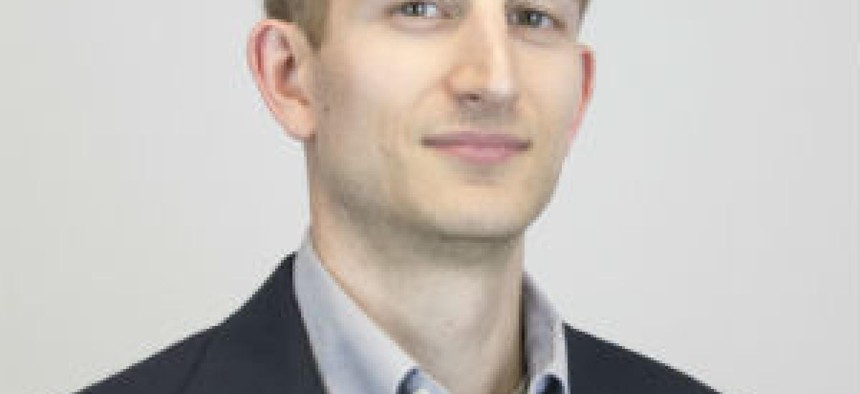 The government is still organizing the management of its space programs and assets, but for companies such as KBR the time to strike is now as growth opportunities emerge.
How the government organizes the roles and responsibilities of managing the country's space assets is still shaking out and has to work its way through the legislative process.
But the structure's exact nature may not matter all that much because the conversation about space is a priority, according to KBR's global government business lead.
"All of our systems are based upon these (space) technologies and the threats are real. You're hearing a lot of discussion around hypersonics, around directed energy weapons, 'Smallsats' to have dispersion of satellites in space," KBRwyle President Byron Bright told me in an interview at the business' Arlington, Virginia office.
Described by Bright as a "new space economy," the dynamic is creating what resembles an almost all-hands-on-deck situation for both government agencies and private industry that wants to take part as well.
A resurging commercial launch industry will play a big role, alongside services businesses like KBRwyle that support space systems from the ground and upgrade those technologies to support U.S. space superiority efforts.
"The more players we have the more robust of a space economy we have," Bright said. "It's going to take government but it's also going to take private industry to really expand the capabilities, and so I think it's a great time to be a part of this industry and a player."
The Defense Department's legislative proposal released in March would create a Space Force that would still reside within the Air Force but also have a seat on the Joint Chiefs just like the Marine Corps.
Any of the proposed models of space authority could work, according to Bright.
"I see that as a great opportunity for our industry to step up and answer that challenge, almost regardless of how the government organizes. I think industry is resilient and we will respond to how the government organizes, and it's a great discussion to have," Bright said.
"The key is that the government is putting a priority on space as a national asset both in defending space as well as advancing technologies in space."
Also as Bright pointed out, NASA's role in science and exploration cannot also be discounted and its growing role in commercializing low-Earth orbit thanks to the help of new launch market players.
That commercialization will help "allow NASA to pivot to Moon and to Mars," Bright said.
"We're in a transition phase with NASA in moving from low-Earth orbit to deep exploration, and I think companies like KBR can be that bridge between the government-led versus commercial-led capabilities," he said.
One could conclude that the timing of the space market's rising profile and priority could not have come much better for KBR, which in the past three years has built an entirely different government services business than what they had before with space a core piece of that strategy.
In 2016, KBR's government work was primarily in overseas locations and the company was not on our WT Top 100 released that year. A trio of acquisitions and organic growth have both brought KBR into the Top 20 of last year's WT Top 100.
Last year, the KBRwyle business posted almost 58-percent total revenue growth to nearly $3.4 billion, including acquired sales and organic growth of nearly 17 percent. Government revenue makes up for nearly two-thirds of overall corporate sales alongside KBR's hydrocarbons and technology business.
In an interview from December of last year, KBR CEO Stuart Bradie outlined to me many of the questions and options leadership discussed and outlined in re-imaging what the company's government business would look like.
That walkthrough centered around wanting access to steady and diverse funding streams, more work inside the U.S. to add onto the global geographic footprint and access to high-end engineering and technical talent.
 "We started to look very carefully at space as an exciting area… in terms of where we thought space might lead and the advancement of others like China and Russia in terms of what they were doing and the U.S.' desire to retain leadership or maintain leadership in that arena," Bradie said.
In my most recent conversation with Bright, he highlighted how government services businesses like his are moving more toward "solutions" approaches centered around technology-based capabilities that can be used in multiple domains at scale.
One ongoing example for KBRwyle is work to help the Army manage and use maintenance data, which the business has decades worth of. KBRwyle's acquisitions added more data scientists to its talent base and those staffers have helped create more of that solutions-based approach.
"That was one of the big discussion points we had as a leadership team about the future of the government business," Bright said. "The technologies are moving so fast and if we wanted to continue, we really need to bring that expertise into the company."
Of the KBRwyle business' almost 15,000 employees, nearly 1,000 of them are based in the Washington, D.C. metropolitan region. The business operates in almost 40 countries worldwide and its international government customers primarily include U.K. and Australian agencies.